Happy Monday, friends! 😀
Did you catch my story on Instagram the other day? The one about the pile of reclaimed wood we've had under our house for a couple years? Yep. I almost forgot about it, it's been so long.
We're thinking it would add a fun pop if we tacked it up to the wall behind my desk: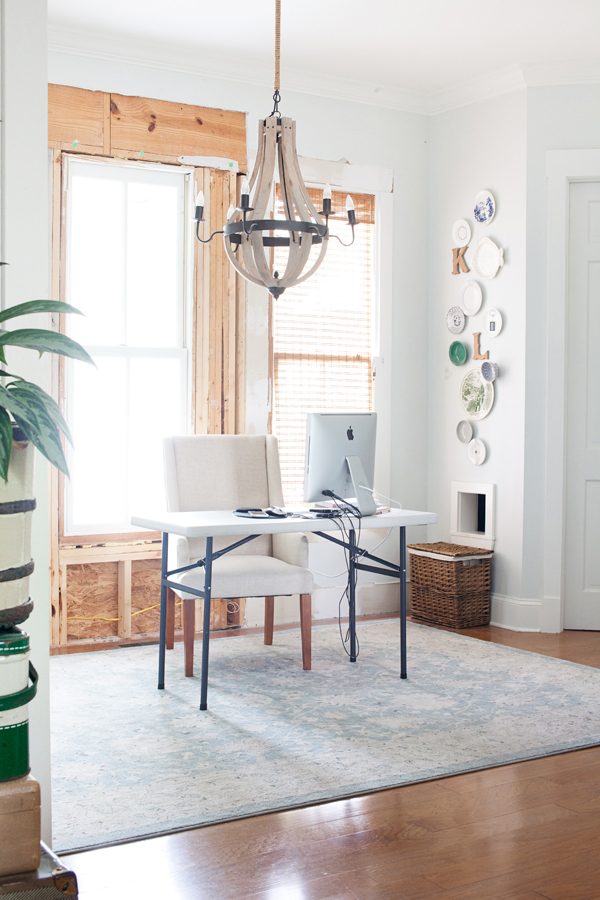 Clearly, we need to cover in something, and something we already own would be great. We'll have to remove a little bit more drywall (fun, fun!), but I'm excited to see what all those muted blues, grays and greens look like up there!
Before we put them up, I'm going to seal our boards with Peel Stop. It dries as a rock hard, clear barrier and it stops paint from peeling, so everything (including possible lead based paint) will be forever locked underneath the protective coating. It's pretty amazing stuff.
Here are some other reclaimed painted wood wall inspiration photos I found around the web:
Pretty pretty!
I also found this great wallpaper while I was surfing around too:
Anywho- I'm excited to finally get that wall covered, so I can get some drapes hung up. I love the way my desk faces the bulk of the first floor, but I'm not a huge fan of having uncovered windows behind me while I work there at night. I know it's silly, but what can I say? I just get the heebie jeebies sometimes. 🙂
Last but not least, a couple of you wanted to see a close-up shot of the "Sonny plate" hanging on the wall in this room, so I snapped one this afternoon:
I first blogged about it back in January of 2013, and at the time, I mentioned that we'd eventually write our kiddo's name and homecoming date on that little tag. What a surreal experience to finally be able to fill in those boxes! 🙂
See you Wednesday, friends!
Layla
PS- If you'd like to take a peek at this week's LuLaRoe inventory, here's a link to my shop: LuLaRoe Layla
Get My Free E-book: 15 Common Decorating Mistakes And How You Can Avoid Them
Enter your email to download my free e-book instantly! 🙂