Happy Friday, friends!
Thank you for all your kind words on yesterday's post. What a blessing to know there are so many thoughtful people out there who care about and are praying for our babe. 🙂 I can't tell you how much I appreciate your company here from week to week and I'm so glad we get to connect like this!
Today, I wanted to share one of the photo consultations I worked on last week. It was sent by a gal named Lindsey who signed up for my design consultation service the (one) morning I made it available. She is the first of nine clients whose rooms I'm going to "presto change-o" over the next couple of weeks, and she said it was okay for me to share the results here with you. So here we go! 🙂
First, here are the two photos of her (long) master bedroom she sent me:
She asked me if I could help her come up with a fun way to lay out and decorate the space where the two chairs are. It's at one end of the room- opposite their bed.
I told her I probably should've mentioned that my photo consults are better for choosing colors, textures, decor and surfaces than they are for space planning (because actual measurements are needed for laying out furniture), but I crossed my fingers and hoped that what I envisioned over there would work. I saw two chair-and-a-halfs, facing each other with some kind of coffee table in between. I saw a nice big rug to anchor the furniture and to create a "room within a room" vibe.
That dark teal, hexagon-shaped side table (pictured above) was attached to the picture of the chair-and-a-half I dragged in, so that's probably not the best piece of furniture to have there (right in front of their nightstand), but I liked the color of it, so I left in it just so Lindsey could see if she wanted to use it as an accent color.
I suggested they use some kind of tall potted tree in the corner of the room, because I love that pop of life/greenery and it makes sense to keep it by all that natural light. I showed a grouping of art and photography (from our house, actually- ha!) on the wall above the chair-and-a-half on the left because it seemed like a great wall to do a gallery grouping on. Last but not least, I made the french doors a different color, just to show her what that might look like if she wanted to add a pop there.
In my second presto change-o, I showed her what a different color would look like on the french doors and I also suggested she use a tall, shallow piece of furniture (like Rachel's secretary) on the wall space to the right of the doors. If she wanted to create a more balanced visual, she could use another curtain to cover the french door on the right (if they don't open it a lot, of course). I switched out the rug in this one, just to show her what a different pattern would look like, and I suggested using some kind of mirror (or mirrors) on the wall on the left, to create the look of windows all the way around the room.
I also popped some chairs in this one, just to give her an idea what that would look like:
In my third presto change-o pic, I took out the secretary and popped in a desk and plate collection at the farthest end of the room: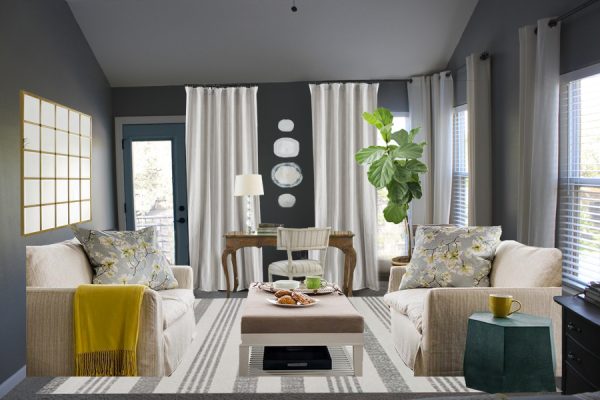 I also changed out the coffee table for an upholstered ottoman. I thought it might be nice to have something soft to put their feet up on when they're sitting there. I featured a brass-framed mirror on the wall on the left, and I did that because I like the way the brass ties in with Lindsey's current accent color- yellow.
Of course any of these elements could be swapped around with any of the others. Like, rug #1 could go in design #3, etc.
Lindsey wrote back today and said my lay out suggestion of two chair-and-a-halfs facing each other would work (yay!), and that now all she has to do is pull everything together (double yay!). I'm hoping she sends us an after photo of the space when it's finished, because I'd love to share the makeover results with you. Which one (or which elements) do you think she'll choose? 😉
Happy weekend, y'all!
Layla
PS- Here are links to some of the products I pulled into my pics in case you were curious:
Patterned Rug, Striped Rug, Throw pillows, Brass Mirror, Trellis Mirrors
…and if you are one of the other eight people on my design consult list, I'll be sending you your pics soon too! XO