Before we bought it, our house had been empty for about seven years, and like many foreclosures that were lacking a little love, we walked into a handful of projects that either needed to be finished, or needed to be fixed. One such fix was a leak underneath the toilet above the kitchen…
But now that the "headless plumber" (ha!) has that all fixed up, we're going to start painting the ceiling, trim, windows and doors in our (open concept) kitchen, dining and living room.
Right now, the walls are painted (Benjamin Moore's) Algonquin Trail, the ceiling is Sherwood Tan, and the trim and doors are Manchester Tan…
We're going to go with (Benjamin Moore's) Owl Gray (lightened by 50%) on the walls, and Simply White on the ceiling, doors, and trim…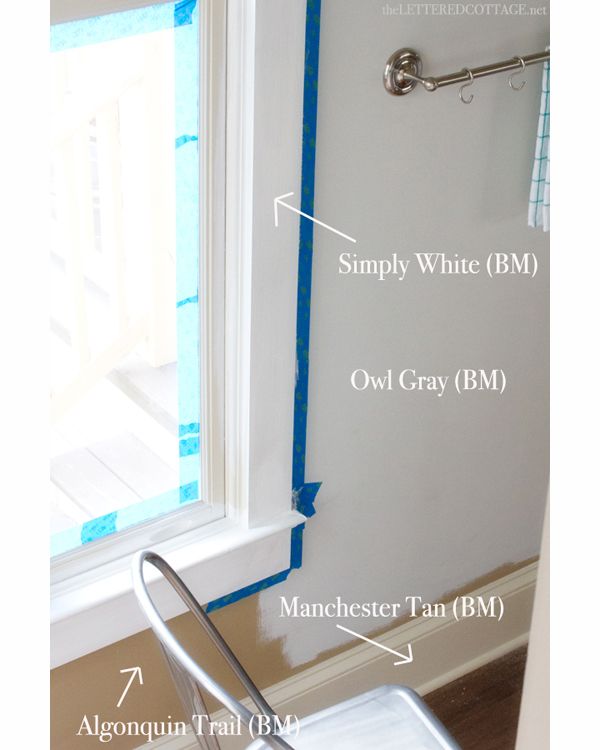 Ignore the towel bar in the photo above- we were shooting something for HGTV.com, and decided to try out a sample of Gray Owl behind it for the picture. We're taking the towel bar down today, and after the holes are all patched up, we'll cover up that (flat) sample of Gray Owl with some of the 50% lightened Gray Owl paint in a satin finish.
Be back with another update as soon as we've got some more paint progress pics to share!

PS- For pics between posts, join us over on Twitter, Facebook and/or Instagram!

Get My Free E-book: 15 Common Decorating Mistakes And How You Can Avoid Them
Enter your email to download my free e-book instantly! 🙂