I'm big on little things when it comes to interior decorating. Choosing wall colors and arranging furniture is fun, but adding (he)art and accessories is my favorite part, and I'm so stinkin' smiley about the pillow nestled up against back right now!
The front is an old seed sack we dug out of a barn in Iowa a few years ago…
…and the back is a dish towel from Ikea that we had been using in our kitchen:
Thankfully, all the food stains washed out of it- ha!
The hemp trim came from Joann Fabrics, and I love how the corners are sort of feminine-looking, while the rest of the pillow has kind of a masculine "baseball uniform" vibe to it, ya know what I mean? I'm always on a mission to make sure our environment appeals to both mine and Kev's sensibilities, so I'm all about a nice blend of cottage-style "mister-meets-ma'am" up in here!
(Huge thanks to my neighbor, Cindy, and my new friend Sharon the pillow-maker, for graciously helping with my "little lumbar love"!)

While I was taking those pics of my pillow, I was able to capture Kit-Cat performing one of his daily stunts…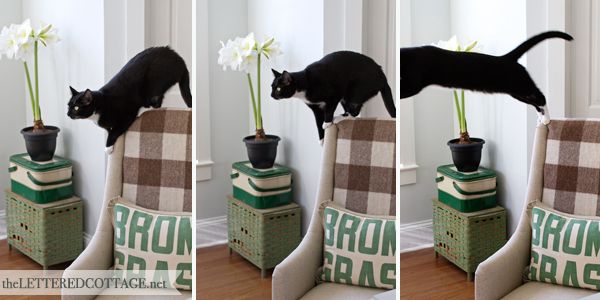 Like most cats, he loves to be high up off the ground. The top of our piano is one of his favorite places to lounge, but I have a feeling he's got even loftier dreams.

PS- I'm hanging a random collection of old plates on the wall behind my Christmas Amaryllis today- and I look forward to blogging about them as soon as I've got 'em all hung up!
Get My Free E-book: 15 Common Decorating Mistakes And How You Can Avoid Them
Enter your email to download my free e-book instantly! 🙂