When we moved into this house, we had no idea what actually lurked beneath the stinky, old carpet at the far end of the living room…
We assumed there was hardwood flooring, because we saw some underneath the carpet in other parts of the room, but unfortunately, that wasn't the case…
We sanded and refinished the wood floor part of the room earlier this year…
…and after four years of trying to figure out what to do about the concrete, we finally decided to just cover it up with some super-soft/sisal-look FLOR carpet tiles!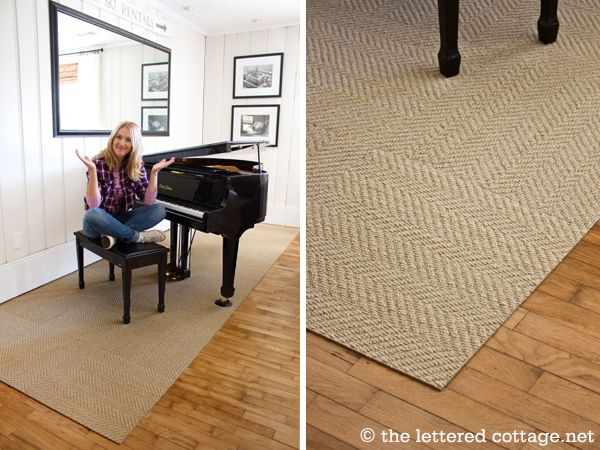 (Note: We still have to install shoe molding at the bottom of our baseboards.)
It took a few tries to settle on a pattern/color, (True story: I changed my mind on the pattern three times before I finally settled on the "Suit Yourself" tiles in the photo above- ha!) but the folks at FLOR were an absolute delight to work with and they made the whole process so easy. Even their packaging labels are cheerful…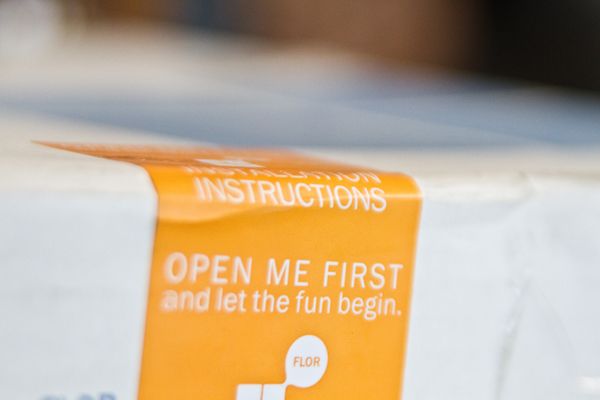 Love that! I'm a big fan of simple/sunny graphics!
And I love the way it *looks* like our wood floor goes all way to the end of the room now, too. (Shhh! Don't tell!) We laid our tiles in alternating directions to create a slightly more contemporary look…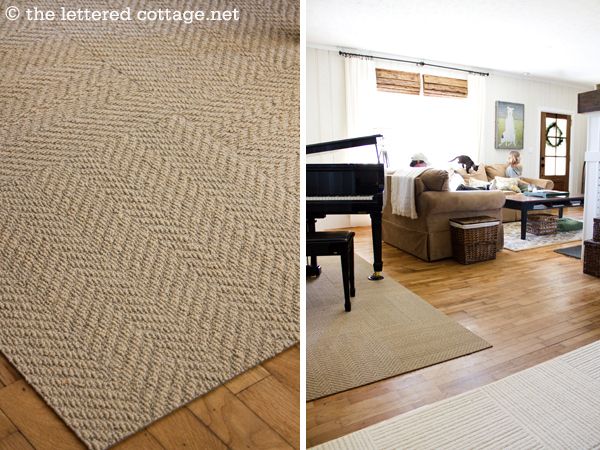 You can use FLOR carpet tiles wall-to-wall, or create area rugs like we did. It was super simple to put them together using the clear stickers (a.k.a "FLOR dots") they came with.
First, you lay all your carpet tiles down on the floor, in the arrangement you want them to be in.
Then, wherever four carpet tiles come together, lift the corner edge of one carpet tile up and stick a FLOR dot to it (sticky side up), using the lines printed on the sticker as your guide. (photo 2)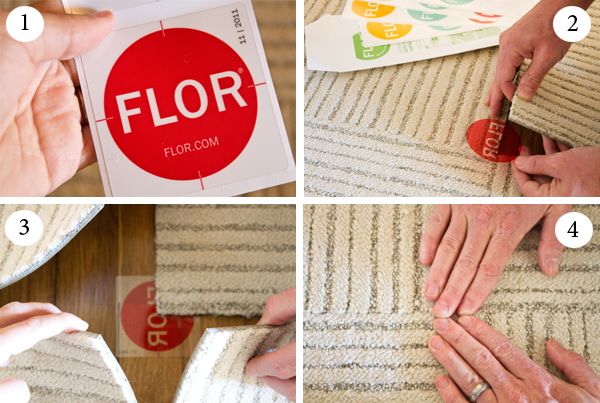 Next, pull up the three carpet tiles around the carpet tile you stuck the FLOR dot to, and let that first carpet tile fall to the floor (photo 3). Then, press down the other three carpet tiles (photo 4) and repeat those steps until all of your carpet tiles are stuck together!
They hold together really well, but you can still pull them up and wash them in a sink if they get dirty. (True story #2: We didn't even use FLOR dots on the area rug we initially created in our dining room, and that sucker stayed together just fine without 'em! True story #3: We're thinking FLOR carpet tiles are the way to go in our dining room because we've had to throw away three dining room rugs because a certain four-legged family member had one too many "accidents" on them over the years. If an accident occurs on one of our FLOR carpet tiles, I can just pick it up, wash it out, and stick it back down. And if I can't get it clean, I only have to replace that one tile– not the whole rug. Yesss!)
They're so soft and easy to work with that we've decided to use them in our hallway and reading room, too. We were thinking about having more hardwood flooring installed in those areas, but using carpet tiles will be a lot less expensive and look just as nice.
Now if I could just figure out what to do about this dude and his over-active bladder.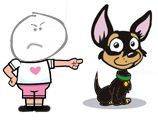 Grrr.
PS- Stay tuned for an exciting FLOR Carpet Tile Giveaway a little later this week!

___________________________________________________________
Need design inspiration? Need help arranging your furniture?
Check out my e-books!