"I say to myself that I shall try to make my life like an open fireplace, so that people may be warmed and cheered by it, and so, go out themselves to warm and cheer."
-George Matthew Adams

It might seem like a strange time to begin a fireplace facelift (Hello! It's 90 degrees outside!), BUT, we're going to be working on this thing in stages over the next 6 months, so I'm actually thinking it'll be finished right at the perfect time: Christmastime! 😀
Here's the inspiration photo we'll be using as a guide:
Here's what I love about it:
a) It sticks off the wall behind it more than a few inches.
Right now, our fireplace is wood and tile, stuck to the drywall behind it. Same as it was the day we moved in 2.5 years ago: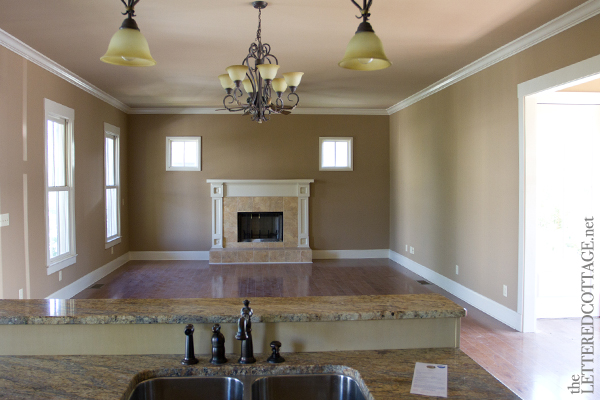 (October 2012)
I've always felt like there was so much room to play with depth and dimension there! A fireplace that stretches from the floor to the ceiling, and sticks out at least as far as the hearth. Why not, right? One that says, "I am focal point. Hear me roar!". 😀
I also love a fireplace that sits out further than whatever is on each side of it. Whether it be bookcases, or cabinets, or window seats, I seem to be most drawn to that kind of set-up. Here's a photo of a front porch that's doing the same kind of thing: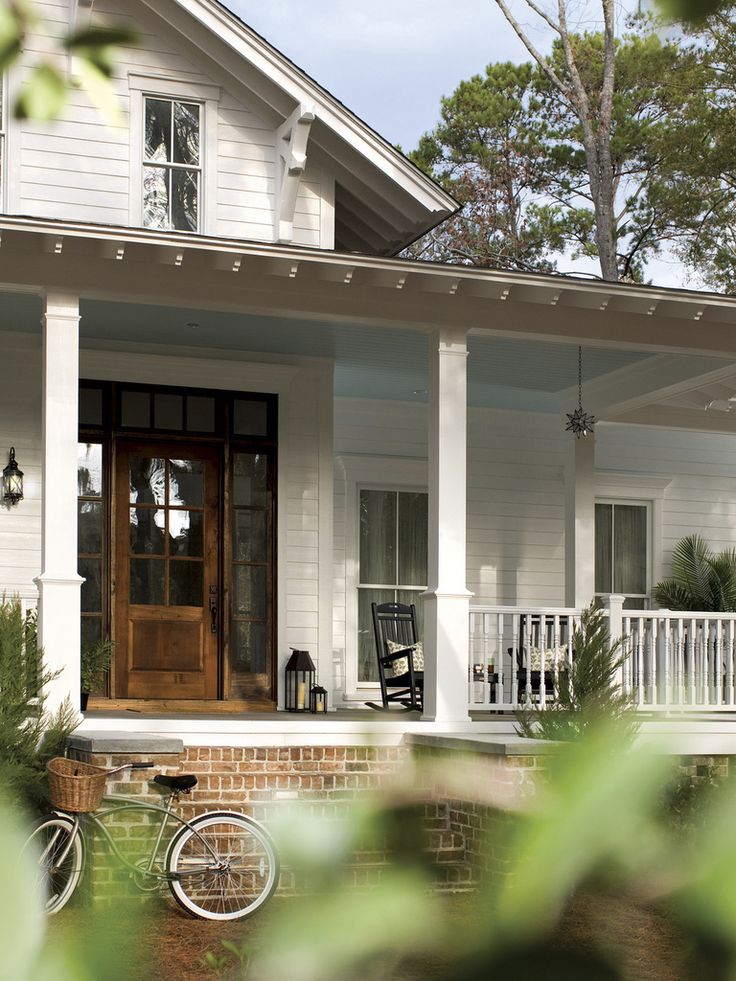 (Tumblr)
See how the door area juts out, making it a focal point- which, in turn, makes the areas on each sides more interesting too? I love that!
There are no right or wrongs with this stuff though…just sharing my personal preferences while I'm in dream mode. 😉
b) The white mantel on top of the darker gray paint.
Our paint won't be quite as dark as the paint in the inspiration photo (I'm going to color match it to match our salvaged planks), but I still think it'll look nice and crisp. I'd love to find an old mantel to use…maybe something like this, painted white:
It might be kind of hard to find one that the exact right measurements, but I'm all about the thrill of the hunt, and if it needs to be cut down a little, that's okay too. I'd replace the shelf on top with a mantel beam made out of the reclaimed heart pine we brought home the other day.
c) That recessed area above the mantel would be a great spot to use the reclaimed wood Kevin got me for my birthday.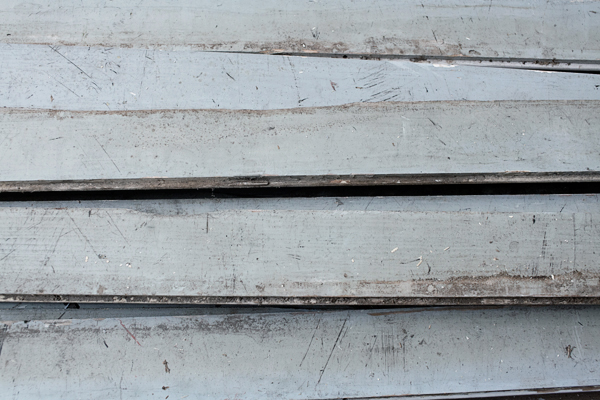 My (tongue-and-groove) planks need a good cleaning, but man are they really going to bring in a lot of history! Garlan (from Southern Accents) told me they came off the walls of an Indiana farmhouse that was built in the 1880s. I'm excited they'll get to live on here at our house now!
So, with that said, here are a few Photoshop mock-ups of what I have in mind. They include my (dream) choices as far as the area around the firebox and surface of the hearth goes, too:
1. Reclaimed Brick
There's a great reclaimed brick shop right up the road, and I'm thinking we might be able to just use slices (not entire bricks) to clad that area. I left a message for someone who works there…I'll let you know what I find out.
2. Neutral Reclaimed Brick
I'm curious to see if they carry a more muted brick color. Or maybe I could whitewash it? I'll keep you posted on that as well.
3. Handpainted Tile
This one is probably waaaay too expensive, but I love it, so I wanted to include it.
Here's a (rough) idea of what that would look like on the inspiration fireplace:
Not a great representation, but you get the jist.
4. Marble mosaic
I love the combo of this 1×2 marble tile, with a solid piece of marble on the hearth: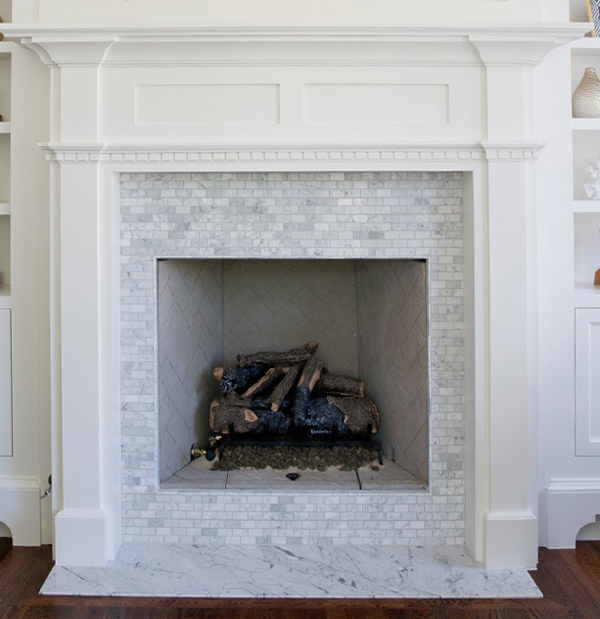 (Design: Caitlin Creer; Photo: Meikel Reece)
No idea how much a solid piece of marble costs, (I'm guessing a lot) but I guess it wouldn't have to be a solid piece. It could just be more mosaic. Here's a rough idea of how it would look on the inspiration fireplace:
Again, it's a little hard to tell exactly what it would look like- but you get the idea.
5. River Rock
I've always loved the look and feel of a river rock fireplace. This one by the folks at Muskoka Living is so scrumptious:
So. Can you see the trend? I want to use a material, shape and/or pattern that feels natural and/or historic. Something that leans traditional, cottage and/or farmhouse. I'd be pleased as punch with any of them, but I think that neutral brick is the one that makes my heart sing the loudest. 🙂
Do you have a favorite out of these five?

Get My Free E-book: 15 Common Decorating Mistakes And How You Can Avoid Them
Enter your email to download my free e-book instantly! 🙂