Howdy! A few folks have asked about what else there is to do in our area the weekend of The Chapel Market, so I thought I'd publish a post with links and info about some local favs.
First up: FLEA MARKETS! These are the four I frequent:
616 County Road 82, Prattville, AL 36067
(334) 730-0266
Hours: Monday-Saturday 10 am – 6 pm, Sunday 1pm – 5pm
Prattville Pickers is the River Region's largest indoor flea market with over 100,000 square feet of antiques, collectibles, and vintage goods.
2. J & G Antique and Flea Mall
742 E Main Street, Prattville, AL 36067
(334) 361-4500
Hours: Monday-Saturday: 9am – 5pm, Sunday: 1pm – 5pm
3. Memories Flea An'tique Market
1724 E. Main Street, Prattville, Alabama 36067
(334) 491-5800
Monday-Saturday: 9 am – 6 pm, Sunday: 1pm – 5pm
4. Eastbrook Flea Market & Antique Mall
425 Coliseum Boulevard, Montgomery, AL 36109
(334) 277-4027
Hours: Monday-Friday 10am – 6pm, Saturday 9am – 6pm, Sunday 12:30pm – 4:30pm

Next up: FOOD! 😀
1. Tomatinos Pizza & Bake Shop
(source)
(334) 264-4241
1036 East Fairview Avenue, Montgomery, AL 36106
Hours: Monday-Saturday 11am – 10pm, Sunday 4pm – 10pm
Tomatinos is located in the center of the historic neighborhood of Old Cloverdale. Their focus is to create delicious, hand-tossed pizza with freshest, local organic ingredients all served up in a funky, eclectic atmosphere. All pizzas, calzones, sandwiches, salads, and breads are made fresh in house daily and all desserts are baked at a local neighborhood bakery.
2. Dreamland Bar-B-Que at the Alley
(334) 273-7427 (RIBS)
101 Tallapoosa Street, Montgomery, AL 36104
Hours: Monday-Thursday 10am – 9pm, Friday & Saturday 10am – 10pm, Sunday 11am – 9pm
Dreamland is known for bar-b-que ribs, and they've been cooked the same way for over 50 years. Inside you'll find a casual down-home vibe, and meet customers whose family have been eating at Dreamland for generations.
3. Capitol Oyster Bar at the Marina
334-239-8958
617 Shady Street, Montgomery, AL 36105
A long-time local favorite, the Capitol Oyster Bar recently moved to its new digs at The Marina bringing together delicious seafood, a come-as-you-are laidback atmosphere and great live music all on a bluff overlooking the Alabama River. Fresh catches from the Gulf of Mexico are grilled, sauteed, and of course, fried. The restaurant's signature dish is the thick, rich gumbo, slow cooked with okra, peppers, tomatoes and filled with shrimp, crawfish tails, crab and sausage all served over fluffy rice. According to owner Lewis Mashburn, "It's not too spicy, but it's got a little kick."
5015 Hampstead High Street, Montgomery, Alabama 36116
(334) 260-9110
Hours: Monday-Saturday 11am – 11pm
I couldn't find a write up about their food online, but here's a photo of their yummy menu:
The Tipping Point also hosts outdoor movie nights on a gigantic screen in their side yard during the summer.
Such a fun idea!
5. Shashy's Bakery & Fine Foods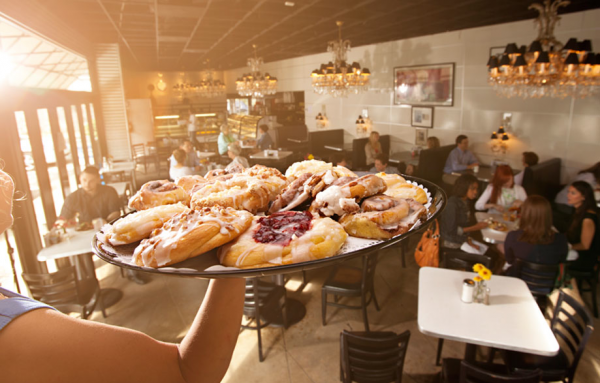 1700 Mulberry Street, Montgomery, Alabama 36106
(334) 263-7341
Hours: Monday-Friday 7am – 5:30pm, Saturday 7:30am – 2pm, Sunday – Closed
The café serves all kinds of delicious foods. Omelets, pancakes, home-fried potatoes,  French toast, fried green tomatoes Eggs Benedict (on Saturdays) for breakfast, and shrimp po' boys, turkey club croissants, burgers, catfish, grilled Reuben sandwiches, and curried chicken salad for lunch. Owner, Jim Shashy, also serves Louisiana Cajun-style gumbo, etouffee, and barbecued shrimp, and Lowcountry Charleston sauté sometimes, just because he says, "that's what I like to eat". Jimmy visits the local farmers market three times a week to pick up silver corn, onions, cantaloupe and blueberries in summer, and collards, turnip greens and rutabaga in winter. Whatever looks good at the time- he works it into the menu!

Last but not least, here's the list of local hotels I posted a while back in case anyone is still wondering about where to stay. All of these are just off I-85 in (east) Montgomery, Alabama- approximately 15 minutes from The Chapel Market:
I've never stayed at any of them, but that's the area where we do all of our shopping and dining out since we moved out to Pike Road last Fall. (One year ago tomorrow, actually!) 😀
Admission is $1 (cash), and the doors will open at 9am. The chapel only holds 250 people when it's empty, so we'll have to let folks in in chunks throughout the day to make sure things stay safe and spacious! 😀
Let me know if you have any other questions about anything, and I'll respond back to you lickety-split! And again, thank you SO much for RSVP'ing on The Chapel Market's Facebook page. Here's to a fun day of hanging out with lots of fabulous flea marketeers on the 19th!