I love a memoir. Right before Steevenson came home, they were all I wanted to read. Lately though, I've been on a fiction kick and it has been so good for my busy brain to get lost in that way for a while each day.
"Moments later, they were bumping along the narrow crushed-shell roadway. Brooke poked her head halfway out the open window, marveling at the scenery. Gnarled, moss-draped live oaks on both sides of the road met in the middle to form a dense, nearly impenetrable canopy of green overhead. Thick stands of palmetto, swamp myrtle, pines, and cedars were festooned with blossoming jasmine, whose heavy scent perfumed the air. As they rounded a bend in the road, she spotted a pair of blue herons intent on fishing for their lunch in a shallow ditch. Another turn revealed an expanse of marsh where patches of sun-bleached driftwood and cypress knees were host to dozens of large, brown nesting birds."
That's an excerpt from Mary Kay Andrews' High Tide Club, which I could hardly put down last week.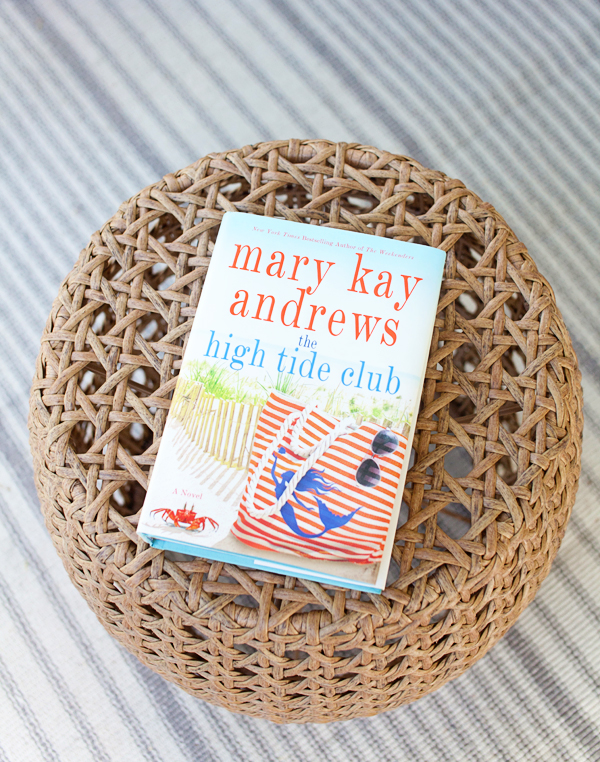 It's been a while since I last saw "Mary Kay" (her real name is Kathy) but I'm dying to ask her about her character-connecting process. I'm SO intrigued after reading Summer Rental and this latest book! I picture her drawing out something that looks like a family tree that illustrates how everyone ties together, but she sure has a gift, so I'd love to hear more about how it works from her!
When it's not too hot and humid, my favorite spot to read is on our front porch.
We've been playing lots of checkers out there lately too. I still haven't won, but boy do I have fun trying- ha!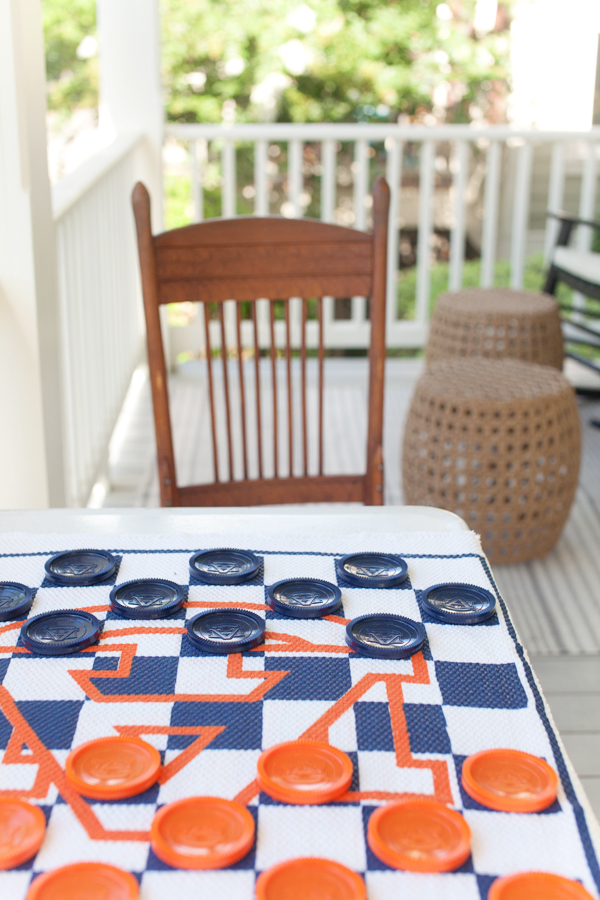 My mom gave us the cute little stools for our (June) birthdays. Here's a link in case you've been on the look out for something similar: Natural All Weather Stools
I'm re-reading The Wedding by Nicholas Sparks before my next book comes in the mail. It's probably been ten years or so since I read it the first time, but I'm already halfway through and excited to experience how it ends again.
After that, Fried Green Tomatoes. The book, not the dish. Although we might have to enjoy some of those on the front porch this summer too. 🙂
Happy weekend!
Layla