"It's a sure sign of summer if the chair gets up when you do."
-Walter Winchell

It's beginning to feel a lot like au-tumn. ♬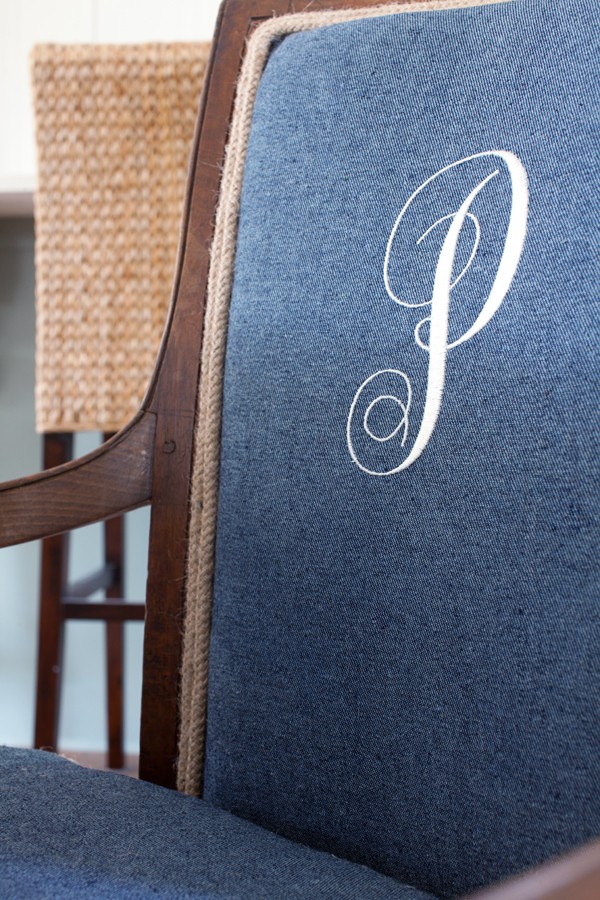 Did you sing that sentence? I hope so. 🙂
I think I might love the first hint of the next season even more than the actual season itself. Is that weird? There's just something about that all-of-a-sudden *snap* that whispers, "Surprise! I'm back!". Such a cool a shift, ya know? I'm especially smitten with the turn September takes down here in South. Feeling Fall flicker after 4-ish months of humid heat and stickin' to your seat is straight up sweet, y'all. 🙂
Makes me want to have some folks over for supper. Throw the front door open, the screen door closed, and fellowship A/C and skeeter free!
It's time to put those newly-recovered dining chairs to good use, too. Mr. Berry did such a good job, didn't he? A little ticking, a little jute, a little blue jean- voilà: farmhouse fresh!
Funny story about that denim: I found it (and the other fabrics) at Jo-Ann's. I went in on a mission to find the perfect shade. Something a little worn-and-washed, a little "home farm bibs". Next to all the other much-darker denims, that one jumped out the second I saw it, so I brought it up to the cutting counter, and the gal with the scissors started unfolding my bolt. That's when we discovered it had been wrapped wrong-side out. And on the right side? A much-darker denim covered in red and silver glitter butterflies. Ha!
My friend Jenny monogrammed the seat backs for me. Can you believe I didn't even have to tell her which side to put the "P" on? 😉