I received this comment on my last post
"Easy, Affordable Ways to Add Character to a Newly-Built Home"
…
…so I thought I'd tackle Gail's dilemma here today!

First off, check with your landlord to find out whether or not they're open to the idea of you personalizing your place a bit.
Sometimes all you gotta do is ask!
————————————————————————————-
If you're not against re-painting when you move out, ask your landlord if they'd mind if you painted the place in colors that appeal to you.
They really have nothing to lose.
They either keep your deposit, or they get the place back with a fresh coat of paint in the color of their choice.
And if you reeeeally wanna make it hard for them to say no, put together a Polyvore "mood board", so they can actually see what you're gonna do to the place.
I've never actually used Polyvore to create a mood board, but I know several people that have, and I hear it's quite addicting.
(I created this one in Photoshop as an example of the kind of thing you could present to your landlord.)


————————————————————————————-
If you've convinced your landlord to let you paint, and you're going to be re-painting when you move out, you might as well ask about hanging things like art and curtain rods too. Assure your landlord that you'll fill any holes you make before you re-paint and move out of the place.
————————————————————————————-

If your landlord won't budge on the curtain rod issue, maybe you can just switch up your blinds. Assuming you obtain permission to remove them, carefully take down your existing blinds and store them somewhere safe so they don't get damaged.
You might try storing them inside large Tupperware containers underneath your beds…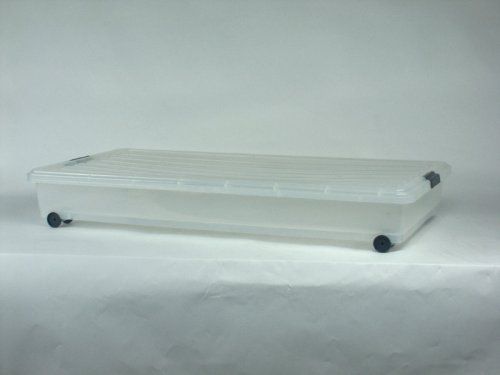 Keep all of the window hardware and screws in Ziplock bags inside the Tupperware containers, so everything stays together, and you don't have to come out of pocket to replace anything when you move out.
As for what you replace your blinds with, well, that's up to you of course!
A lot of times rental properties are outfitted with unattractive, white metal blinds (or at least the ones I lived in were!). If that's the case in your rental property, and you want to cover your windows with something a bit more colorful and textural, you might want to check out these bad boys, available at Lowes…
They're $11.96 each, and they come in light, medium and dark tones.
You can even get fabric privacy liners for them if that's an issue where you live.
I'm a big fan of adding as much texture as possible to the vertical plane- and wood or bamboo blinds are a great way to do that!
————————————————————————————-

Another fabulous, renter-friendly product that's recently come on the market is removable wallpaper.
While conventional wallpapers require steaming or chemical removal products, removable wallpaper comes off easily, and won't damage your walls.
Removable wallpapers are also a breeze to install.
All you have to do is to clean the walls before applying the paper.
Then just wet it- and set it!
If a crease develops during the application process, you just pull the paper off, smooth the crease, and then re-apply it.
And according to manufacturers, removable wallpaper is breathable- so moisture won't ever get trapped underneath it. That means no mold or mildew problems- yay!
They also say that removable wallpapers won't tear during removal, which makes them reusable too. Double yay!
Sherwin Williams offers several lines of removable wallpapers to choose from.
You can find them HERE.
These are some of my favorites…
Manufacturer: Warner
Book Name: COASTAL WATERS II EASYCHANGE
Pattern Number: SW1TC7418
Color: OLIVE/SAGE/MOSS
Manufacturer: Blue Mountain Wallcovering
Book Name: DAMASK,STRIPES,TOILE LIBRARY EASYCHANGE
Pattern Number: SW0SD16733
Color: WHITE
Manufacturer: Blue Mountain Wallcovering
Book Name: DAMASK,STRIPES,TOILE LIBRARY EASYCHANGE
Pattern Number: SW0SD16623
Color: CHARCOAL/GRAY
Manufacturer: Brewster
Book Name: BEACON HOUSE DAMASK EASYCHANGE
Pattern Number: SW657-2943
Color: TURQUOISE/AQUA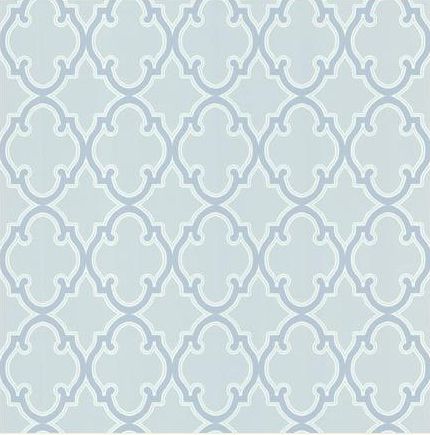 They even have solid-colored ones too, which is great for renters who aren't allowed to paint…
Manufacturer: Seabrook
Book Name: CAREY LIND PURE EASYCHANGE
Pattern Number: SW5WN615
Color: BEIGE/TAN/TAUPE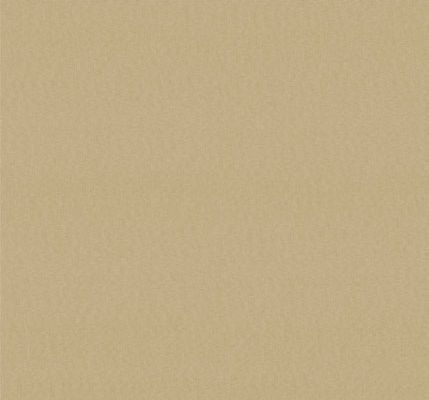 Remember the photo I showed in my last post, of the brown bathroom with Johnny Cash lyrics all over the walls?
Well, renters can re-create that look too!
Just use some solid-colored removable wallpaper, and some removable vinyl wall words…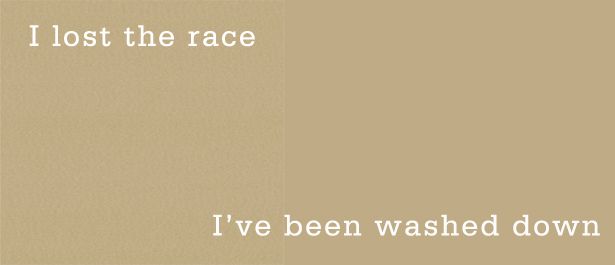 When you move out, everything will come down easy-peasy, and you can even put it all back up in your next place if you want to!
————————————————————————————-

Another option you might consider is covering a wall or two with fabric.
Using fabric on your walls may sound intimidating, but I've read lots of articles about it online, and most folks don't think it's all that difficult.
This room, featured in Southern Accents magazine shows a room covered in an ultra graphic fabric…
– It's a two-person job.
– It isn't any messier than regular wallpaper.
– The fabric won't bleed onto the wall as long as you wash it first.
– It isn't anymore of a fire hazard than drywall or wood is.
– Always use a light-weight cotton fabric, nothing sheer or stretchy.
– Light-weight cotton fabric
– Liquid fabric starch
– A sponge
– A pan
– A plastic dropcloth


Wash the wall to remove any dirt or film.

Measure from the floor to the ceiling and add a couple extra inches so you have an inch or so overlap at the top and bottom that you can trim off when you're done.
Cut the fabric accordingly. If your fabric has a design, be sure to match the design before cutting the next panel, just like you'd do with wallpaper.


Pour liquid starch into a clean pan. Apply the starch to the top half of the wall with a sponge. (Make sure to use a plastic drop cloth on the floor where you're working.)

Using push pins to hold the fabric temporarily in place at the top, smooth your fabric into place (only at the top). Using your sponge, apply more liquid starch to the wall underneath your temporarily tacked-up fabric, until you get down near the bottom of the wall.


Then, apply more liquid starch to the topside of the fabric, brushing and smoothing the fabric in place to remove air bubbles and wrinkles all the way down the wall. Be sure the starch penetrates the fabric evenly.

Position the second panel, matching the design along the edge. Repeat steps.


Around windows and doors, leave a one inch overlap like you did at the top and bottom.

Fabric overlaps should be cut when the fabric is completely dry. It'll cut cleaner and easier, because any shrinkage will have already occurred.

To remove the fabric from your walls:
Peel one corner loose, then gently begin to peel the fabric off of the wall panel by panel. If the fabric doesn't peel easily, dampen the fabric with water using a wet sponge and it should come right off.

Another idea is to apply fabric wall appliqués.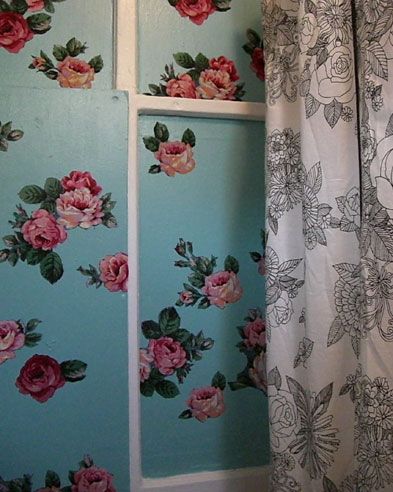 Just cut out the parts of the fabric you like, and dip each piece into liquid starch. Wring out the excess liquid and smooth them onto your wall. Roll over them with a brayer…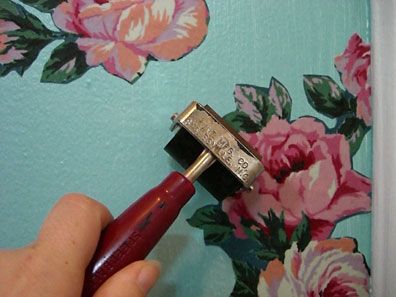 When it's time to move out, just peel them off and wipe down your walls.
They'll look as good as new!
————————————————————————————-
Last but not least, here's a hilarious video which showcases a few great decorating tips for renters.
(Why is it hilarious? Because Carl is clearly in agony during the first half of the video, and completely bored during the second half. SO funny!)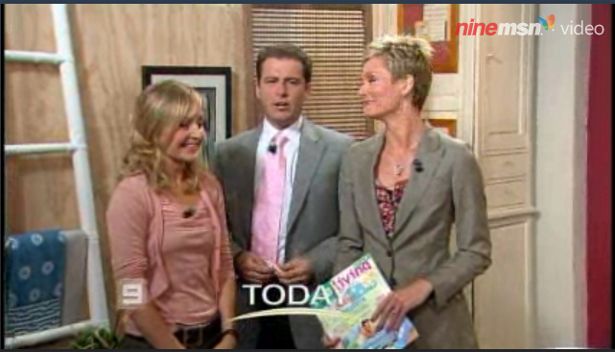 I hope that made you smile, and that you can use some of these renter-friendly suggestions.

Happy decorating!
————————————————————————————-
Pssst!
Want another renter-friendly idea?
How about using paint to add some pizazz to your furniture?
Check out my Ideabook, "Give Your Furniture A Facelift With Paint", by clicking on the badge below!
———————————————————————————–
Need design help?
Check out my e-book!
Get My Free E-book: 15 Common Decorating Mistakes And How You Can Avoid Them
Enter your email to download my free e-book instantly! 🙂