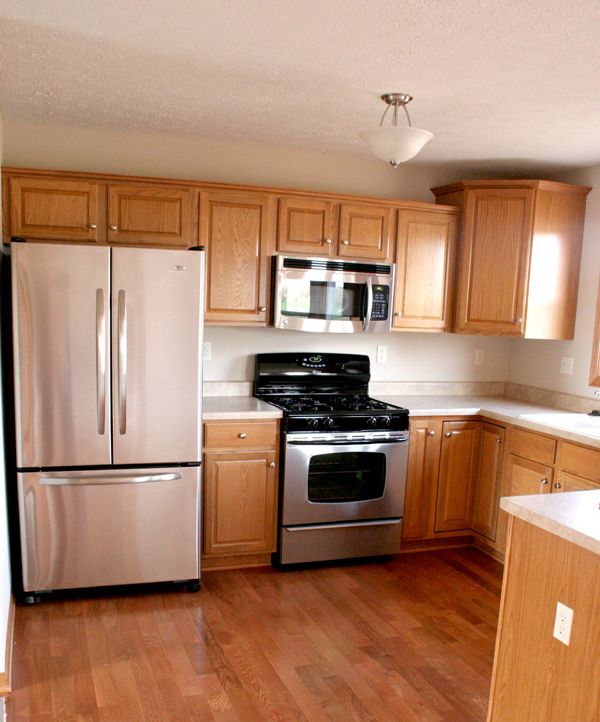 (Courtney's Kitchen)
————————————————————————————-
I tooootally hear what you're saying Courtney!
Kevin and I lived in a brand new house a few years back, and I, too, was faced with the dilemma of finding ways to justify replacing the "new stuff" the builder picked out, with things that suited our personal style.
My opinion is this.
Home is where YOUR heart is.
So no matter if you plan on living in your house for 6 months, or 60 years-
creating inspired surroundings that make your heart sing is so important.
If that means removing a couple of new cabinet doors so that you can see your pretty dishes- so be it!
If that means replacing some light fixtures with a few that make you smile every time you see them- so be it!
If that means painting unpainted wood- so be it!
Besides, 9 times out of 10, whatever it is you think needs a facelift (i.e. your cabinets, your doors, your light fixtures), chances are, future buyers will probably think so too.
Take our kitchen for example…
Even though everything was brand new when we moved in- drywall, tile, appliances, countertops, cabinets, there's a reason this house sat on the market for nearly a year. It wasn't "homey", and everyone who looked at it could feel it.
Now I'm not saying that what we did to our kitchen is for everyone- but we made it comfortable for us, and when and if we decide to sell our house, I'm hoping that prospective buyers will, in the very least, feel a little more at home when they tour the place this time around.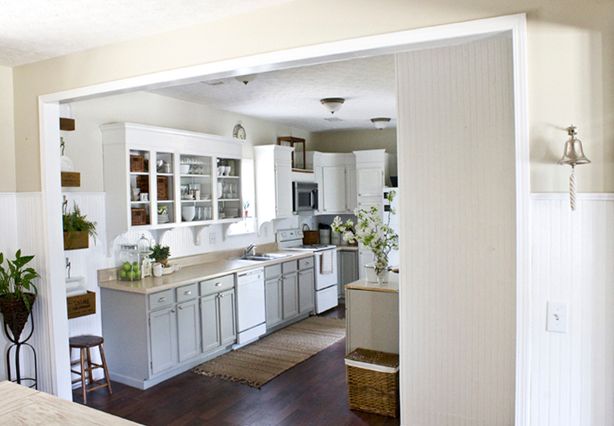 So, Courtney, if you and your husband are experiencing what I call "Model Home Syndrome", I bet whatever you do to cozy the place up will not only improve your quality of life, but will also make your home more appealing to future buyers, and maybe even up your resale value too!

Here are some easy, low dough ideas that can instantly kick up the charm factor…

Don't feel too bad about replacing light fixtures- especially if they're the inexpensive ones that builders usually put in to save themselves some money.
We had several of these in our last house…
We've got a bunch of them here at TLC too.
And while there's really nothing wrong with this type of fixture, they're just not exactly our style.
This particular type of fixture typically costs under twenty bucks brand new, so we don't feel guilty replacing them as our budget allows.
Especially since we know that "Habitat For Humanity" can re-use them.
If you still can't bring yourself to buy new lights to replace your existing ones with- maybe you can change the look of them with a little oil-rubbed bronzed spray paint…
Sometimes a quick facelift can make a world of difference!
————————————————————————————-

It may take a few years to get them all switched out- but if they're going to bug you every time you look at them, I'd say it's worth the extra effort to switch them all out, or repaint them the color of your choice.
Also, a lot of times builders will install fairly inexpensive, hollow-core doors.
For example, the door pictured above costs just $19.00 at Home Depot.
We swapped out this brand new "builder" door…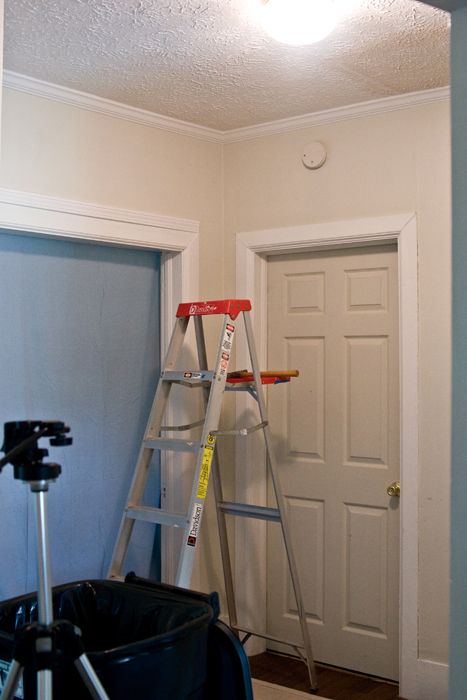 With this old, solid wood one we had lying around the house…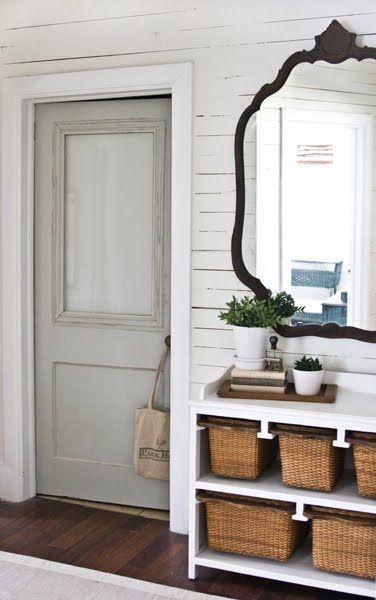 We donated the original one to Habitat For Humanity.
That's some guilt-free renovating, huh?

————————————————————————————-

Removing the carpet from your stairs is another inexpensive project that can give your staircase a totally different look. Rhoda, from Southern Hospitality, re-did her steps to better suit her style, and they turned out great!
Click here to read her tutorial.
————————————————————————————-
The subject of whether or not someone should paint their kitchen cabinets comes up a lot in my inbox.
I have found that most wives want to paint them, and most husbands do not.
I asked my own husband to weigh in on this matter, and this is what he had to say:
"Husbands need to listen to their wives."
Okay, fine. I made that part up. I didn't really just ask him to weigh in on the matter.

But I have asked him in the past, and his answer is always the same:
"I think most guys are just afraid to mess with something new. That, and they probably just can't see what their wife is seeing- even if she shows him a picture of what it could look like. I think if she wants painted cabinets bad enough to save up for a professional painter, he should allow her to have them professionally sprayed. That way everyone is happy.
I love that man.

If having them professionally sprayed is out of the question- you can also change the look of basic or stock kitchen cabinets by simply removing some of the doors…
Open shelves not only keep items within easy reach, but they also make decorative statements out of cookbooks and appliances.
Not into the look of open cabinetry? How about adding some glass to some of your existing doors. My friend Susie Harris did it all by herself, and they turned out great!
Click here to read her tutorial.
Lauren, from Pure Style Home, removed her upper cabinets altogether…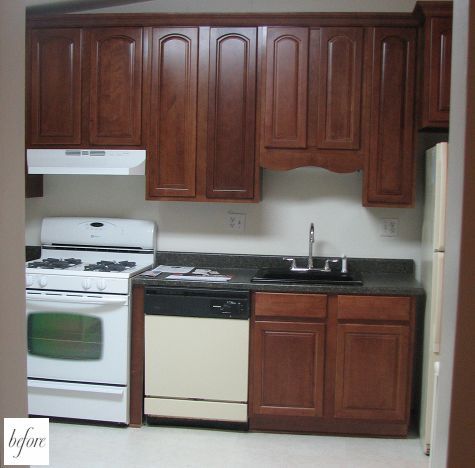 It was a daring design move (love those!), but boy did she follow her heart and create an amazing kitchen, eh?
And if Lauren ever decides to sell her house, I'm sure whoever buys it will want it because of the fun, fresh look she created.
Moving out can be such an emotional experience, so it always helps to know the people moving in are head over heels in love with your house, and will appreciate it like you did.
————————————————————————————-
Switching out your door and drawer pulls is one of the quickest and easiest ways to personalize your cabinets. For a classic look, use period-style hardware. To save money, I buy all my handles, knobs, and latches on eBay.
The bin pulls pictured above feel both old and new, and marry vintage style with modern efficiency.
Can't beat that!
————————————————————————————-

Chris, from Just Beachy, has done lots of things to add character to her new home.
One of which is the addition of lots of molding…
She also added some in her dining room…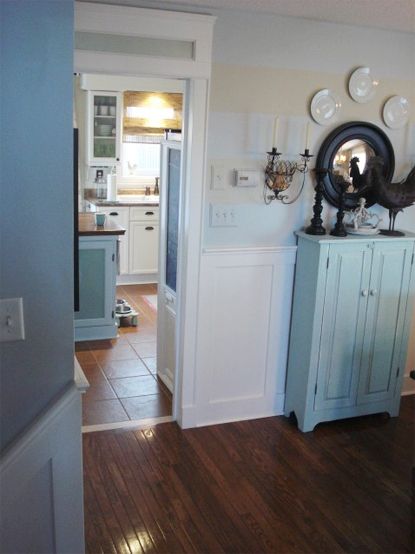 And in her bedroom too!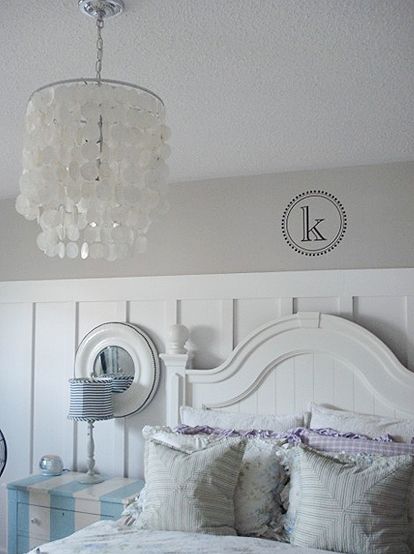 And remember, you don't always have to paint your molding white.
It could be green…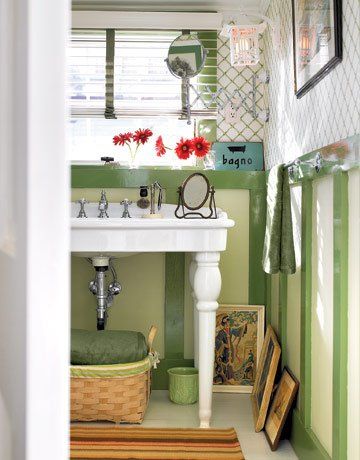 It could be blue…
It can even be black!
Adding molding will really add a lot of architectural charm and texture to all those "seas of drywall" that can be found in so many new homes.
————————————————————————————-

Wallpaper is another way to add a bit of your own personality into your new home.
Sherwin Williams has lots of sample books you can look through- and as long as your not doing more than one room at a time, it's a pretty affordable way to change the look of any given space.
Lauren, whose kitchen I featured above, covered her breakfast nook with a black and white patterned wallpaper…
Isn't it fantastic!?

Here's another perfectly papered place I found online…
Makes me happy just lookin' at it!

Melissa, from 320 Sycamore, used beadboard wallpaper on the door fronts in her laundry room…

(After)

The great thing about beadboard wallpaper is that it's embossed to feel just like real wood beadboard, so once it's painted, no one will ever know it's not the real thing!

"Moonkat99" from Gardenweb used beadboard wallpaper on her ceiling…
(FYI- You can usually find beadboard wallpaper at any home improvement store, but you can also get it here.)
————————————————————————————

Another great way to personalize your space is through vinyl "wall words".
They're inexpensive, and they're easy to remove if you ever want to change things up.
One of our Sponsors, Leen the Graphics Queen, can custom make you any type of decal your heart desires.
Whether it's lyrics to one of your favorite tunes…
Or just something that makes your heart go pitter patter everytime you're in the room…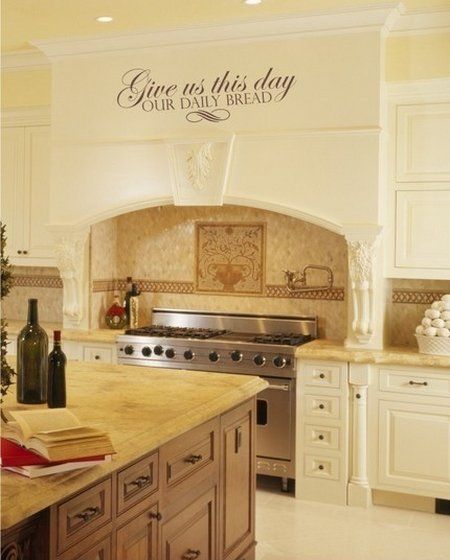 And don't forget- vinyl will cling to mirrored surfaces too!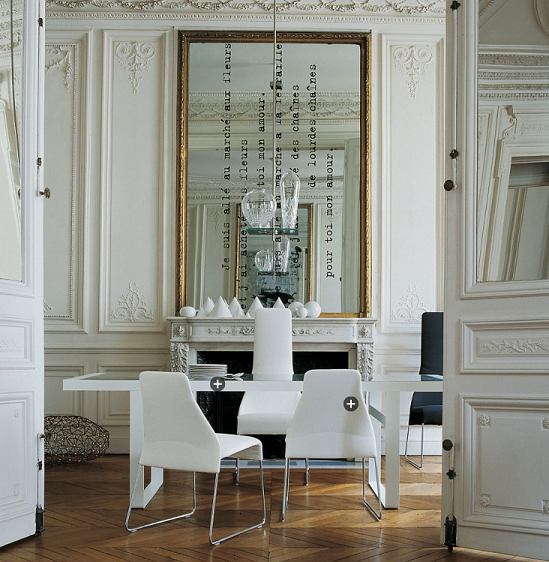 ————————————————————————————-
I hope there's an idea or two here that you can use Courtney!


Happy Decorating!
————————————————————————————-
Need help arranging your furniture? Check out my e-book!