Good news! My friend Chris liked the little surprise I left her yesterday (yahoo!)- but she did have another thought on the whole "to arch or not to arch" subject:
"Layla you KNOW how much I love those virtual transformations you do, and it was literally like Christmas morning clicking on those pictures! Thank you so much. I just love it! Just out of curiousity, is there any way you can make the arch look more like "trim work"? I'd love to see what it would look like if I did chunky crown molding and side "columns" painted white. If it's too much trouble, just disregard my unappreciative pickyness. I love you! -Chris"
She attached this photo to her email so that I could get a better idea of what she was thinkin'…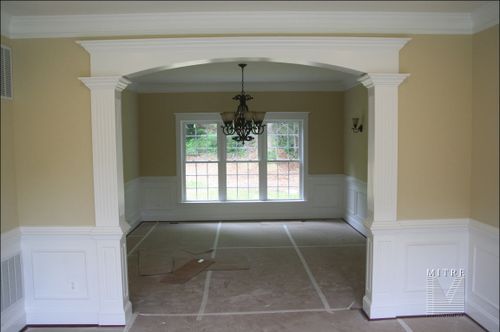 So I put together another presto chango for her, so she could see if she liked the look of it…
(Move your cursor back and forth over the photo below to see her trim-a-licious idea)
And because so many folks asked about where all the "stuff" came from, I thought I'd post my resource list today. Here goes…
Yep.
Every. Single. Thing! The rug, the stockings, the pillows- you name it. The photos on their website are really big, so it's really easy to cut and paste things in when I'm working in Photoshop. (Plus I just love their stuff!)
The idea I had for above the fireplace was to trim out a custom-cut mirror with a couple different types of molding/wood, and paint it the same color as the rest of the fireplace so that it would sort of look like this:
Except imagine it made out of white-painted wood & trim from the home improvement store, and mounted to the wall- not leaning against a van in the driveway.
Here's a closer up/blurrier-because-I-had-to-enlarge-it view of the fireplace so you can sort of see what I'm gettin' at…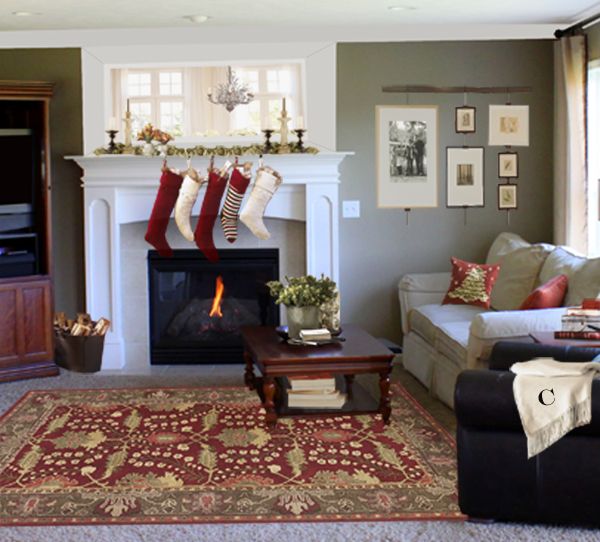 As you can see, my hand-drawn trim isn't really all that trim-a-licious, but I just wanted to sort of throw it out there in case she liked the idea. If she does, she can go wild creating the look she loves. Ooh- and if she really wanted to get fancy-schmancy, she could probably have the mirror edges BEVELLED too! (insert a quickened pulse at the thought of that last sentence here)
And for the peeps that asked about the art hanging on the wall to the right of the fireplace- you can find it HERE. But, again, it was really just meant to show how using something that really filled up that wall would help balance the visual weight of the armoire on the other side of the fireplace. There's nothin' like a well-balanced room to make everything feel all comfy and cozy! Well, that, and stockings. And blankies. Stockings and blankies are really good at it too.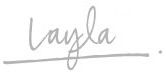 PS- Some folks also asked about the paint color I used in my drawings. Truth is, I'm not sure! I just took my little eye dropper tool in Photoshop and selected some of the wall color that's on the fireplace wall. Check with Chris for the name and number! 🙂
Join us on Facebook or Twitter!
————————————————————————————-
Need help arranging your furniture?
Need design help?
Check out my e-book!
Get My Free E-book: 15 Common Decorating Mistakes And How You Can Avoid Them
Enter your email to download my free e-book instantly! 🙂