When we bought our 3-acre plot, and the funky little fixer that sat on it, there wasn't a whole lot of landscaping goin' on…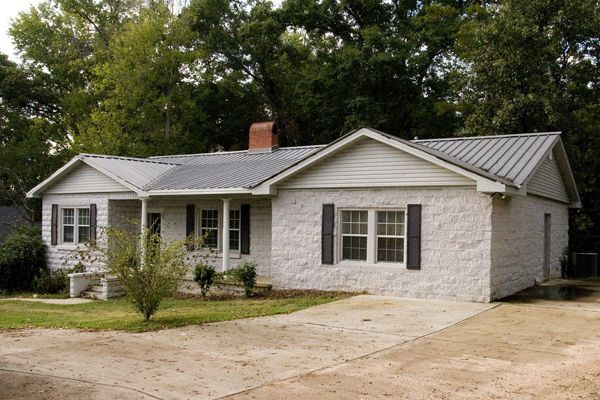 We've spent the past few years mainly working on the inside of the house, but my master gardener Mom has helped us add a few touches of color here and there…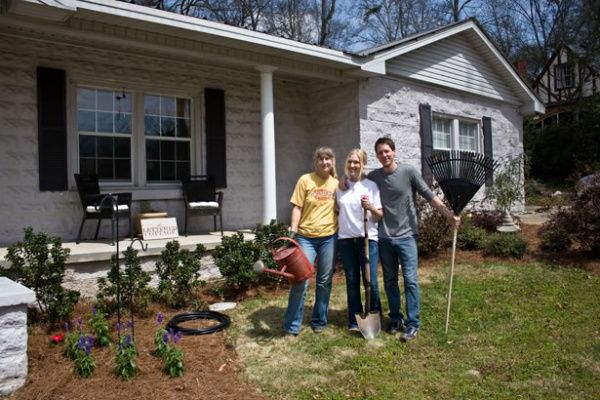 I took advantage of the nice weather this past weekend and got some much-needed weeding and exterior-related cleaning done. The chairs on the porch had definitely started looking more shabby than chic…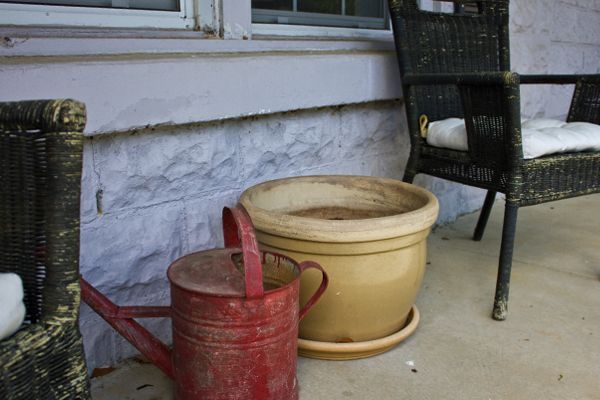 I hosed them off and sprayed them with some leftover oil rubbed bronze spray paint I had from our Eagan mirror project…
I washed the inexpensive Ikea cushions we have on them too…
Amazing what a quick coat of paint and a spin in the ol' washing machine can do!
And I finally got my beloved begonias. I planted two light pink ones in the big pot between the chairs, and this ravishing red one in a smaller pot by the front door…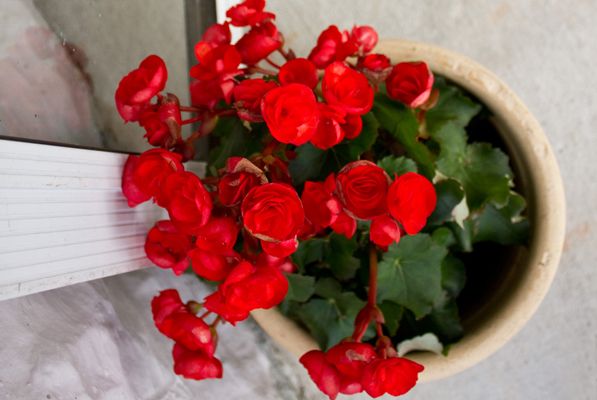 And speaking of fun flowers- I got couple of them in the mail this week too…
They came from Santa Rosa Gardens in Florida. (My Mom just got a job there, so I just had to place an order!)
I don't think I've ever received a live plant in the mail before now, but I gotta say, it was pretty neat. (And their customer service lady is SO friendly!)



They were buried in puffy layers of brown paper, and wrapped up snug in little netted 'socks'…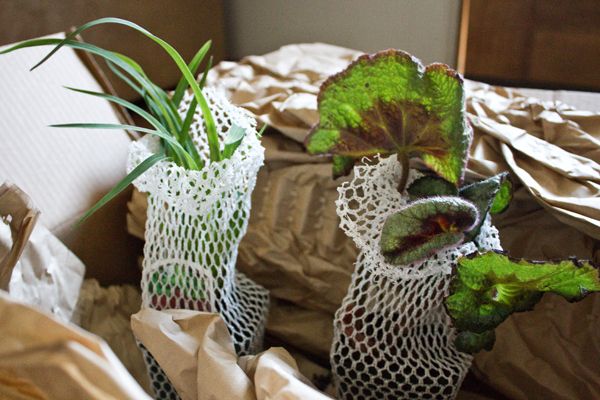 I got the baby daylily to go next to the big one you can see back there in the distance…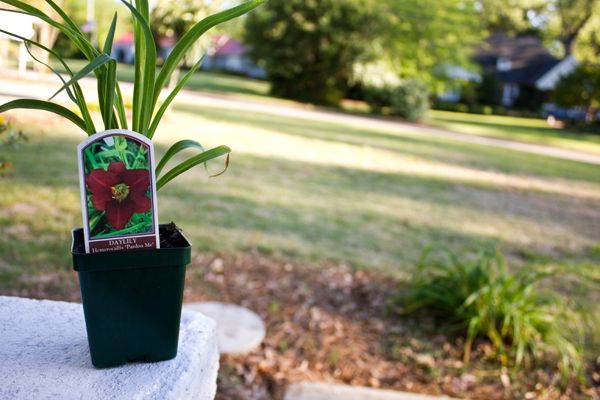 I think I'll get one more to completely soften the edge of that curve at some point.
I also received this fuzzy little fella…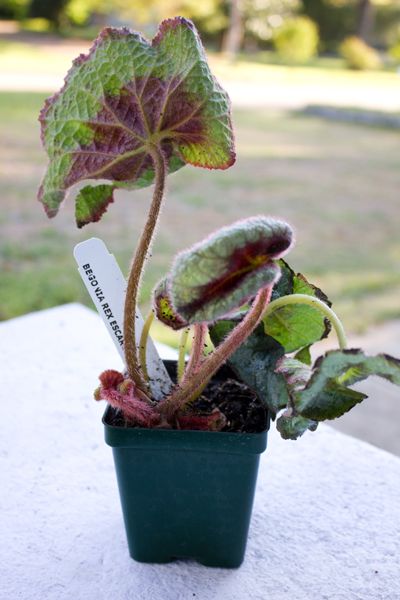 I planted it in front of the hanging plants we got last week…which, by the way, are so pretty when the sun comes out…
Their little flower heads stay closed if it's cloudy out. (Kinda like mine- LOL!)
So, the house doesn't look quite as drab today…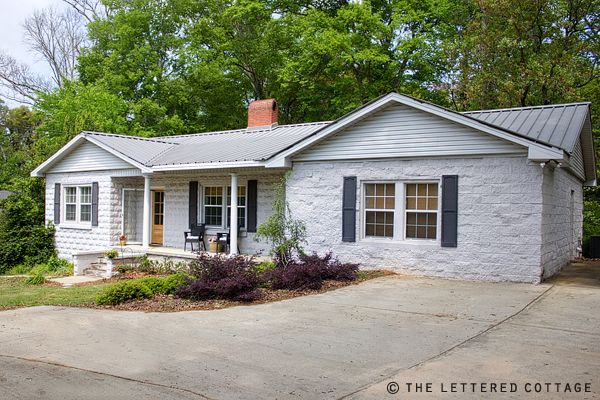 …but there's still lots of work to do out there. Kev's chompin' at the bit to paint the place, and he's determined to do it him$elf, ifyaknowwhatI'm$ayin.
Here's (sort of) what we're thinking…
(Come on over Google reader! We've got some presto change-o's to show ya!)
(Move your cursor on and off of the photo below)
A warmer paint color on the house, new DIY wood shutters, and crisp, white-painted window trim.
And maybe we'll go wild and wrap our round columns with wood, to make them square, kinda like these…
Move your cursor on and off of the photo below to see what that would (sort of) look like…
I'm not sure it's totally necessary, but we're clearly obsessed with making changes always up for tryin' something new!
This next presto change-o shows what we're thinking about doing to our currently unfinished front door…
Don't you think a little warm walnut-colored stain would look loverly on it?
There are so many different things we could do to the exterior, but we're trying to keep costs down as low as possible, so maybe we'll just tackle a few of these types of (semi) cost effective changes a little at a time…
(Move your cursor on and off of the photo below)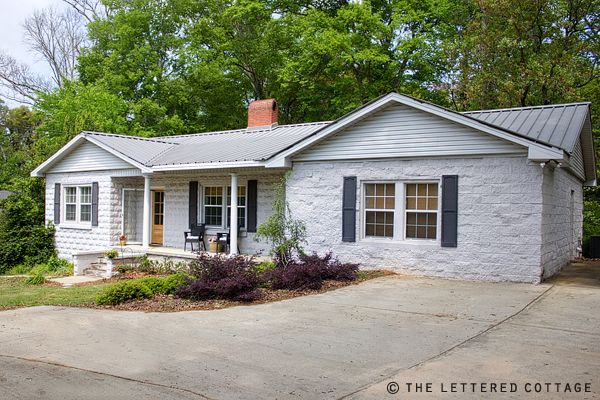 (FYI- none of these colors or ideas are set in stone)
We'd also kinda like to investigate the option of replacing the vinyl siding in the eaves with some kind of cedar shake material…
(Move your cursor on and off of the photo below)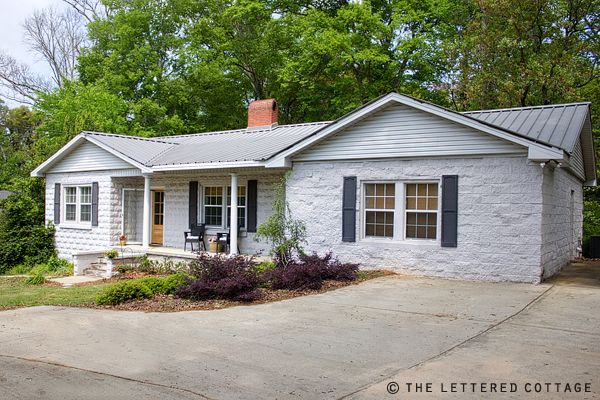 (Maybe the front door and/or shutters would be a different color then? Kinda diggin' the green!)
Who knows!
Kev and I always say that creating our own place together feels kinda like living in the 'big kid' version of a couch cushion fort.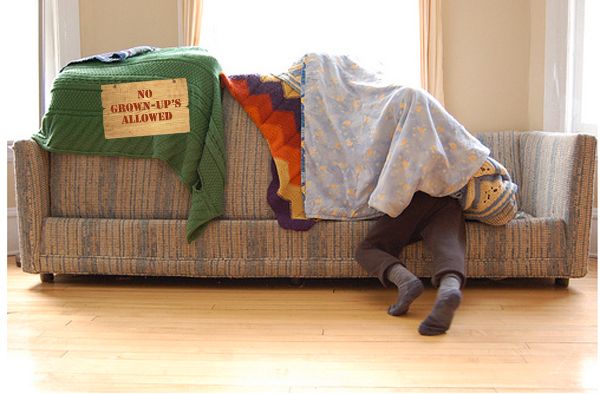 There are so many opportunities for DIY adventure within those wacky walls!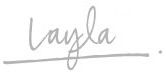 PS- Here are the still photos in case you can't view the presto change-o's above…
Inspiration A:
Inspiration B: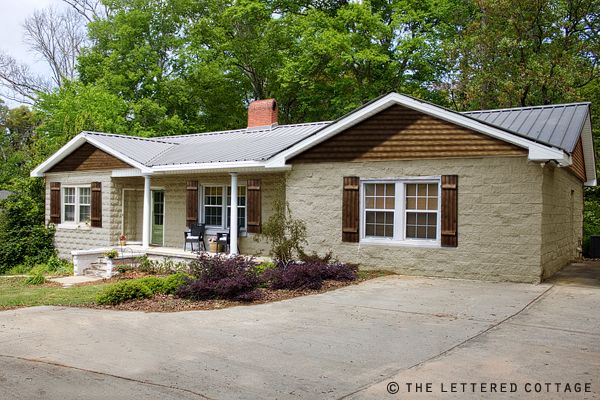 And for more couch cushion inspiration…I give you: Lily…
——————————————————————————————————–
Join us on Twitter or Facebook!
————————————————————————————-
Need help arranging your furniture?
Check out my e-book!
Get My Free E-book: 15 Common Decorating Mistakes And How You Can Avoid Them
Enter your email to download my free e-book instantly! 🙂