This post is all about our previously purple bathrom turned cottage bathroom- but I did want to mention that since our last post we've had several really great appointments with potential buyers so *fingers crossed* we'll be pulling up the for sale by owner sign in our front yard by the end of the week!
Ok, onto the cottage bathroom! Remember what it looked like when we moved in five years ago?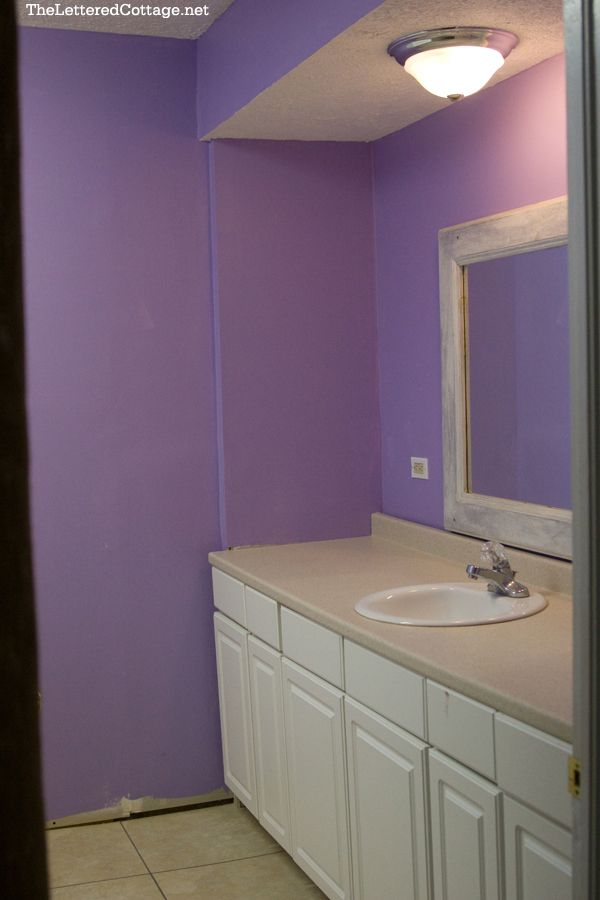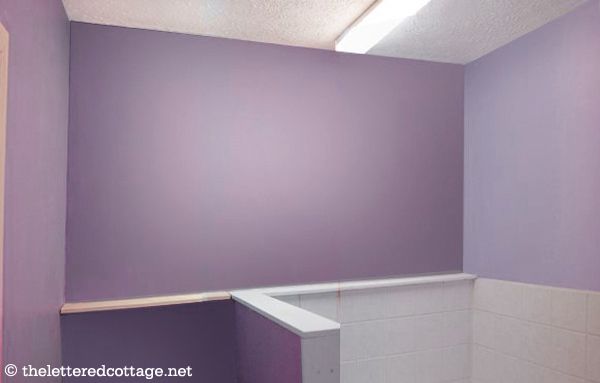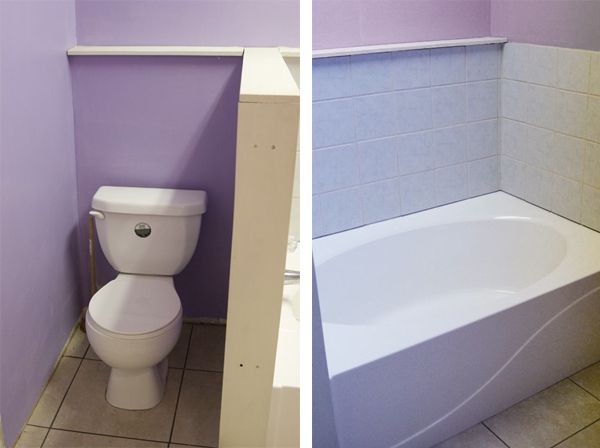 (We didn't have a wide angle lens back when we shot our before pictures- sorry for the chopped up views!)
Here's what we ended up doing with the space, little by little, over the past however long…
Since we're hoping to move back near our old neck of the woods sometime soon, we left the wall above the tub blank. That way, the new owner(s) can do whatever they want to up there. I always thought it would be fun to open it up and add a wall full of salvaged windows there…or maybe extend the half wall up near the ceiling, add more subway tile on all three tub walls, and make it a tub/shower combo. Lots of options for the next owner to think about!
(Note: We used a hinge stop on the top hinge of the door so it doesn't hit half wall behind it.)
We got our subway tiles from Lowes for 26 cents a piece. We used their "warm gray" unsanded grout in between them…
The tile and grout only set us back about $120 total, and we absolutely love how it all turned out. The house hunters that have seen it so far have really seemed to like it a lot too. #Yay!
We placed a tiered storage stand on the floor next to the tub…
Kev and I both loved the look of it, and I had way too much fun shopping for sea sponges and handmade soaps to fill it with on Etsy.
#IHeartEtsy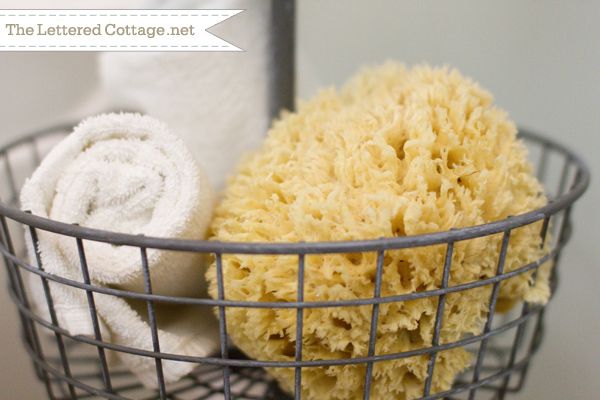 I'm absolutely wild about the sea sponge soap. The sponge is actually nestled right into the soap during the creation process…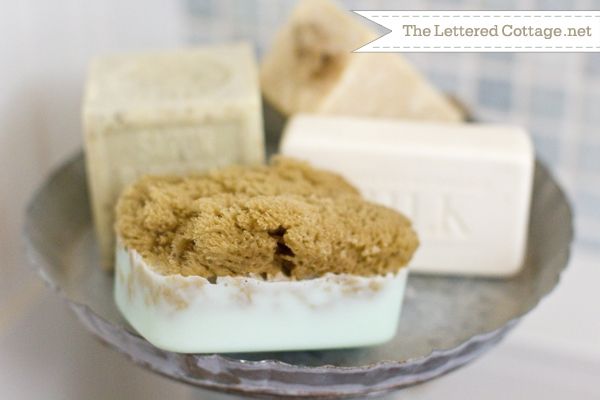 How fun is that?! It smells amazing too.
The rug on the floor was on clearance at Pottery Barn:
…and up on the wall above it, we hung a bent wood wall shelf…
I'm a sucker for bamboo and bent wood items (both natural & painted), and I was determined to win this one on eBay when I saw it there a couple of weeks ago. At first, I was the only bidder at $9.97. I was pumped, and I didn't think about it much for the next few days. Then, about a half an hour before the auction was going to end, I got an email saying that I had been outbid. Zoinks! Another bidder placed a bid of $13.43. I upped my bid to $15, and was glued to my eBay screen for the next 30 minutes. About six minutes before the auction ended, my adrenaline got the best of me and (impulsively) increased my maximum bid to $20. (I was really hoping to stay under $15.) Thirty seconds before the auction ended, the other bidder changed their maximum bid to $15.78, so I ended up winning it for $16! Whew!
Show of hands comments- Isn't it funny how a down-to-the-wire bid-fest can instantly either make you totally afraid to commit to an item, or totally HAVE to have it? Wacky.
While I was e-shopping, I found some numbered wooden toothbrushes online, too…
Fortunately they're available for purchase on this website, but I definitely would have jumped into another bid-fest for those bad boys if I had found them on eBay- ha!
It may have taken five years to complete, but it was definitely a labor of love!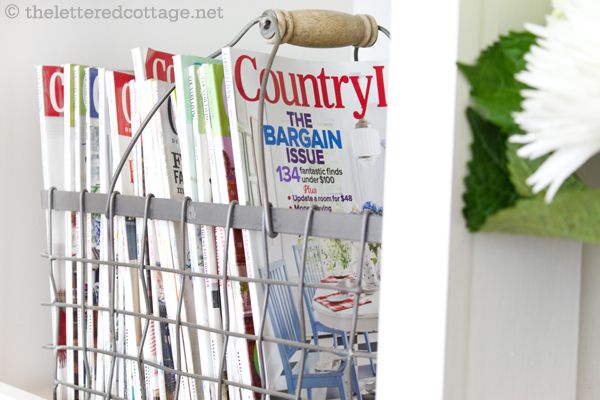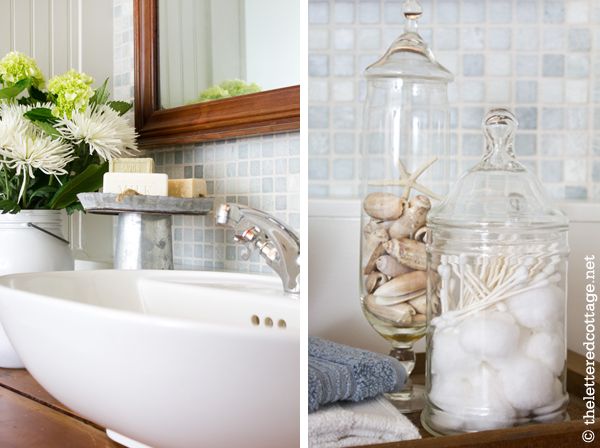 Hope you enjoyed the (tiny) tour!

Resource List:
Wall mirror – Local flea market
Galvanized stand – Farmhouse Wares
Wire magazine basket – TJ Maxx
Glass apothecary containers – We've had them for so long, I can't remember!
Hollviken sink – Ikea
Wall tile – Total Liquidation in Montgomery, Alabama
3″x6″ white subway tile – Lowes
Sea sponges and sea sponge soap – Natural Sea Sponges on Etsy
Honeycomb soap – BathHouse on Etsy
Honey oat soap – DomesticLove on Etsy
Maison-Home bath gel – TJ Maxx
Tiered Storage Stand – Pottery Barn
Kate rug – Pottery Barn
Ceiling light above sink – Lowes
Bent wood towel rack – eBay
Numbered wood toothbrushes – Izola.com
Wall color: Sea Salt by Sherwin Williams
Door color: Mourning Dove by Sherwin Williams (an old Martha Stewart color you have to ask them to mix)
Trim color: Moonlight White by Benjamin Moore
Farm table: local flea market
Branas baskets in cubbies: Ikea
Golden oak vinyl plank flooring: Lowes
(To read more about our cottage bathroom redo, just scroll down to "guest bathroom" under the Categories tab in our sidebar.)