It seems like the older I get, and the more I work on this house, the more I feel like following my own design instincts, not set-in-stone 'design rules'. Ya know what I mean?
These days, it seems to pretty much all boils down to smiling.
'Cause stress and anxiety ain't got nothin' on a cheery interior, right?

Okay, okay- obviously that's not entirely true, but whether its furniture pieces, or fabric patterns, or fresh paint- my current motto is…
GO WITH YOUR GUT GRIN!
And one of the main things I love about "go with your grin"-style decorating & design is that you can just kind of let inspiration take the reins, and literally just go with whatever it is that makes your heart hippity hop!

We've been having fun working on our master bedroom (again) lately, and as we pull things together, we're trying to focus more on creating an environment that's inspiring and meaningful to us, and less on what's "supposed" to go in a grown-ups bedroom.
The classroom map Kev gave me for my birthday last June not only makes me giddy to the gills visually, I think it subconsciously encourages this homebody/nervous nelly to keep exploring, dreaming, and discovering, too…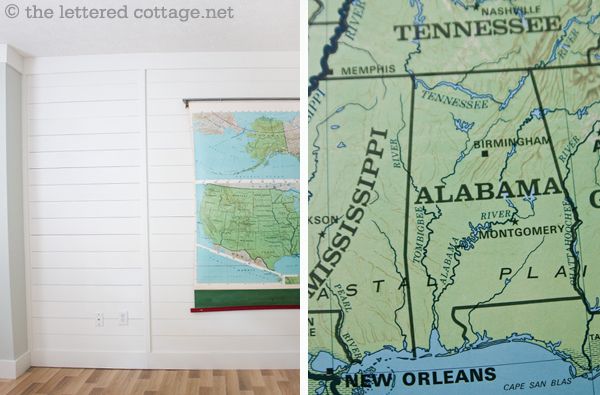 Sure, it's not your typical master bedroom art- but it sure does make me smile!

Ooh! And speaking of my big ol' map…here's what we're thinkin' about doing to the left of it…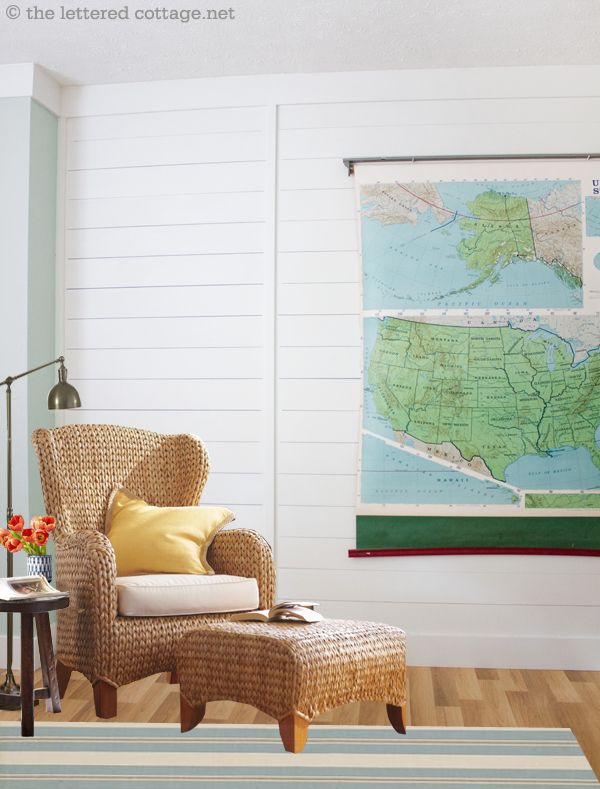 We even brought in the wing-back chair that sits in our living room to see if using a chair that size would look & feel right in real life, and sure enough, everything looked and felt just right!
(Note: The items I photoshopped in the photo above are from PotteryBarn.com, and aren't necessarily the exact pieces we'll use. Although, I would like to add that I have ADORED that spectacular seagrass seat for like two years, and if I happen to get one for Christmas from someone whose name starts with the letter K, he or she definitely wouldn't need to hang onto the gift receipt.)

Anywho…I'll keep you posted on the cheery chair situation, and in the meantime, I'll be enjoying my big ol' map from my side of the bed. Which brings me to the moral of this silly story: Most of the time it's better to be safe than sorry, but in design, sometimes it's better to be smiley than safe!

PS- We (finally) started working on our home office this weekend too- yahoo! Up until yesterday, the room was jam-packed with all kinds of stuff we weren't using anymore, but our (awesome) neighbor, Josette, helped us move it all over to her booth at Prattville Pickers today so that we could start with a clean slate! (If you're out there anytime soon, check out booth #D177!)
___________________________________________________
Join us on Pinterest, Twitter and Facebook!
___________________________________________________________
Need design inspiration? Need help with space planning?
Check out my e-book!
Get My Free E-book: 15 Common Decorating Mistakes And How You Can Avoid Them
Enter your email to download my free e-book instantly! 🙂