It's Christmas craft day over at Kate's blog (Centsational Girl), so I thought I'd share a little bit more about the easy-peasy, DIY sailboat project I made the other day.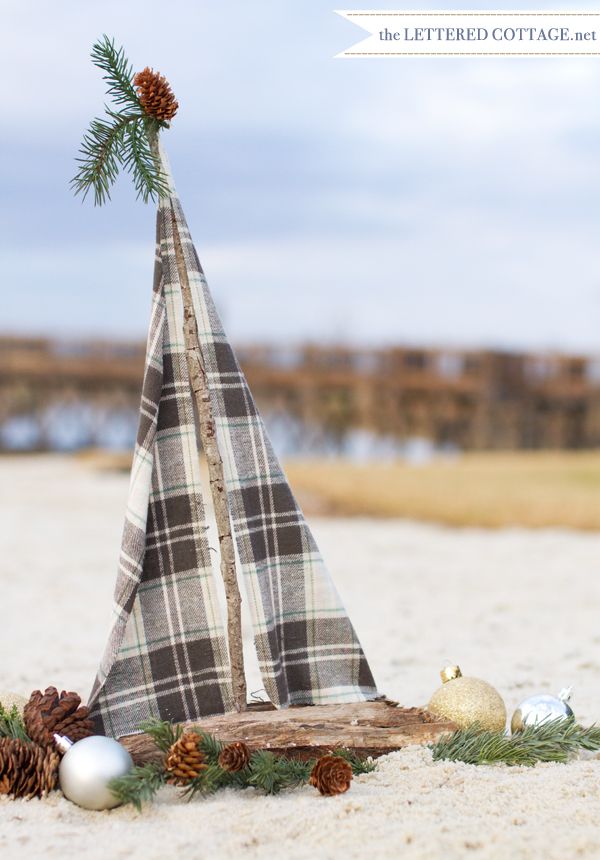 Like I mentioned in our Christmas mantel post, we live next to a lake now, so I thought I'd have some fun shooting today's photos down by the boat houses.
The first step in making my sailboat involved finding a flat-ish chunk of wood to serve as the base of the boat, and a twig to act as its mast…
Next, I cut out two flannel triangles sails using the twig height as my guide. I didn't worry about them being "perfect", I just cut away and called it a day- ha!
After that, I used a thick drill bit to create a hole in the center of the base:
My twig actually fit down in there pretty snugly, but for extra security, you could put some hot glue down inside the hole before you insert it.
After that, I used little dabs of hot glue to secure the flannel triangles to the twig and base wherever they touched.
Last but not least, I used a little more hot glue to attach a faux evergreen "flag" to the top of the twig mast:
And there ya have it! A woodsy, water-y, wintery theme-d sailboat- that's shaped like a Christmas tree!