Howdy, friends!
I learned something new about myself last month. All of a sudden, I am obsessed with Christmas bedding! I love the red velvet quilt, "merry" pillow, "woody car" fitted sheet, and white top sheet and pillow cases in this gorgeous Pottery Barn pic:
…and I am crazy about the colors in the plaid duvet and standard sham in this one: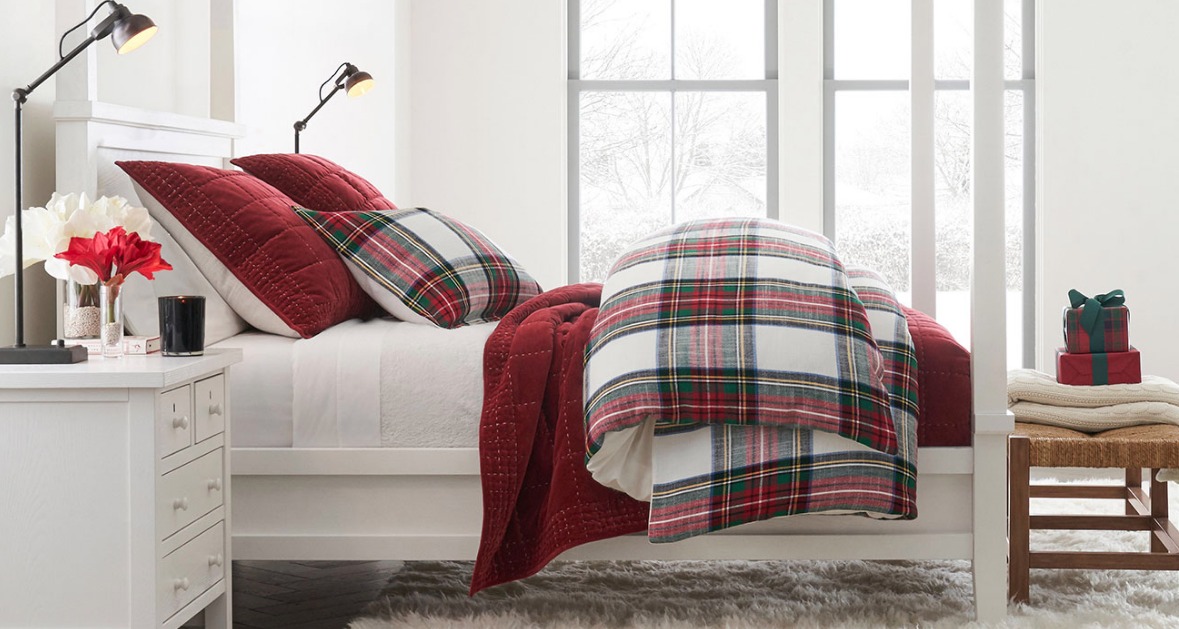 I would've loved to scoop up every single piece in those pics, but since I'm on a budget, I decided to create a similar look for less.
To start, and since I'm not a big fan of duvets, I decided to hunt for a plaid quilt instead. It took lots and lots of searching, but I finally found two (lower-cost) options that look similar:
I ended up going with the ($89) Thatch Home plaid quilt on the left, but I also liked the ($129) Bee & Willow plaid comforter on the right. Here are links to all three options in case you'd like a closer look at any of them: Pottery Barn ($189) and Thatch Home ($89) and Bee & Willow ($129). Looks like the Thatch Home quilt is sold out everywhere (boo!) but I'll keep checking, and I'll share an update if I see it come back in stock anywhere.
Here's how it looks on our bed, along with everything else I rounded up:
Isn't that fun? I've never decorated our master bedroom for Christmas, but this year has been so stressful in so many ways, and after seeing those PB pics I felt inspired to add some holiday cheer in a way I never have before.
I couldn't find the matching euro shams anywhere online, so I bought a twin-sized version of the same Thatch Home quilt (for $59) and a neighbor made me the covers for $20 a piece. There was enough fabric to make them double-sided and I got a double-sided table runner out of it, too!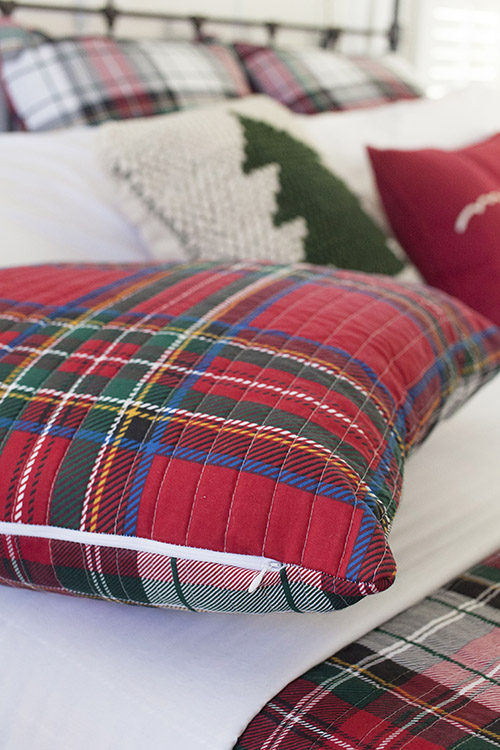 I got my Thatch Home quilts at Target, but they were also available on Amazon, and at Bed, Bath & Beyond, Macy's, Kohls, and a few other places when I bought mine, so hopefully they'll show up somewhere again soon. It really is a lovely set and, looking back, I'm SO glad got the twin-sized quilt for the euro shams. I was on the fence about it at the time, but it's so fun to have a coordinating set, and the gal that made them did such a great job!
I almost forgot to mention that the quilt is reversible too, so it was literally like getting two quilts for the price of one. Here's a peek at the opposite (more red) side:
I picked up the ($57.99) white sheets on Amazon. They're so super soft and we have really enjoyed them:
The king-sized, flannel "woody car" sheets came from Belk. I got them on clearance for $29.75!
The incredible king-sized, red velvet quilt in the Pottery Barn photo was out of my budget, and man did I have a heck of a time finding a good, lower cost option. I had almost given up (and was just going to find a different type of red blanket instead) when I came across this red velvet comforter by Bee & Willow:
It was regularly priced at $169.99, but I signed up for their email list and got 20% off, so it ended up costing $135.99. I wondered if it would feel and look as luxurious at the PB one, and I'm happy to report it is wonderful! I used a steamer to get the wrinkles right out and the stitching and pom-poms are the perfect finishing touches. It even came with two king-sized shams and was packaged inside this gorgeous, velvet tote bag that I am definitely going to keep:
Steevenson literally gasped when he saw it. I told him Santa brought Mommy a new purse and he immediately ran off to show it to his Daddy- ha! 😀
I found the ($29.99) white, king-sized Magic Bedskirt at Target. It was so easy to put on because you don't have to lift up the bottom mattress to attach it!
I did end up buying the "merry" pillow (on sale) from Pottery Barn, because I never could find anything similar and that I liked just as much.
I was able to save about $650 piecing it together this way and we even set up an inexpensive (Ikea) Christmas tree (with a single strand of clear lights!) in one corner of our room to make the space feel even more festive. The three of us have even started having movie nights in our room (instead of in the living room) because, with all these Christmas-y touches, it's just so dang cozy in here!
I'm still planning to spray those bin pulls black, and we're actually moving that (Natalie Hamm) painting to another wall so that I can do something different above the bed, but what a treat to have the bed spiffed up!
I may share a separate post that includes several more Christmas bedding options I came across while I was on the hunt for mine. Would that be helpful? I'm happy to pass along more pics and links to some of the sweetest things I saw if that feels fun!
Alrighty, now I'm logging off to watch more 'Dash & Lily' on Netflix. Have you seen it? I'm on episode 5 and I'm LOVING it! And, yes, I'm currently tucked into that cute Christmas bed, with the white lights sparkling on the tree beside me, and it definitely makes blogging feel more fun too. 😉
Take care kindreds and I'll see you back here soon. I have a veeeeeeery exciting post to share next week and I can hardly wait for you to read it!
Layla
PS- I bought the Christmas tree throw pillow a couple of years ago, but I was able to find it online here: Big Big Mart
Get My Free E-book: 15 Common Decorating Mistakes And How You Can Avoid Them
Enter your email to download my free e-book instantly! 🙂