"Even the most modest of projects can become something beautiful.
There is no such thing as too far gone.
With hope and a hammer, I believe there is always a way."
– Tereasa Surratt
Boy do those words ring true in today's Wandawega post. It's about the latest addition to David and Tereasa's magical campsite: a modern, pitched roof treehouse- designed and built by a wonderful bunch of friends.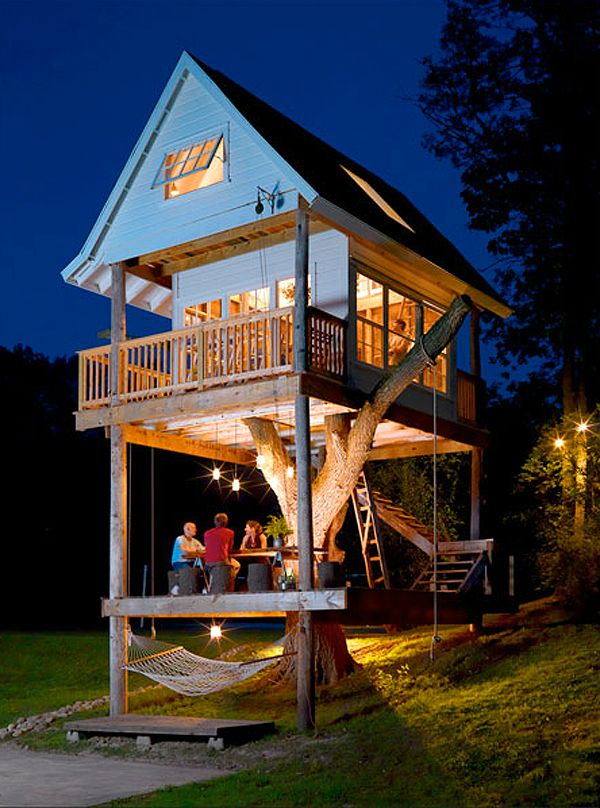 (photo: Bob Coscarelli)
The project all started with a big, old elm tree located right in the center of camp. Shortly after David and Tereasa purchased Wandawega, Tereasa's Dad, (Tom) christened the property by hanging a rope swing from one of its branches.
(Photo: David Hernandez)
Sadly, Tom passed away a year and a half later, and around that same time, the elm tree contracted Dutch Elm disease. Tereasa said she "could not cut it down".
Further investigation into the elm's condition revealed that even though its branches were dying, its trunk was still very strong. So instead of chopping it down, David and Tereasa's friends teamed up to work on the once-in-a-lifetime dream project for them.
Tereasa and David's carpenter/furniture-maker friends started by sketching out plans.
Tereasa said, "Everyone had a radically different idea, and everyone was thinking 100 times bigger and more elaborate than I was. I was imagining a little kid's house."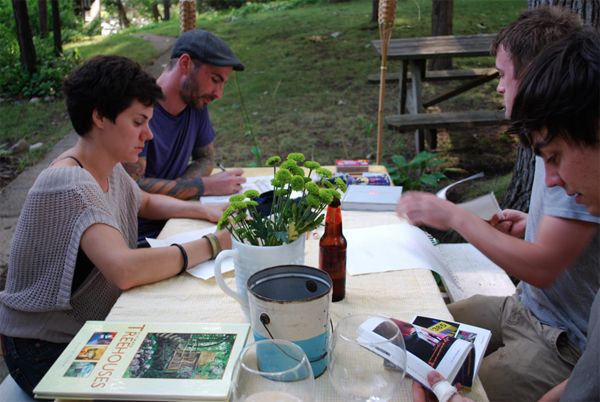 Ultimately the group settled on a three-level cottage in which the tree comes through a deck near ground level, then breaks through the floor in three spots on the first level of the house.
It's 16 feet from the peak of the vaulted ceiling down to the floor, and there are two sleeping lofts in the treehouse- one at the front…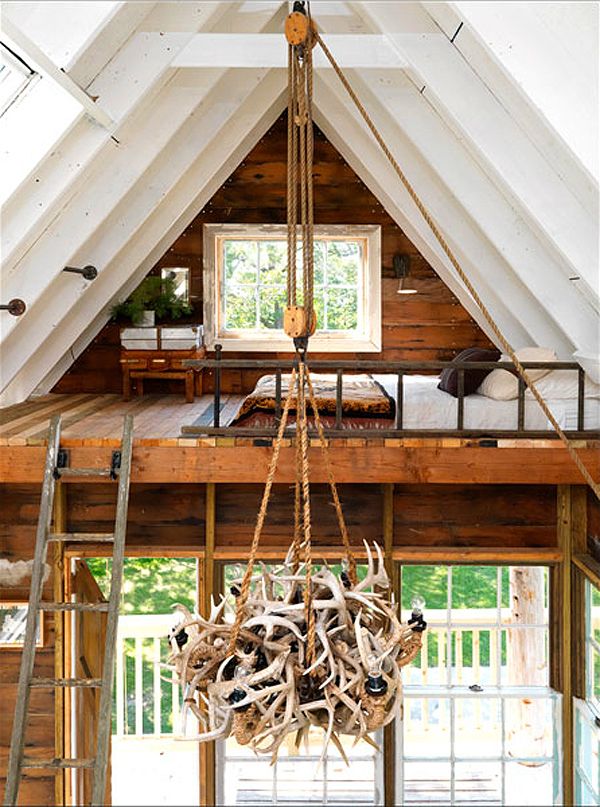 …and one at the back…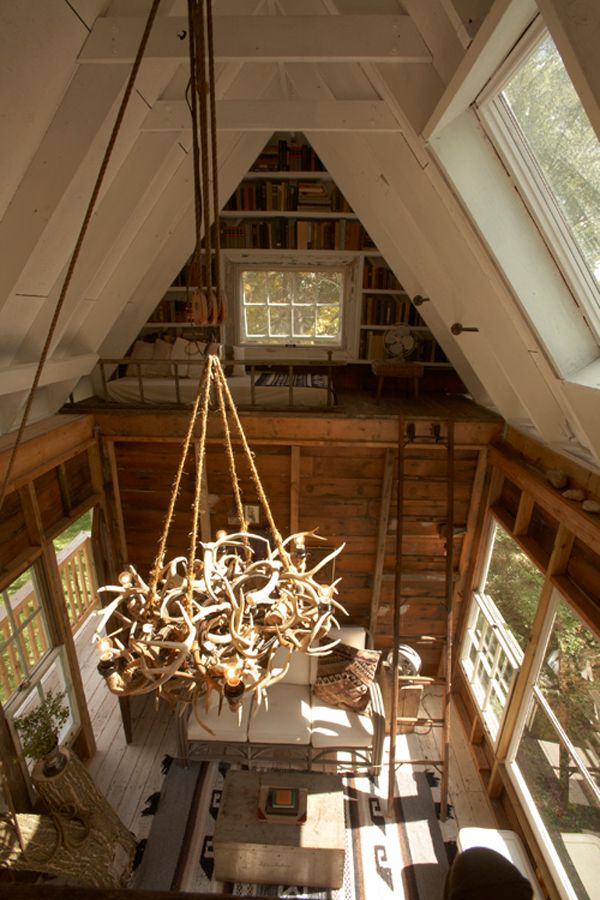 …which can both be reached by sturdy wooden ladders.
"It's not so much a tree house as a cottage on stilts", Tereasa says. "It's four telephone posts, set six feet into the ground into concrete pilings, surrounding a tree. We built it to be as sturdy as our city house."
The materials they used aren't just run-of-the-mill two-by-fours, either. The windows are vintage, and most of the wood is reclaimed. Some from a dilapidated dairy barn near the property, the rest from a demolished Chicago bungalow, sourced from the ReBuilding Exchange.
Once the treehouse structure was built (It took about a years worth of sometimes 15-hour long weekend days to complete it), Tereasa and her friend, Angela, went to work on the interior- furnishing it minimalistically, but cozily, with found and vintage pieces.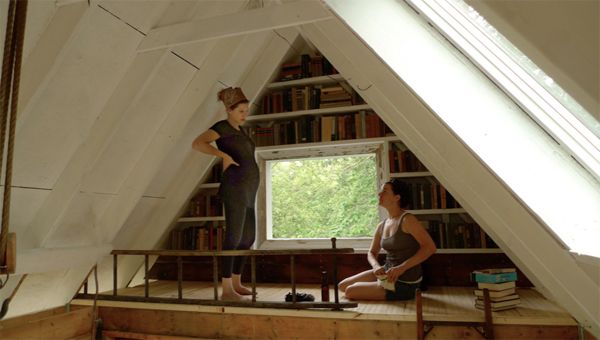 The design is all about reuse and handmade. Every little detail—from the building materials, to the showstopping antler chandelier- made by Tereasa with antlers gathered from the Wandawega woods and from around her hometown in rural Illinois…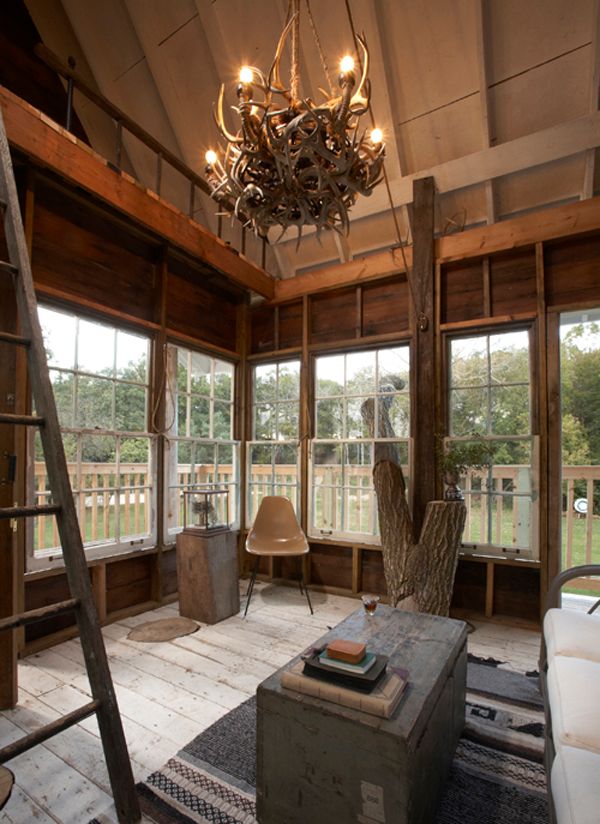 to the handmade furniture and pillows created from old fabric and feed sacks…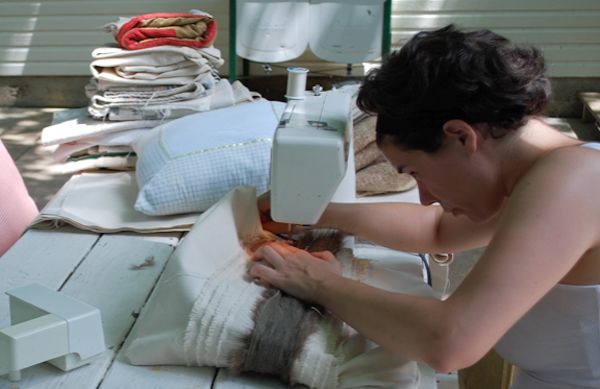 …to the stumps coming through the floor boards, that now act as side tables.
The result: an interior, like the tree itself, that reads like the ultimate ode to creative reinvention…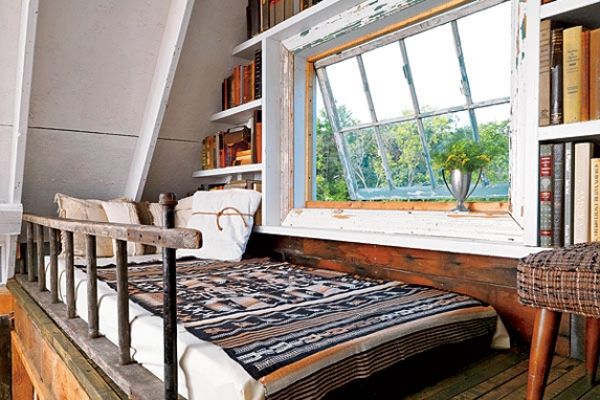 (photo: Bob Coscarelli)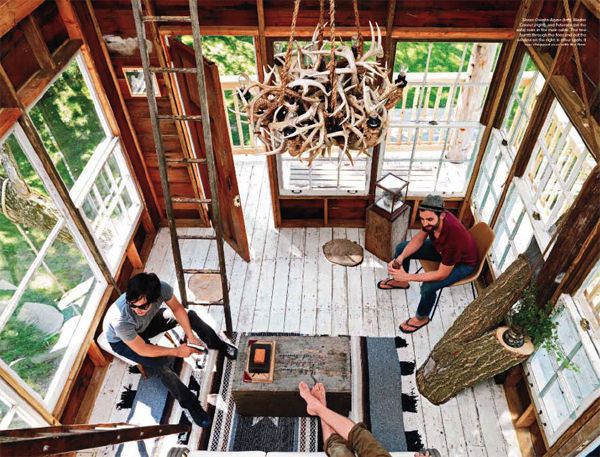 (photo: Bob Coscarelli)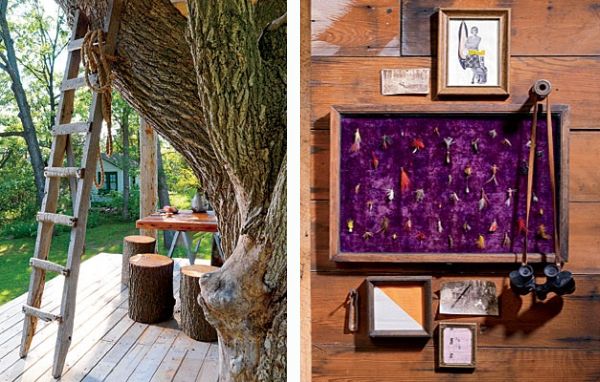 (photo: Bob Coscarelli)
But the ingenuity doesn't stop there. Outside, and down below the main floor, David created pendant lights from old mason jars Tereasa found in the basement of one of the buildings on the property. He used some edison bulbs Tereasa picked up at Home Depot, along with some simple lamp kits (adapted with extension cords) to create them….
(photo: tharrisonhillman.com)
Tereasa and David named it "Tom's Treehouse"…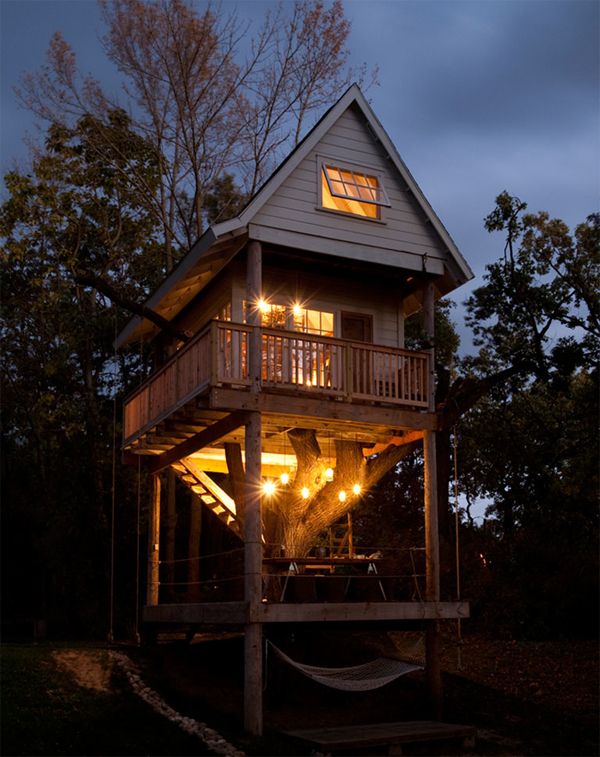 (Photo: Jacob Hand)
…and suspended from the very branch Tereasa's Dad originally tied it to, the rope swing Tom so lovingly hung for her still blows in the breeze today…
(photo: Jacob Hand)
__________________________________
I hope you enjoyed the tale of the Wandawega treehouse today. Stay tuned for more Wandawega Week posts to come- and if you missed days 1 and 2, you can find them here: Camp Cottage and A Very Modest Cottage Giveaway.
You can find days three and four here: Camp Tent and Camp Wedding and Baby.