Welcome to day 2 of Wandawega Week! If you missed day 1, click here.
Today, we're giving away a signed copy of Tereasa's book, A Very Modest Cottage. If you'd like a chance to win it, just leave us a comment on this post between today (Tuesday, August 9th) and Thursday, August 11th at noon (Central Time).
But before you scroll down to comment, I'd like to share with you a few more gorgeous Wandawega photos, and a very special blog post Tereasa wrote about her Dad, Tom Surratt. It's filled with love and heaps of hope, and I'm sure you'll be as touched by it as I was…
__________________________________
"An old car, a decrepit piece of furniture, a rusty old tractor, an abandoned cottage is never beyond hope. They just need to find someone who'll believe in them.
Tom Surratt believed.
He didn't see a worthless, geriatric farm machine that was too far gone. He had a gift to see the youth, the former self, the beauty in everything. He saw his grandson one day driving that tractor down Main street in the annual Beardstown Fall Fun Festival Parade. He didn't see a rust bucket of a pick-up that was beyond repair. He envisioned the 'country limoisine' his son Sam would drive his bride Tara home in on their wedding night.
Tom's ability to see potential where most saw junk was a gift he passed on to every member of his family. His son Sam can bring pretty much anything with an engine back to life again. And again. And again. His daughters Amy, Lisa and Holly married men cut from the same cloth. Men who know that the right combination of ambition, duct tape, and elbow grease make all things possible. His wife, Kay, held Tom's hope in her heart as she hammered, nailed, painted, and restored half a dozen condemned properties into loving homes for low income families with her two hands. And my father Tom inspired me to see the beauty locked within an abandoned cabin bound for the wrecking ball. I saw a quiet, happy place where Dad could go to read his books and listen to his grandkids and watch the clouds roll by.
Dad didn't make it to see the rebirth of the modest cottage.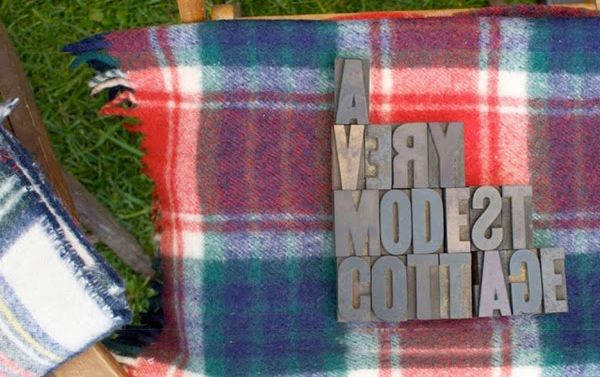 Or to witness his grandson – with a grin a mile wide – old enough to pilot that old international Harvester tractor down Main street and win best of show for antique restorations. But his ability to dream and hope and believe lives on.
I hope this little story of a resurrection inspires you (like my Dad inspired me) to think twice before you lose faith in that old car, that weathered piece of furniture, that old tractor, or even an old, abandoned cottage.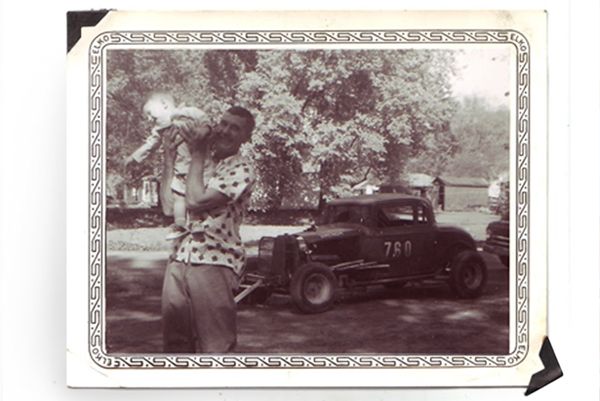 (Tereasa's Grandpa, holding up her Dad)
Even the most modest of projects can be become something beautiful. There is no such thing as too far gone. With hope and a hammer, I believe there is always a way."
– Tereasa Surratt, author of A Very Modest Cottage
____________________________________
(Photos 1, 2, 3, & 5 courtesy of Mary at at Home Is Where The Boat Is. Photos 4 & 6: AVeryModestCottage.blogspot.com)