Happy Monday, y'all!
I thought I'd share a Bungalow Barn update since there's finally an update to blog about. The stairs!
It's wild how challenging it is to find someone to build a rustic set of stairs! We've learned that stairs are really a specialty thing. Most carpenters wouldn't take on the project, and most stair companies would only give them bids on fully finished (ten thousand dollar!) staircases. The crew who Kev's mom finally hired to built it were friendly, they worked fast (one day!) and the new staircase feels so much safer than the ladder the last guys built.
Keep in mind- this loft space was a last minute addition, and Jim and Katie still plan to do all their living on the first floor. The loft was originally just going to be attic space, but Kevin and I thought it might add more value to the home if they made it usable, interior space. They can still use it as attic space if that's what Kev's mom chooses to do. The stairs are really just a way to get up to there, like a pull-down ladder would be. BUT, if she (or anyone who owns the home in the future, for that matter) decides to use the loft as something else, they'll have a nice set, safe set of stairs to get up there on. (PS- Jim is on a scooter full-time and doesn't do stairs, and Katie has already been up and down them a few times without any trouble.)
They still need to be primed and painted, and we're adding a handrail on the wall and a grab bar on the 4×4 post in the photo below:
I'd also love to give Katie some more hidden storage by enclosing the bottom of the stairs. Maybe she could stash seasonal decor under there?
For those curious about the rug, it's from RugsUSA and it's called Treasures Persian Vintage Rug. I had been using it in my office, but I changed the layout up and am using a round rug in there now. (I'll post an update soon!)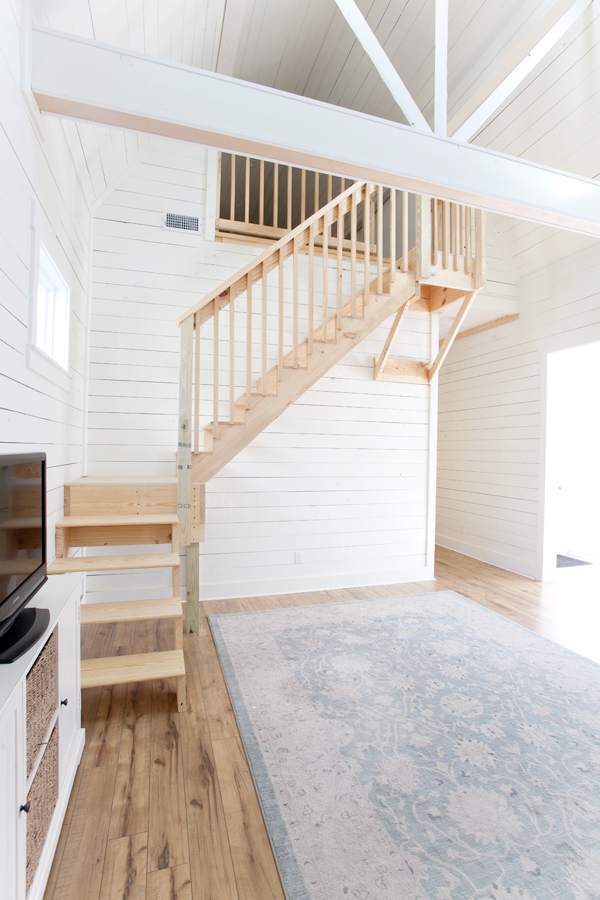 There are still a lot of little projects to finish before Jim & Katie move in (kitchen countertop, sink & faucet, plumbing stuff, trim work & shelving, priming & painting, etc. ), but we're hoping to have all those things finished within the next month or so. Luckily, they're not working with a set-in-stone deadline, but I know they're ready to get their current home on the market and settled into their new place.
I'm sure our new living arrangements will take some getting used to, but like they say "life is better together" and we're so grateful for the opportunity to love and be loved in this way!
Layla