Fun news! After four paper-filled months, we finished our last home study interview at the Lifeline office on Friday morning! So other than turning in a few remaining pieces of info, we're all set to move on to the immigration part of our process. What that entails, we're not really sure right now (we're guessing more paperwork!)- but I'll be sure to post an update over on our Adoption Timeline page once we've completed it! (Note: I *think* it takes a few months to complete this step too, so it may be a while before anything pops up over there.)
After we wrapped up our home study interview Friday morning, we grabbed a quick lunch, and then headed in to a room where we met five other adoptive couples, and the folks who were leading/helping out with Crossings. (A two-day seminar equipping families for international adoption.)
In the center of each of our tables was a giant pile of candy and some "fidgets", just in case we needed a pick-me-up during our 13.5 hours (total) in the meeting room.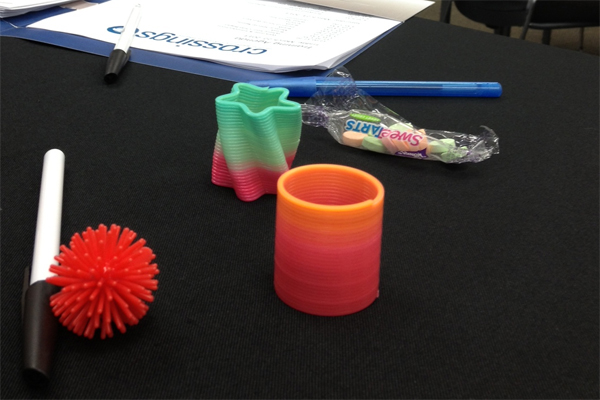 The training was lead by Whitney White, who works at Lifeline as their international adoption counselor…
…and before I tell you about our favorite part of Crossings, I wanted to share some of the things I scribbled down/read during our time there:
– Every child desires to belong to, and love, a (safe) adult because God designed us that way. He designed us as relational beings, so that we would have a deep need and desire to connect with Him and those around us.
– We're responsible for all insight in the beginning, and it's very important to keep our expectations in check.
– We must strive to understand their world. It takes frequency, intensity, and duration for an at-risk child to heal. Remember the importance of exhibiting grace and compassion, and never minimize a child's experience.
– Children need a balance of equal parts nuture and structure, and we would do well to look to how Jesus taught and interacted with people as our guide and model for connecting with our children. Even in his last days on this earth, Jesus was focused on connecting with people who, in the image of God, were created to connect.
– For every year spent in an orphanage, a child may be delayed by six months, and according to Erik Erikson's theory of psychosocial development, trust is learned in the first 18 months of life. (Our child will more than likely be above the age of 18 months, so we were very grateful for the important reminders to love unconditionally, and to parent with extreme patience. On day one of the seminar, I jotted down, "reveal to me what I need to know to parent this child to the best of my ability" because I thought that was a such great prayer for soon-to-be parents to cling to.)
– Be mindful of your child's whole being– their heart, mind, soul and strength. Dr. Karyn Purvis wrote, "By loving and nurturing your child in that kind of holistic way, you can give them the gift of real hope– an opportunity to heal and become whole".
I imagine our appreciation for those insights (and many more) will only continue to grow in the coming months and years- as will our appreciation for our favorite part of Crossings: the people.
Crossings was a mandatory part of our home study process, but now that we've completed it, I can really see the importance of attending this kind of training whether it's required or not. If you're an adoptive parent and you're on the fence about attending something similar- I'd love to encourage you to go! Kevin and I struggle with social anxiety sometimes, but spending that kind of time with five other couples who are also in the process of adopting children (of all ages and races) was so awesome. Throughout the two days, we were exposed to a lot of very tough-to-process/super-important-to-know information, and feeling like we were all in it together was so helpful. Between sections, we exchanged everything from stories & support to contact info and cookies, and Kevin and I left feeling so much more Connected. To encouraging new friends, to each other, to our child, to our agency, to this process…and to the One who is at the center of it all.

PS- For those who have attended something similar- we'd love to read about your experience if you'd like to share it in the comments section below!
Get My Free E-book: 15 Common Decorating Mistakes And How You Can Avoid Them
Enter your email to download my free e-book instantly! 🙂