Remember when we blogged about our neighbors front door project a couple weeks ago? Well, they just finished 'er up and man does it look great! Check it out…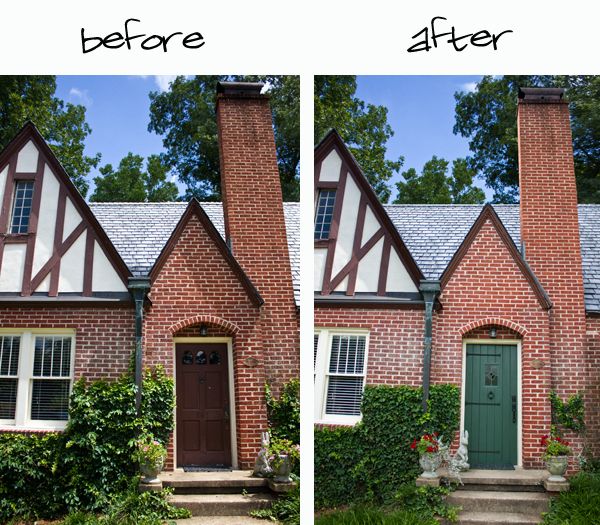 The door (which they purchased a few years back) came from a place called The Old South Wrecking Company which, unfortunately, is no longer in business. Josette told us, "It was the perfect, original plank-style Tudor door we were looking for. It was even the right size! The only trouble was, it was covered in layer after layer of peeling white paint." It also had diamond-shaped window (Peter and Josette envisioned a square or rectangle-shaped one), and it didn't come with any hardware. However, the price was right at 20 bucks, so Peter stripped off the old paint, and eventually exposed the original raw wood hiding underneath. The hinge straps came from Van Dykes Restorer ($20/each), the door knocker came from eBay ($30), the handle set and deadbolt also came from eBay ($80).
The stained glass window they added came from Ponder Antiques in Foley, Alabama. It was $45 and it originally had six sections of glass. They liked the idea of it only having four sections though, so Peter removed the bottom two panes and contructed a small wood frame around it. He secured it inside a rectangular-shaped hole he cut into the door- where the diamond-shaped hole previously was.
(Note: I enhanced the red and green bits so you could see them a little better!)
The paint color they chose is called "Evergreen Bough" by Behr. (Home Depot) They finished their project by hanging the door, adding weather stripping, trimming the ivy on the house, and adding new flowers in the concrete planters on the front steps. Josette told me, "It is truly like coming home to a new house!"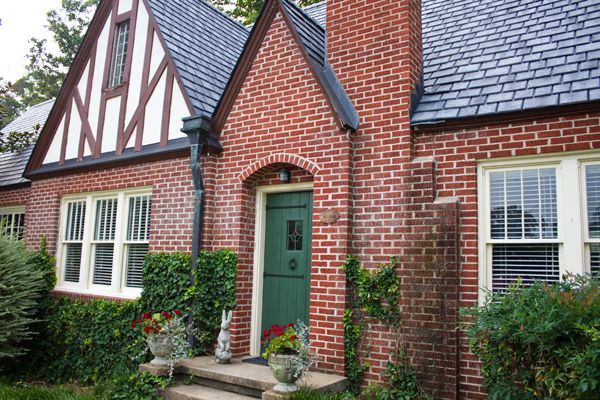 Way to go guys!
Now, for a Tootsie-related announcement- the winner of the Lettered Cottage Caption Contest is….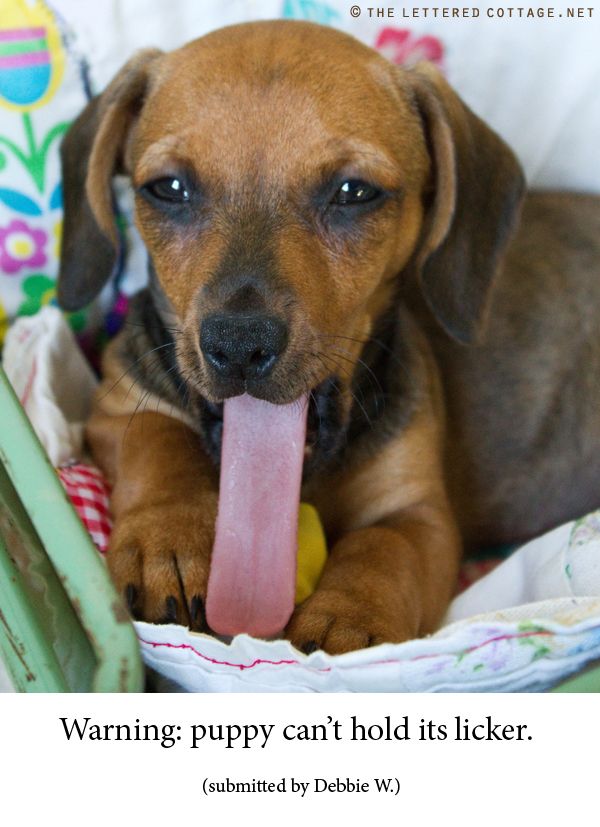 Congratulations Debbie!
We'll be in touch via email about your prize very soon!

We loved these other catchy captions too:
Kiss me, I'm Dorkie.
The Tongue & The Restless
Hands up! This is a lick up!
That's how the Tootsie rolls.
I usually have to check this thing.
Gene Simmons ain't got nothin' on me.
Okay. Be honest. Does this tongue make my cheeks look fat?
I may be part Yorkie, but my tongue is all Dachshund!
Thanks to everyone who entered the contest, and have a fabulous Friday!
________________________________________________________________
Join us on Twitter or Facebook!
________________________________________________________________
Need design inspiration? Need help arranging your furniture?
Check out my e-book!