Have you heard about the Chip It! tool from Sherwin-Williams? It helps identify the color palette of any online photo. Like this: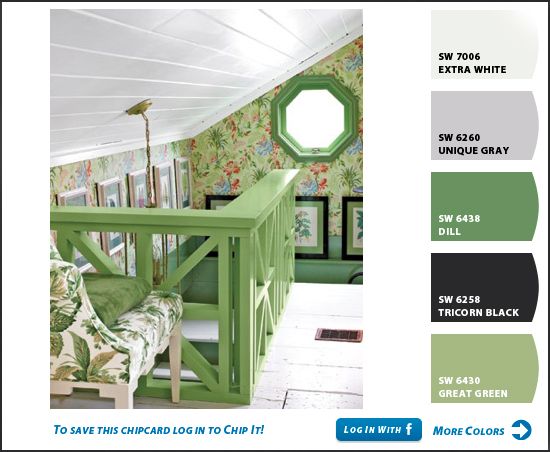 The paint colors Chip It! suggested aren't the actual names of the paint colors in the photo- they're colors that are the closest match based on the color information it drew from the photo as it appears online. For instance, even though the ceiling in the room is actually white, the planks read as gray in that photo- hence, the "Unique Gray" suggestion. And if you click on the little "more colors" arrow, it'll draw out even more color information from the photo. Like this: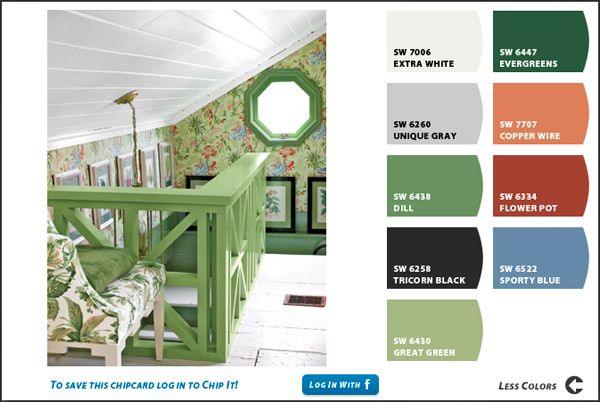 I've played around with Chip It! quite a bit, and although it worked great on the interior photo above, it seems to work best on photos like this…
I think that's because it's mainly set up to suggest a paint palette based on a color palette you're drawn to, vs. figuring out what colors were actually used in a room.
Anywho, all you have to do to install and use Chip It! is drag and drop the Chip It! bookmarklet below up into your toolbar:
After that, it's super easy to use. Just click on the Chip It! button up in your tool bar to activate it. When it's ready to go, a big blue badge will appear in the upper left hand corner of your computer screen:
Next, hover over the photo you want to "chip", and then click on the smaller Chip It! button (on top of your inspiration photo) to see the paint palette Sherwin-Williams suggests. Need visual instructions? Just click the play button below to watch a video that shows step-by-step instructions on how to use/install it:
Happy chipping, and happy 4th of July!