Happy Monday!
It was so nice to feel a cooler breeze blow across the porch this past weekend. Maybe Fall really is right around the corner? Sometimes it's hard to tell here in central Alabama. Summer seems to drag on and on and then BOOM. Our pipes are freezing.
I never did show you the window treatments in Jim & Katie's eat-in area did I? We used (lined) woven shades on the upper part of the windows and shutters on the lower halves. We did that for a couple of reasons. One, because we love the look, and two, so they'd have the ability to raise up the shades when they want to see the sky and let the natural light pour in, but still have privacy down below. Another reason we did wood shutters on the lower halves is because they act as a backrest for the folks who are sitting there. Kind of a double-duty sort of thing.
I pulled the shades down and closed the louvers on the shutters in the photo below so that you could get a good look at both without the sun overexposing the picture: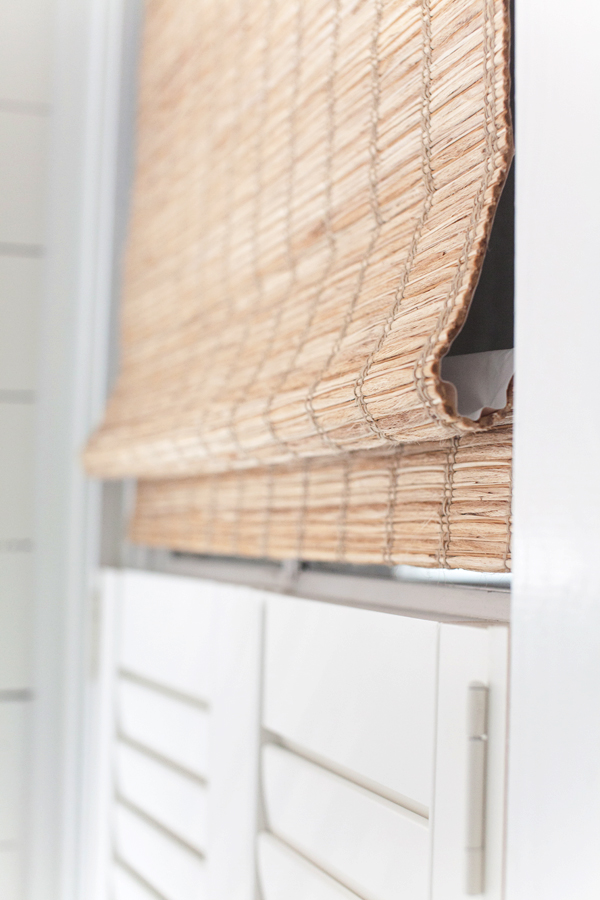 They've had them up for several months now and we're all really happy with how they look and function. They came from one of my partners, Select Blinds, and my discount code TRANSFORM is still active over at their site if you ever see anything you want to scoop up.
The shades pictured in these photos are called Designer Series Woven Wood Shades in the color Jute Wheat and the shutters are the Premium Wood Shutters in the color Old Lace.
Katie and I are planning to have some cushions made for the seats of the banquette at some point this year. We'll probably go with a blue ticking stripe for the fabric and use a 4″ foam on the inside. I'll keep you posted!
Layla
PS- My contact at Select Blinds is Mark Anderson and his email address is [email protected] if you have any questions about ordering any of their products. He is wonderful!