Life just seems to have gotten busier and busier lately, so there hasn't been a whole lotta renovatin' goin' on in the master bedroom.
That being said, this is what looked like just a mere month ago…
…and here's a shot of that same wall, today…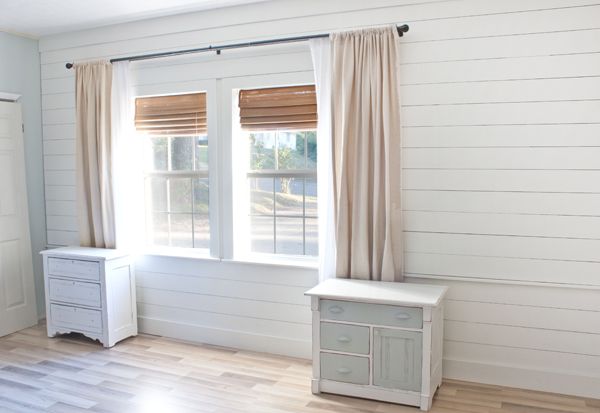 (still gotta work on the closet doors and install crown & baseboard molding around the rest of the room)
So we have made some progress in there!
The curtains are from Ikea. They're called Lenda, and they were just $24.99 for the pair.  You can't see it 'cause I didn't take a close-up pic, but they've got a really neat little embroidered, vertical stripe detail in them. (I'll have to remember to snap a pic of it next time.)
The white panels closest to the windows were ones I already owned, and the double rod came from Wal-mart. ($37.69, on sale from $44.69) We've never done the whole "double rod thing" before- but since we only have one window to dress in here, we decided to get wild and crazy this time.

The shades are from Bed, Bath & Beyonce Beyond and they were just $9.99 on clearance.
The antique nightstands are from our friend Mary at Urban Farmgirl, and we absolutely love them! Kev's is already outfitted with some snazzy little knobs…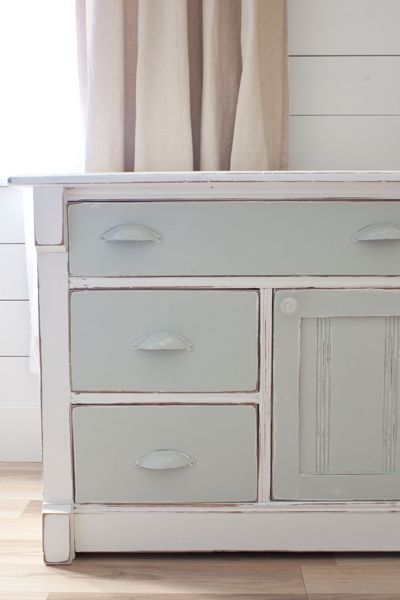 …but we've still gotta get some for mine…
And then we'll have to really start thinkin' about what we're gonna do for a headboard/bed.  And let me tell ya, we are re-he-heally excited about the thought of sleeping on something other than a mattress on the floor. It's been almost three years now, and now that the room is finally coming together, I couldn't resist having a little fun "imagining" for a minute today…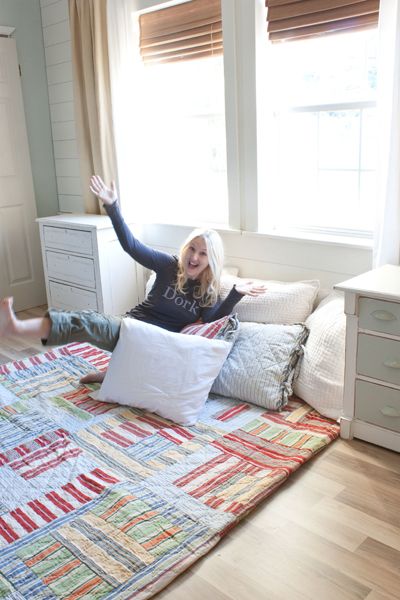 We've been collecting all of our bedding elements over the past couple years, and some of it has been neatly folded and stacked on a shelf in my closet, just waiting for a nice, comfy bed to cover. I can. not. wait to pull it all out and finally use it!
All the colorful, stripe-y, quilt-y stuff is from Pottery Barn's "Clearlake" collection…
The shams are reversible, and I'm cuckoo for cocoa puffs about both sides…
My Mom also got us PB's Matine Toile quilt and shams for our birthday's this year…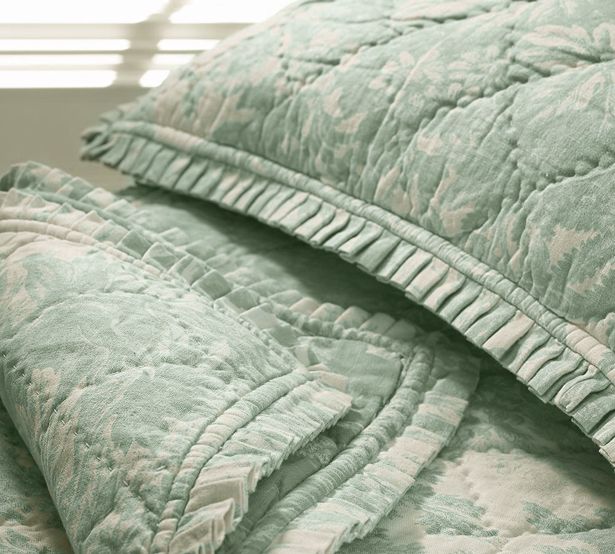 …so it'll be fun to switch things up throughout the year.
But enough about the bedding- we've got a bed to build or buy! (Or find at a flea market or on Craigslist!)
You helped us choose our wall color (Hip hip hooray for Sherwin Williams "Blue Hubbard"!), so the next big question we've got for ya is: what color/finish would you go with on the headboard/bed?
White?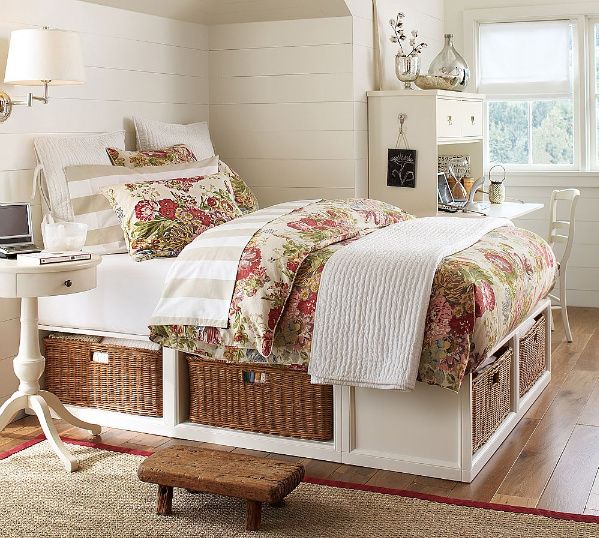 Something natural/textural/woven?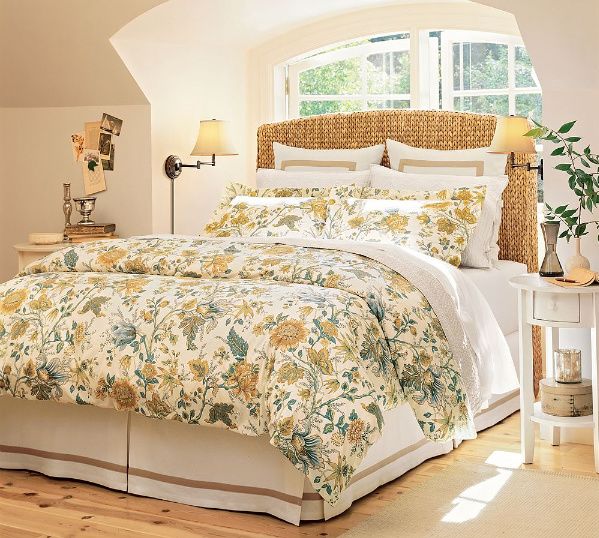 Something metal?
A medium-toned wood?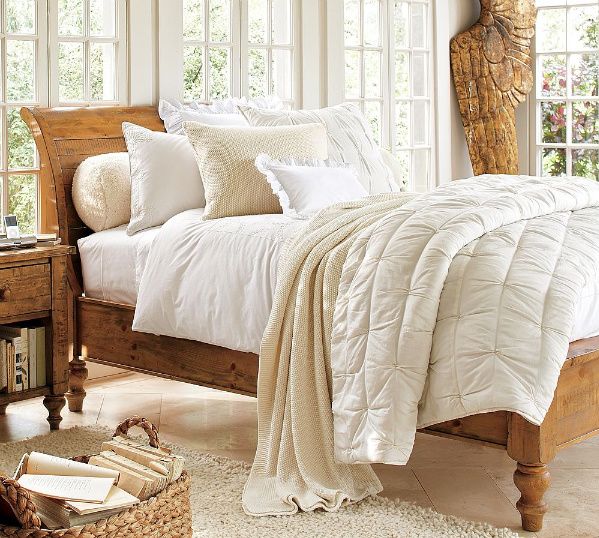 A dark-toned wood?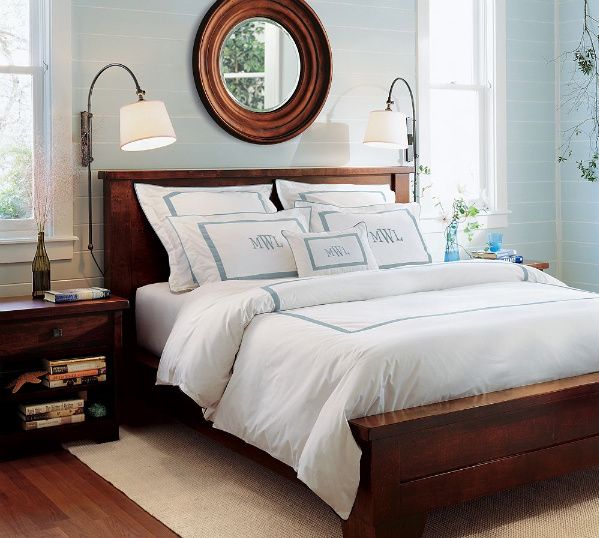 Something else?
We've got a couple of ideas that we're leaning towards- but ya know we always like to hear what our friends are thinkin' too!