"Age is irrelevant. Ask me how many sunsets I've seen, hearts I've loved, trips I've taken, or concerts I've been to. That's how old I am."
-Joëlle

I turned 44 this year and if there's one thing I know for sure, it's that you're never too old to meet another goal or dream a new dream. Just for fun, here's a short list of folks who had some of their biggest dreams realized after the age of 44:
44 – Sam Walton's age when he founded the first Walmart store.
45 – Henry Ford's age when he introduced his Model T to the world.
46 – Suzanne Collins' age when she wrote "The Hunger Games".
47 – Kent Couch's age when he attached 105 helium balloons to a lawn chair and flew 193 miles.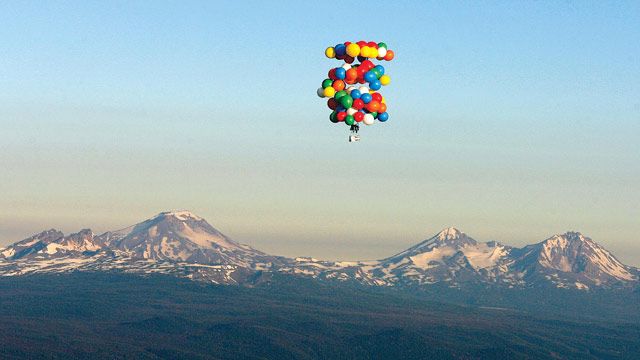 48 – Momofuku Ando's age when he invented ramen noodles.
49 – Julia Child's age when her first cookbook was published.
50 – P.L. Guinand's age when he patented a new method for making optical glass.
51 – Leonardo Da Vinci's age when he painted the Mona Lisa.
52 – Abraham Lincoln's age when he became president.
53 – Ray Kroc's age when he bought and expanded the McDonalds franchise.
54 – Dr. Seuss' age when he wrote "The Cat in the Hat".
57 – Chesley "Sully" Sullenberger's age when he successfully landed US Airways Flight 1549 in the Hudson River and all 155 passengers aboard the aircraft survived.
61 – Charles Cagniard de la Tour's age when he helped undermine the theory of spontaneous generation by demonstrating that the fermentation of beer results from the activities of tiny organisms.
62 – Colonel Sanders' age when he franchised Kentucky Fried Chicken.
65 – Laura Ingalls Wilder's age when she published the first "Little House" books.

66 – Noah Webster's age when he completed the " American Dictionary of the English Language."
67 – Simeon Poisson's age when he discovered the laws of probability.
68 – Sir William Crookes' age when he began investigating radioactivity and invented a device for detecting alpha particles.
69 – Ronald Reagan's age when he became President of the United States.
70 – Jack Lalane's age when he (handcuffed and shackled, and fighting strong winds and currents) towed 70 rowboats for one mile.
71 – Katsusuke Yanagisawa's age when he became the oldest person to climb Mt. Everest.
72 – Margaret Ringenberg's age when she completed the "Round-the-World" Air Race.
73 – Peter Mark Roget's age when the first printed edition of his "Roget's Thesaurus of English Words and Phrases" was released.
76 – Nelson Mandela's age when he became President.
77 – John Glenn's age when he became the oldest person to go into space.
78 – Anna Mary Robertson "Grandma" Moses' age when she began her painting career. In 2006, her Sugaring Off painting sold for $1.2 million.
(Sugaring Off)
Hope that was fun and inspiring to read through! 🙂
Layla
Get My Free E-book: 15 Common Decorating Mistakes And How You Can Avoid Them
Enter your email to download my free e-book instantly! 🙂