When Kev and I bought this place back in October of 2007, we had to tackle a couple of projects just to get the place livable before we could actually move in.
First project- the floors. The carpet in the living room, hallway, reading room, office and guest bedroom was buckling up in several places and there were big black, moldy stains on it too. It was a dirty job and Kev even discovered several of the tack strips holding it (somewhat) in place were still soaked with "the markings of previous owners pooches" ifyaknowwhatI'msayin.
I remember thinking, "How is that possible? The house has been vacant for almost 8 months!"
Grizzity-oss!
Once the carpet was out- and the horrible "houstench" was gone, (yay!) we had to make a quick decision about what to do with what we found underneath it.
At one end of the living room, we found a 14′ x 5′ concrete foundation that was 1/4″ – 1/2″ higher than the original hardwood flooring that covered the rest of the room…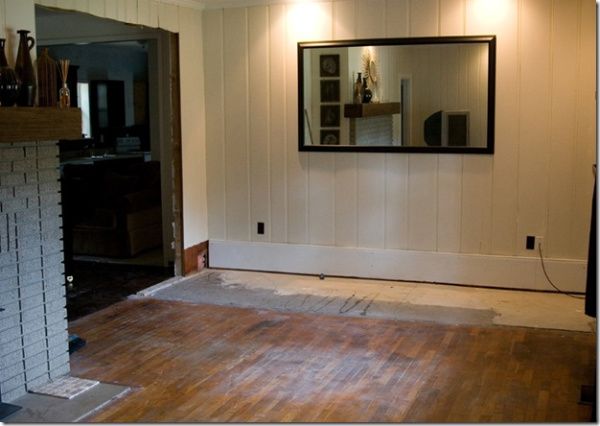 The kitchen, master bedroom, master bathroom and laundry room were all added onto the house in 2003.
Here's a (rough) floorplan that shows how everything is laid out…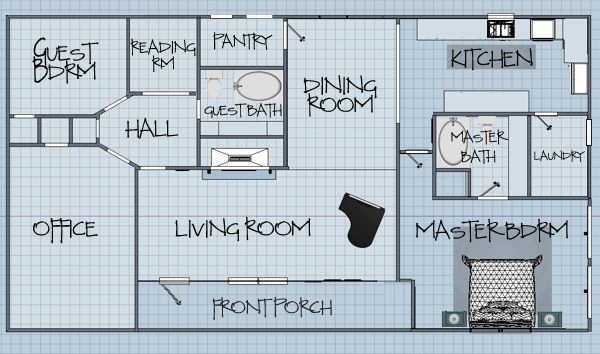 According to our neighbors, the living room used to stop where that concrete foundation starts, and there was a screened-in porch on that side of the house. (Sure wish I could've seen what that looked like!)
Other flooring dilemmas included, a really bad tile job in the kitchen, laundry room and master bathroom, baked-on yellow linoleum in the pantry and hallway, and plywood flooring in the reading room. We didn't have the time or money to deal with it all, so we just decided to cover it all up with 800 bucks worth of laminate flooring from eBay instead. Since it was all gonna be temporary, Kev just laid it right up and on top of the concrete in the living room, right up and over the bad tile job in the kitchen, right on top of the plywood floor in the reading room, and right on top of the yellow linoleum flooring in the hallway and pantry.
Unfortunately, that means our floors slope up and down, here and there and everywhere. And as of today, we've got some major plank poppage goin' on around here. Not good, and super embarrassing when we have company over and one of the shorter planks actually flips up and outta place because someone thinks our flooring is actually securely attached to the floor and they can walk around wherever they want. Silly visitors! (Think: Me and Kevin repeatedly assuring them that "it's just temporary flooring" and that "it happens all the time", and our guest repeatedly apologizing for "breaking" our floor. Semi-funny/nightmarish)
Anywho, this is what we're thinkin' these days…
The homestudy process will begin sometime after the 1st of the year. Probably in the Spring. That means a social worker is going to come over and tell us if our home if fit for a child to live in. We'd love to have more stable/less booby-trappish floors by then, so we weighed our options, and decided on the latter:
Option 1-
– rent a jackhammer,
– break up the concrete at the end of the living room
– scoop out the broken up concrete
– pour in new concrete that's a little lower than the original hardwood flooring that covers the rest of the room
– lay new, similar-sized/grained hardwood planks over the newly poured concrete
– sand the entire floor
– coat the entire floor with polyurethane
Option 2-
– carpet the living room, hallway, and reading room and use a little more padding on top of the original hardwood floors than we do on the concrete part so that everything is nice and level.
As much as it pains us to cover up the original hardwood floors in our hallway and living room, we just don't have the extra funds/skillsets to deal with the all the unlevel probs right now, and with our upcoming adoption plans, option 2 just seems like the easier/faster/least expensive route to go.
We do, however, plan to refinish the original hardwood floors in the office, guest bedroom, pantry and dining room in January…
And then we'll have a friend help us re-tile the kitchen, laundry room and master bathroom. We're thinking we can get the tile from a place called Total Liquidation in Montgomery. It's a great, big builders supply warehouse, and we can probably find some nice 12″x12″ tiles for under a buck a piece.
After the flooring business is all taken care of, we're going to move our office into the room we're currently using as our guest bedroom. (My Mom is really the only person who stays over night with us, and she said she didn't mind sleeping on the twin-sized mattress in the reading room.) Then we'll begin Operation: Kids Room in the room we're currently using as our office. It's nice and big, so he/she will have plenty of room to rip & roar. That room actually used to be the master bedroom back when the house was just a wee little thing. And speaking of wee little things, check out its *closet…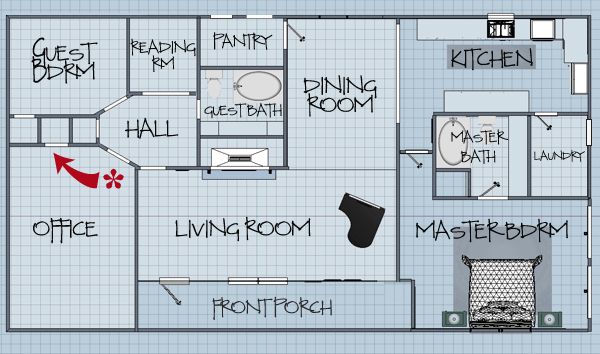 It's the same shrimpy size as *the one in the guest bedroom…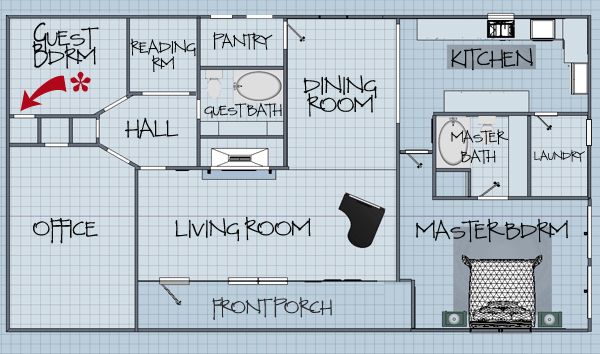 It's crazy how tiny they are! I'm talking 18″ wide, 18″ deep. Maybe.
We'll definitely have to use a lot of free-standing storage pieces, and we'll probably have to build some built-ins too.
(PS- We do have two, nice-sized closets in our master bedroom, but like I said, these drawings are really rough and I seemed to have left them off and shown a shortened version of the kitchen & laundry room. Oops!)
So. There ya have it.
Not all parts of the plan are 100% ideal, but it's the way it's gotta be for now.
The big question is, what kind of carpet should we go with? It's gonna have to be super tightly-woven or Max will be tempted to go into shred mode. Except for his "buddies", he's never been much of a chewer, but he absolutely can-not resist plucking a hole into a sea of cut pile. I'm afraid he'd freak for frieze too, so that's out as well.
Something like this might work though: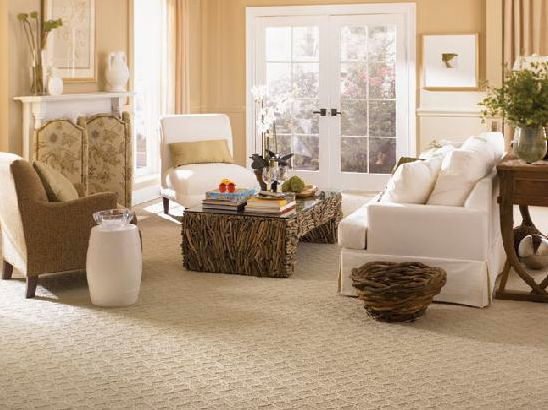 I'm not sure about the pattern, but it looks pretty tightly-woven, and it's neutral in color (but lighter than our sofa and chair-and-a-half) which would be good.
Here's another photo I came across while Googling hardcore carpets today…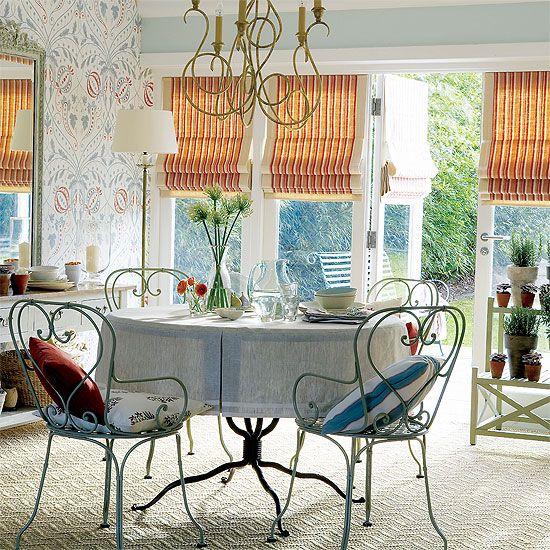 I don't think we'll go with anything this visually "loud", but what a cute room, huh?
Maybe we could go with something that looks sort of sisal-ish…
Then we could use a big area rug under our coffee table to ground our furniture arrangement. Choices, choices.
We're gonna try not to over-think it when we go out to look at our options. We've gotta get this party started soon.
And, who knows, maybe one day we can have the concrete part fixed, and we'll be able to restore those original hardwoods after all.
For now though, we're just hoping for level floors and that Max doesn't pull a "Toby" on us…

Have you had carpet installed in your home recently? If so, what brand/color did you go with? Has it held up? Do you love it?
Any info you could pass along would be greatly appreciated!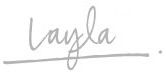 ——————————————————————————————————–
Join us on Facebook or Twitter!
————————————————————————————-
Need help arranging your furniture?
Need design help?
Check out my e-book!
Get My Free E-book: 15 Common Decorating Mistakes And How You Can Avoid Them
Enter your email to download my free e-book instantly! 🙂