We had so much fun blogging about Kev's mom's key lime cake recipe, we thought we'd share another one of the yummy things she makes here on our blog today. It's a fast and fund-friendly recipe for delicious taco soup!
Start by pouring one can of kidney beans, one can of corn, one can of pinto beans, two cans of petite diced tomatoes, and one can of Rotel diced tomatoes & green chiles into a large pot or dutch oven. Once they're all in, begin cooking the vegetables on medium heat.
Next, brown some ground beef (sprinkle in some garlic salt while it's cooking) and when the meat is good to go, use a colander to drain out any excess fat…
Next, mix in one package of taco seasoning mix, and one packet of Ranch seasoning mix to your browned ground beef…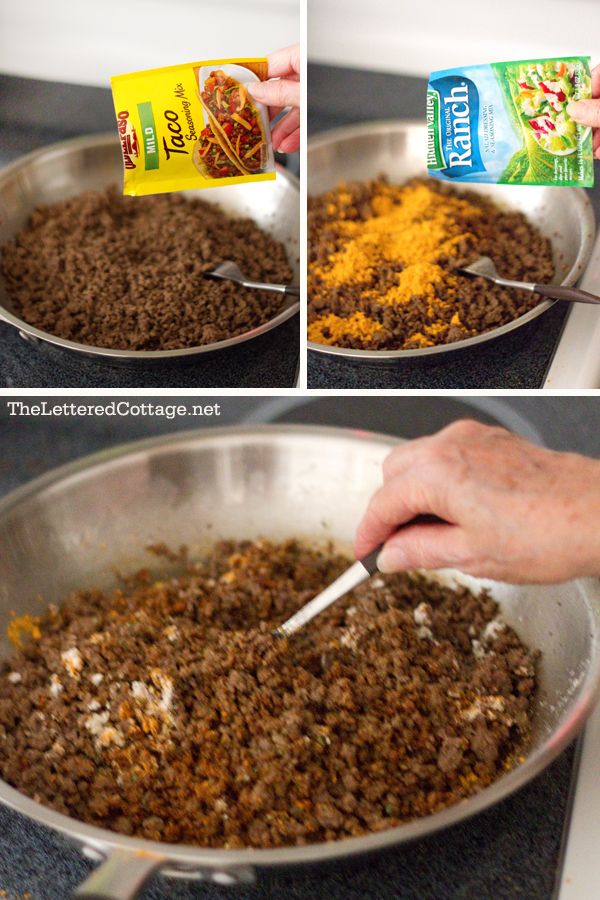 Then, pour your seasoned ground beef into your vegetable pot. Katie also mentioned that you can use some of the (hot) vegetable liquid to loosen the ground beef that's stuck to the skillet if you want to scrape that into the veggie pot, too…
Simmer the soup for 30 minutes (with the lid on, stirring occasionally), and that's it!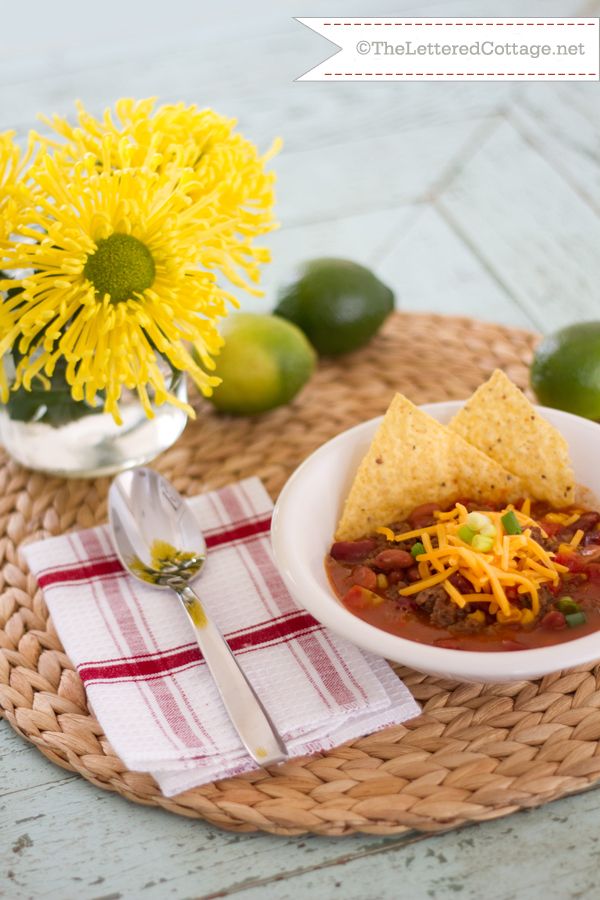 Katie suggested serving it with tortilla or corn chips, and sprinkling the top with shredded cheese. Onions and/or sour cream are also optional toppings.
We really enjoyed spending the afternoon in Katie's kitchen with her, and we were especially tickled when she told us why her (darling) colander had so many dents in it. Apparently Kevin's older brother, Kerry, used to "drag it out and bang it around" when he was a little boy.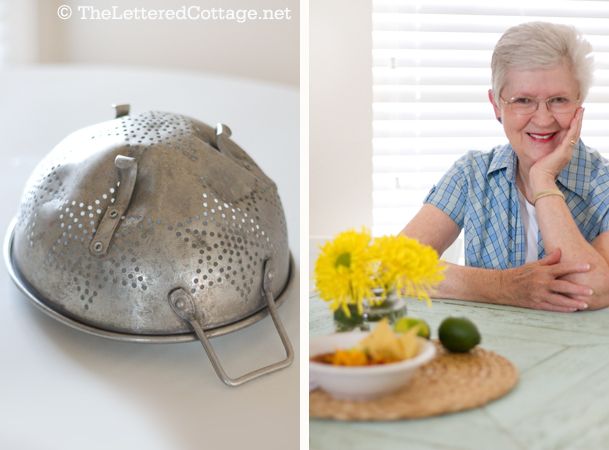 These days, Kerry directs an amazing orchestra at a church in Montgomery, so I guess all those early years of "practicing" on the kitchen floor really paid off- ha!

Katie's Kitchen - Taco Soup
Ingredients
1 lb. ground beef
1 pkg. taco seasoning mix
1 pkg. Ranch salad dressing & seasoning mix
1 can of whole kernel corn
1 can of pinto beans
1 can of light red kidney beans
2 cans of diced tomatoes
1 can of Rotel tomatoes
Instructions
Place corn, pinto beans, kidney beans, diced tomatoes and Rotel tomatoes in a large pot or dutch oven and begin cooking on medium heat.
Place ground beef in a skillet, sprinkle with garlic salt, and cook until no longer pink.
Drain meat using a colander, then return it to your skillet.
Add taco seasoning mix and Ranch seasoning mix to the ground beef, and mix well.
Add ground beef mixture to the vegetable pot and simmer (with the lid on, stirring occasionally) for 30 minutes.
Serve with tortilla chips or corn chips. Optional toppings: shredded cheese, onions, or sour cream.
https://theletteredcottage.net/taco-soup-katies-kitchen/
Get My Free E-book: 15 Common Decorating Mistakes And How You Can Avoid Them
Enter your email to download my free e-book instantly! 🙂