Hey there! Are you having a happy National Random Acts of Kindness week?
I wanted to share a neat "random-acts-of-kindess-related" birthday party idea here today.
Remember that dear friend I mentioned in yesterday's post? Well, her name is Kelly, and she's not only good at finding touching YouTube videos, she's great at putting together precious parties (and sweet scrapbooks!) too.
She lives in the ca-uuuuutest cottage-style house in central Georgia.
Her daughter, Hayley, turned 16 last summer, and after reading this post, she was inspired to do something a little out of the ordinary for Hayley's sweet 16 party.
Together, Kelly and Hayley scoured websites, blogs, shops, books and magazines for party-theme inspiration. While searching the internet one day, they stumbled onto a blog post about a woman who had just turned 38. She and her friends celebrated the day by doing 38 random acts of kindness. That was just the kind of inspiration they were looking for, and Hayley's "16 Random Acts of Kindness Party" was born! They made invitations and decorations, but they kept the theme a secret until the day of the party. The only thing they told Hayley's guests  in advance was that some of the events would be outside, so they should dress comfortably.


The party was held on August 7th, 2010. When all her friends had arrived, Hayley played this video for everyone and then filled them in on the theme of the day.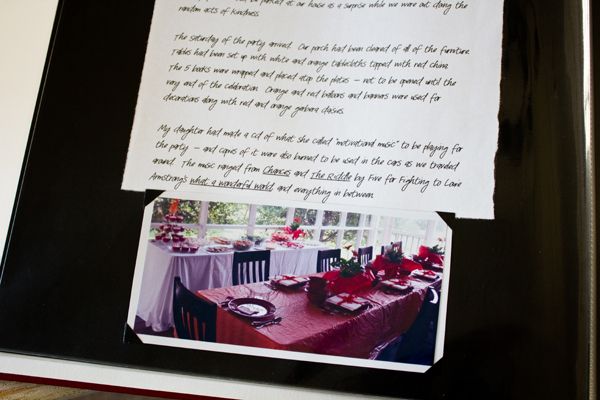 The girls were divided into three (excited) groups. The "get-away cars" were already packed with all the supplies they'd need to carry out the acts of kindess Kelly and Hayley dreamed up together.
After an incredibly memorable and fun-filled afternoon, the girls all met back up at the house- where they were greeted by tables full of food and drink, and cupcakes decorated with words of inspiration.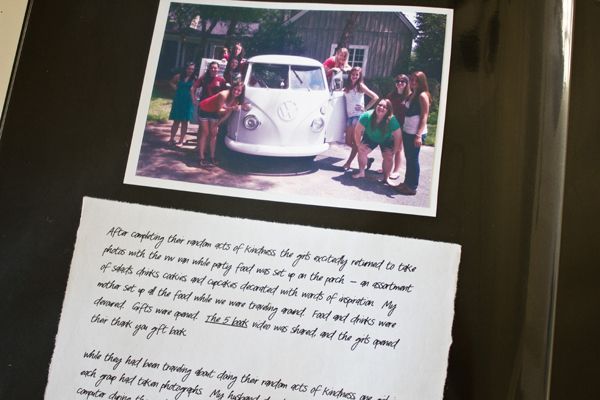 After lunch, Hayley shared the "5" video with the everyone. The girls were all juniors in high school, and since the next five years would be years of significant change for them, she thought it would be fun to share it with them. She also presented them all with their own copy of the "5" book.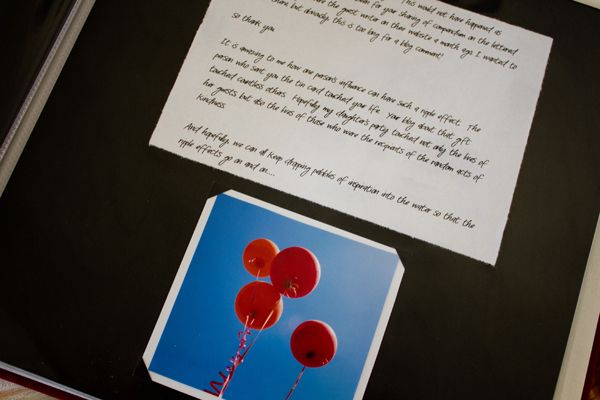 While the girls ate and checked out their books, Hayley's Dad put together a slideshow of all the photos the girls had taken throughout the day. They played it on a TV hooked-up to a laptop in the screened-in porch they were all gathered in.
Isn't that fun?


The last sentence in the album Kelly made for me says, "…and hopefully, we can all keep dropping pebbles of inspiration into the water so that the ripple effects go on and on…"
Love that!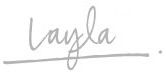 PS- HUGE thanks to everyone who has liked the Six Seeds Facebook page for us! We're still about 560 likes away from our (hopeful!) goal (6022 is the magic number!), so if you're reading about this for the first time today, and you're feeling "likey"- we'd sure appreciate your click over at their page! XO (Thank you, thank you, thank you!) XO
——————————————————————————————————–
Join us on Twitter or Facebook!
————————————————————————————-
Need help arranging your furniture?
Check out my e-book!