I'm a sucker for a stray. Dogs, cats, turtles- you name it- if I'm in the car and I see one, I gotta bust a u-ey, and at least try to rescue it.
And because of the comments left on some of my animal-related blog posts, I bet there's a lot more pet picker-uppers out there reading this too! I had lunch with one of my pet pick-up'in girlfriends yesterday. She told me about a "turtle" she made a u-turn for not too long ago, only to discover it was actually a camouflage-colored baseball cap sitting in the middle of the street- LOL!
It's been a while since we've had to move a turtle off the road, but Kev and I did have a crazy, stray kitten adventure on Thursday morning…
We were driving on the busiest road in town, and as we were approaching an extremely busy intersection, I noticed a little black kitten running as fast as it could across the street in front of us. The lower part of it's left leg was completely dangling behind it as it darted across the road. I couldn't believe it was able to make it across without getting hit. It was SO scary/sad watching that all go down!
After we crossed through the intersection, Kev made a u-turn and we pulled into the lot behind a recently closed down gas station. Here's a shot that shows the busy road we were previously on, and where we parked our car…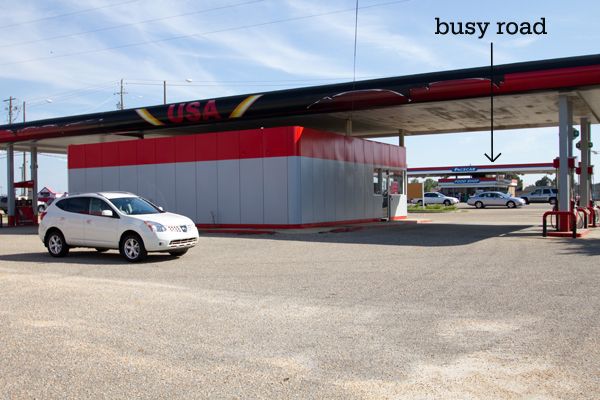 I jumped out of the passenger side while the car was still rolling, and was relieved to find the kitty huddled up against the wall of the gas station…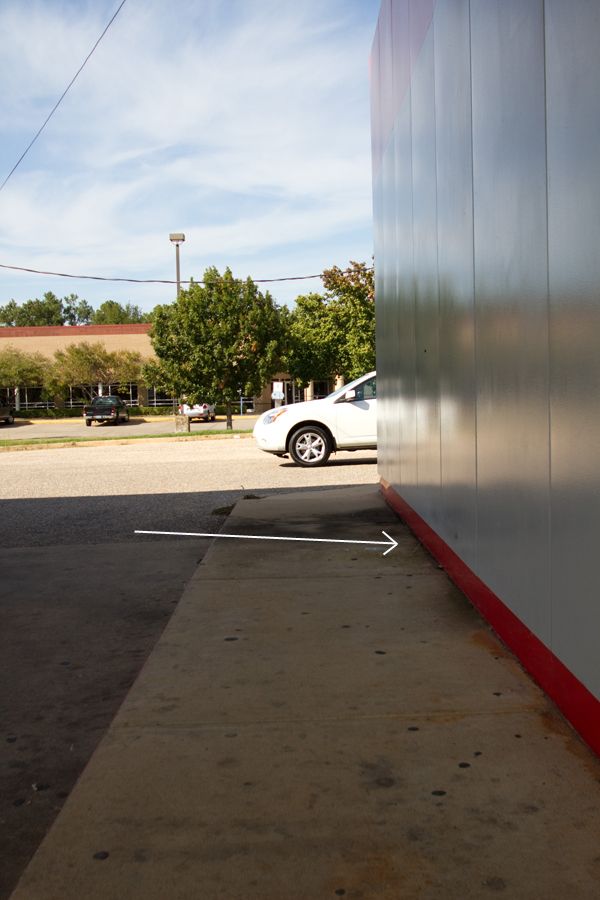 It was panting really heavily, and crying it's little heart out so I slowly walked up to it, and kept telling it it was going to be okay in my best "please-don't-be-afraid-of-me-kitty" voice the whole time. I managed to crouch down about three feet away from it, and I thought I was going to be able to pick up it- when all of a sudden, it got up and quickly hobbled over to our car, dragging its little leg behind it the whole way. It was absolutely heartbreaking to watch and I felt so bad for making it think it had to run again! And to make matters more intense, it climbed right up and into our engine. Aaaahhhhh! (Note: the engine was not running.)
But it was right about that time that Kevin noticed we were parked right next to an animal clinic. Hallelujah!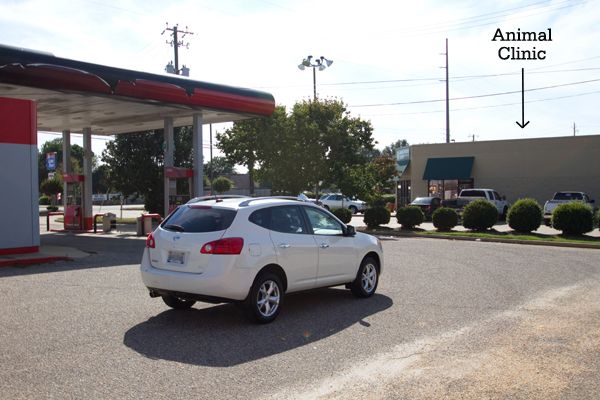 I ran over there, and told the lady sitting at the front desk what had just happened.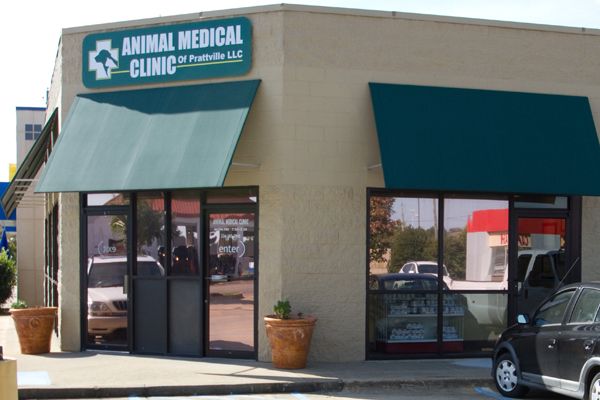 She rounded up the doctor and two of his assistants, and everyone came out to our car to see if we could get the kitty out.
Long story short, they managed to coax it out with a broom handle, and then they took it inside the clinic to see how they could help it. (The Doc said since we took the time to stop and help it, they would take the time to help it get healthy again. Yay for friendly vets!)
The doctor called me a few hours later and said that the lower part of the kitty's leg had completely dislocated from the upper part, and that it had some worms and ear mites.
They began treatment for the worms and mites immediately, but they're going to wait to do surgery next week when it's not quite as freaked out as it is right now. The doc was also kind enough to say we could come up and visit the kitty in the meantime, so of course we jumped back in the car that day, and spent some time petting it's sweet little head…
It was on a lot of pain medication at the time, but hopefully it'll begin to understand that we're all just trying to make it feel better!
(I love the little white "heart" below it's nose!)
They didn't remember to check if it was a boy or a girl, because they didn't want to move it around very much- but one of the vets seemed to think it was a girl.
I'll keep you posted on *her* progress, and in the meantime, if you live in the area (Prattville, Alabama) and you're looking for an indoor house kitty to love on- drop me a line and I'll put you in touch with the people at the clinic. We're not home very much these days, and I would love for *her* to live inside with someone who can really take good care of *her*!
__________________________________________________________
Join us on Pinterest, Twitter and Facebook!
___________________________________________________________
Need design inspiration? Need help with space planning?
Check out my e-book!