Remember Tammy? My neighbor, the caterer, with the incredible shrimp and grits recipe? Well, after I published that post, several people asked to see photos of her house, so I thought I'd share a few more here today!
Their house is laid out almost just like ours is, but they made a few tweeks to the layout here and there. For instance, where we have a sunroom…
…they have a dining room:
Tammy said the paint color in the dining room (and all throughout the first floor) is called Phoenix Fossil. The ceiling is painted Gray Stone, and the trim is painted Horseradish. They're all Benjamin Moore colors.
And while our master bathroom is still laid out like this:
They laid their master bathroom out like this:
The wall color is French Gray, and the ceiling is painted Bahia Grass. Both of those are also Benjamin Moore colors, too.
One day, I like to do a little reconfiguring upstairs here at our house. There's not much countertop space in the current master bathroom. Just two little vanities, that sit front-to-front:
Other than those two rooms, the rest of the house is pretty much laid out the same as ours. Here are some more photos of their kitchen: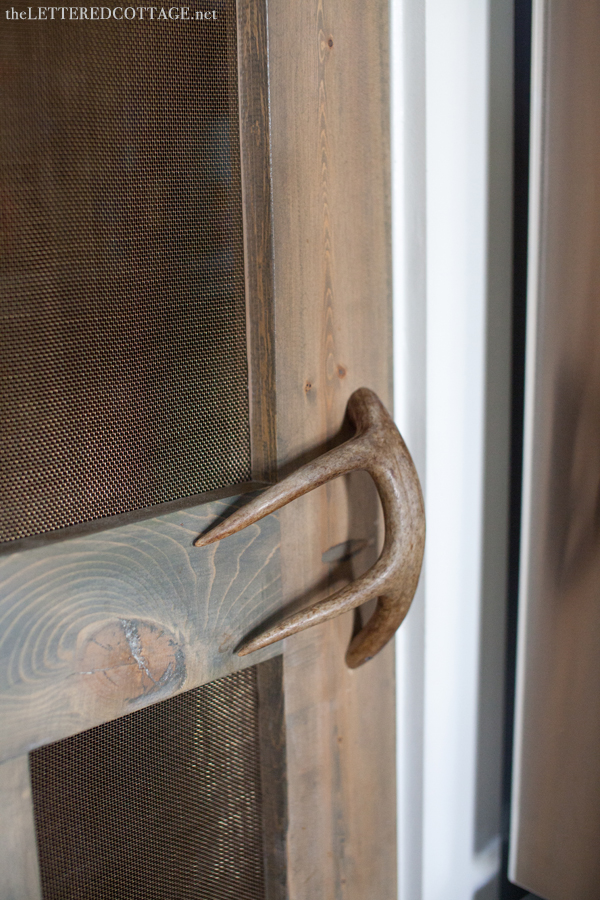 It opens up into their living room just like ours does:
And just like at our place, there's a big open space between to the two rooms:
We use the space as our "dining room", but it's fun to see it staged as a foyer too!
Last but not least, one of my favorite things in the whole house is the laundry closet doors outside the master bedroom upstairs:
Unless you're talking about favorite things with tails. Then I'd choose this little fur baby:
Isn't she darling?!
She and her owners are so much fun to have as neighbors, and we're so thankful to have them next door!

PS- For more pics between posts, join us over on Twitter, Facebook and/or Instagram!