Hi there- Kevin here.
Layla's Grandpa Richard passed away last night, so while my bride takes a couple days off, I thought I'd share a little bit about him and what we've been up to here at TLC lately.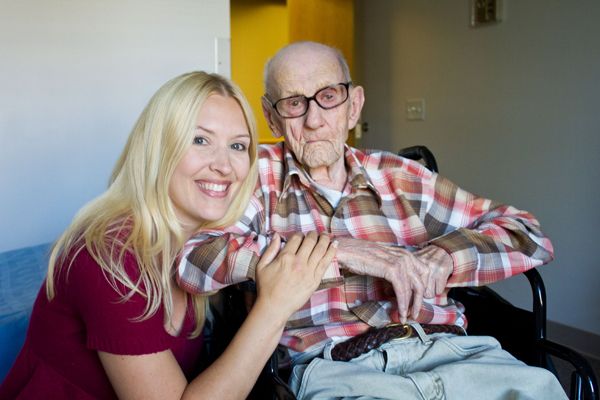 (Layla and Grandpa Richard, September 2010)
Grandpa Richard was in the Army from 1941-1945. In just four short years, he became a Master Sergeant- and before tonight, we had no idea he received 10 different medals of conduct throughout that time. (One of which was the Bronze Star!) Layla said he didn't talk about that part of his military days. "Humble & heroic" seem like the perfect words to describe him.

After the Army, he built houses for a living. As a matter of fact, he built the house he and his wife, Evelyn, lived in from the time Layla was born- 'til some time in the early 90's…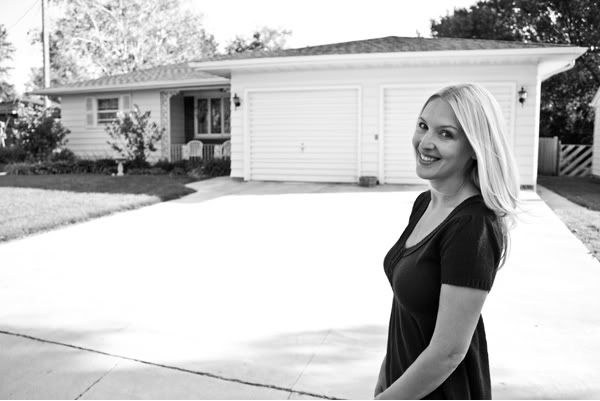 I snapped that photo of her in front of it last month when we went up to Minnesota.
She hadn't seen the house at least 10 years, but she has dreams about it all the time.
I know she wanted to go inside.
I know she wanted to tell me about show me all the memories they made there.
I wish I could buy it for her, so that she could go in whenever she wanted.
—————————————————————————————————–
I'm pretty sure she gets her love of renovating from her Grandpa.
They built a club house together in the woods behind their farmhouse one Summer when she was a kid. It had bunk beds, and real windows, a shingled roof, and even a screen door.
I hope to be able to do that for my grandchild(ren) one day. Which is sort of funny because when I met Layla, I hadn't even tackled one home improvement project.  I didn't own any tools, and I thought when something broke- you called a handyman to fix it.
Since then, I have thoroughly enjoyed learning how to DIO (Do-It-Ourselves) with her by my side.  She's taught me to embrace the home improvement unknown, and to not be afraid to get my hands saw-dusty. I love her for that.  Well, I love her for lots of reasons, but I love her for that too.
Last week, she and I invested in our first, real deal, scary/awesome power tool- and started working on one of the soon-to-be wood-clad walls in our master bedroom.
But before we start cladding, I wanted to fix up the trim around the windows in the room.
I started by removing the yucky trim that was previously around them…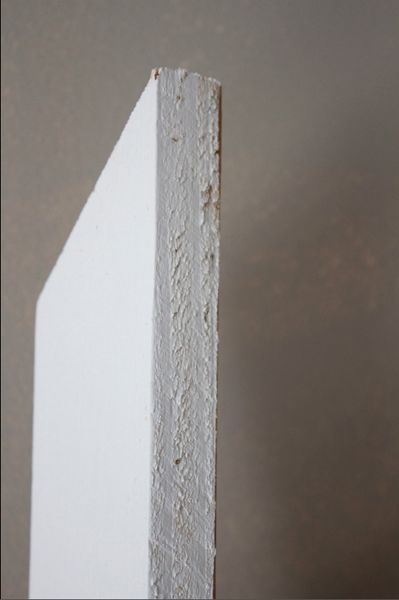 (Can you believe someone used this stuff?)
…and re-trimmed it with some nicer (less threatening) looking trim.
We shot this little video to document our reno-venture…
(Here's a link to the YouTube version.)
Fortunately, I got the rest of the new trim up without incident- so, out went the rough/wimpy trim…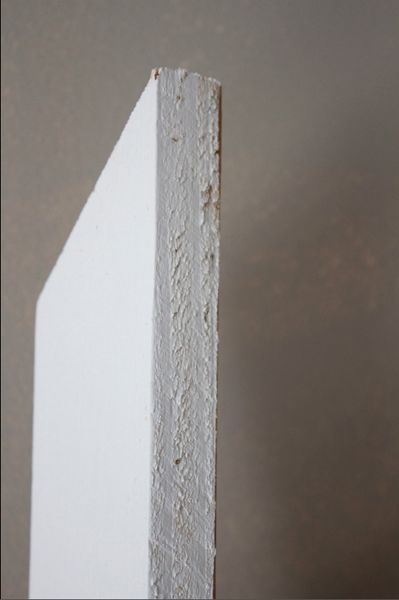 …and in came the smoother/chunkier trim…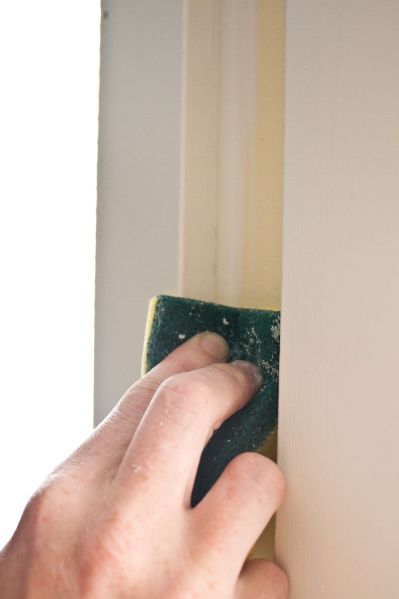 As Layla would say, Pretty "luscious", huh?
(Oh- before I forget: pay no attention to the dark gray painted wall. I just did that so if any color showed between our white-painted, wood planks, it would be dark- not light yellow.)
I plan to start Cladfest 2010 tomorrow- so wish me good luck!
(Or at least good aim this time- LOL!)

PS-
Great news! THREE of our readers (Miss Mustard Seed, Rachelle, and Mike) wrote and told us that they made it into the Top 10 of True Value's Design SOS contest! If you're interested in voting for your favorite entry- head on over to StartRightStartHere.com. You can vote once a day, every day, from now 'til November 5th.
——————————————————————————————————
The winner of the Perfectly Imperfect Restorations end table is…Commenter #49!
Congratulations Jill!
Drop me a line at [email protected] and I'll put you in touch with Shaunna.
———————————————————————————-
Join us on Facebook and Twitter!
————————————————————————————-
Need help arranging your furniture?
Need design help?
Check out my e-book!