Well, it's been a long time comin', but we're FINALLY done with our Fall-themed fireplace!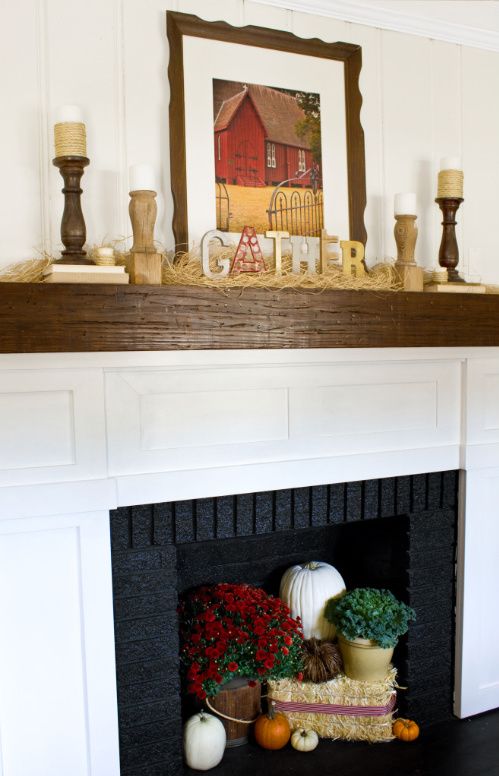 And, boy, did we have fun with this one!
Up on top, we used a 16×20 print of a church that Kevin recently snapped, framed in a great, old, $7.00 flea market frame.
We also made a "Gather" sign from letters we've collected here and there.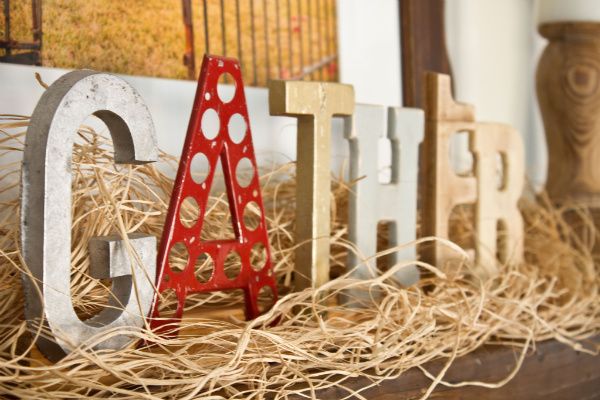 Here's how…
(If you'd prefer to watch it on YouTube, click HERE!)
Finishing touches include:
– a bag of raffia
– four, flea market-found candleholders & books (dark wood candleholders= $5/each, light wood candleholders= $9/each, books= $2/each)
– two votive candles
and a little bit o' rope from the home improvement store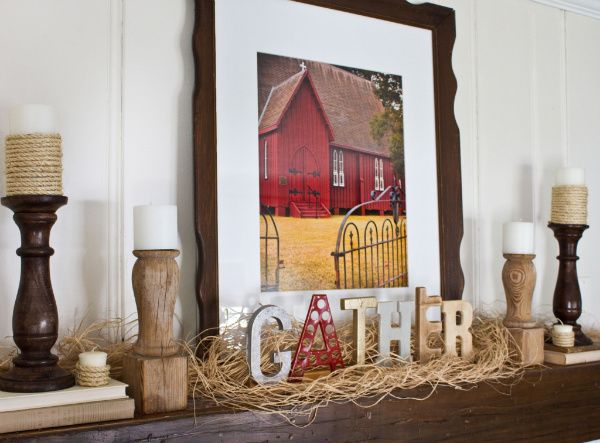 The candles are just for looks, not for lighting, 'cause they don't play well with raffia and rope!
The recessed light above the fireplace does a nice job of adding ambience at night though…
Down below, in the firebox, we used a small bail of hay from Hobby Lobby ($4.50), a big ol' pot of mums from Home Depot ($9.27), a little pot o' ornamental kale/cabbage ($? Hmmm…I can't remember, but it seems like it was only a few bucks, and the pot was something I already owned.)
Other items include:
– A red-n-white striped piece of ribbon I got from a friend
– two small, real, pumpkins ($2.50/each at Home Depot)
– one teeny-tiny, white, faux pumpkin (I got it last year at Michaels)
– one small, grapevine pumpkin (also from last year, and also from Michaels)
– one large, white, faux pumpkin ($8 at Michaels- 'cause they're 60% off right now!)
…and a rope-handled, wooden bucket I found at a flea market (the same day I found the candleholders in the photos above) for $14.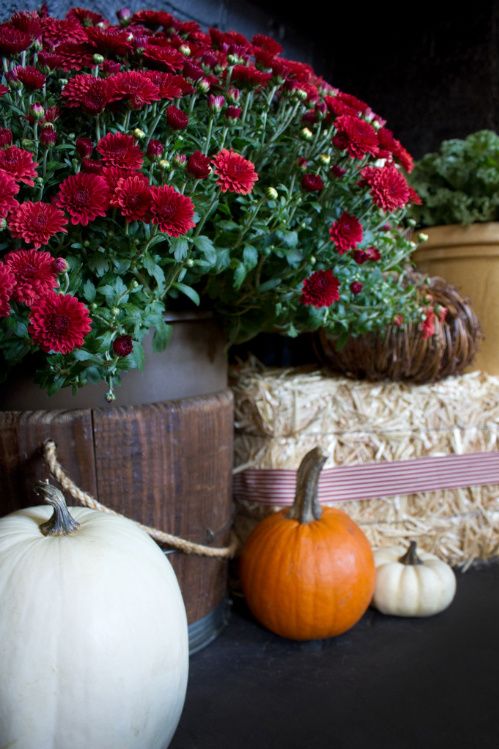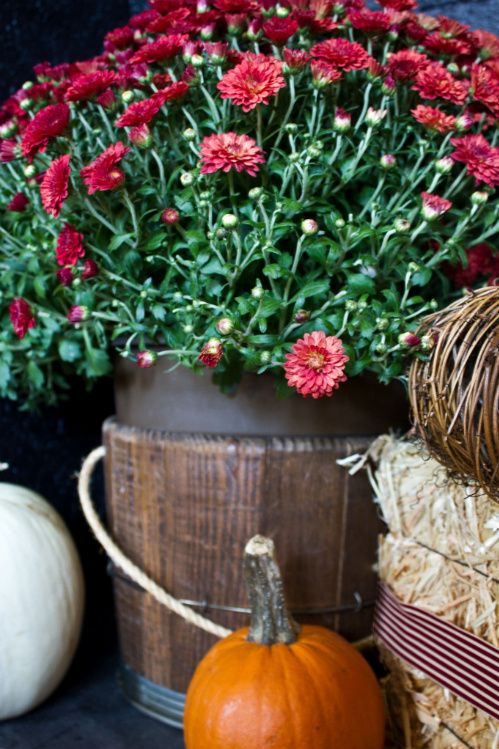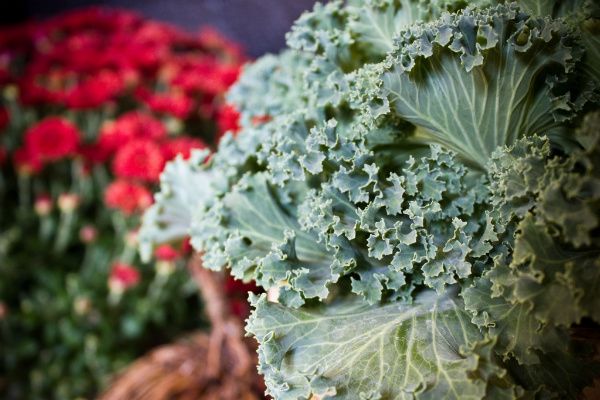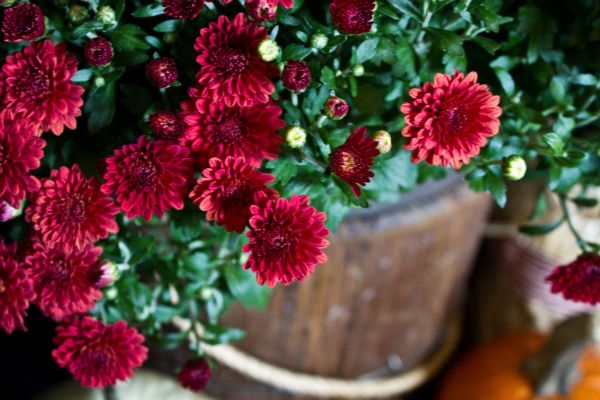 Our goal was to create something a little bit farmhouse…a little bit rustic.
Something festive, and fun, and something that would fill us up with the warm fuzzies every time we saw it!
Not only does the word "Gather" conjure up memories of spending time with the people we love most, but the letters themselves bring us back to the day we actually collected them.
The "G", the "A", the "T", and the "E" came from a shop called Paris Market, located in Savannah, Georgia.
We had our dog, Max, with us the day we were there, and it was like 100 degrees outside. Obviously, we couldn't leave him in the car while we went in and looked for letters, so I jumped out at the corner of Broughton and Whitaker- and Kevin & Max proceeded to repeatedly circle around the block while I ran inside and scoured the store as fast as I could.

Welllll, turns out Paris Market was having some sort of big event that day, so the place was totally packed.
Everyone had a "Hello. My name is" name tag stuck to themselves, and there was lots of sipping and munching on fabulous looking food & drinks going on as folks strolled leisurely around the store.
I felt incredibly underdressed (as usual), and I remember really wishing I had washed my hair that morning. (Or at least the morning before that one.)
To make matters even more challenging, the store looked a lot different than it did the last time we visited.
Before, all the letters and numbers were on display right at the bottom of the stairs. Like this…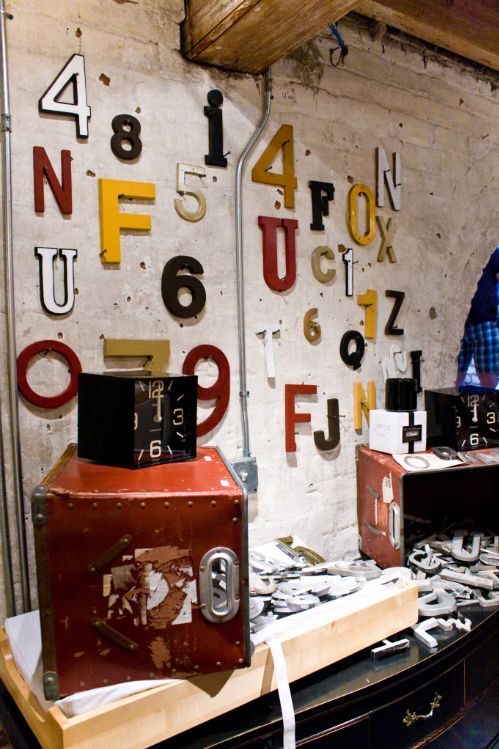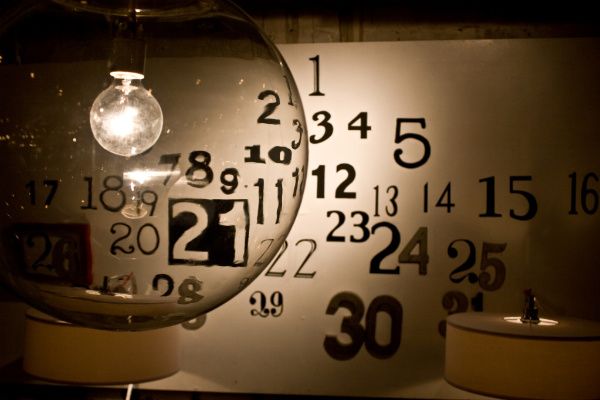 This time, however, all the displays were different, and there was TONS of new merchandise everywhere.
(It was veeeery hard for me not to stop and look at it all!)
Anywho, I ran/walked up and down the stairs two times, before I thought to ask a sales person where the letters had been moved to.
Unfortunately, she didn't know- but after a bit more rootin' around, I managed to find the "G", the "A", the "T", and the "E" hidden in various places throughout the store.
Sure, I bumped into folks at almost every turn.
Sure, my brain was filled with images of a stressed-out Kevin, and an on-edge Max, circling the traffic-filled block, over and over again.
But I got the letters I went in for, and my anxiety immediately subsided once I jumped back into our little car and was greeted with a friendly, "Did you get some good ones?".
I smiled and told him I thought I got the best one.

As for the photo of the church, well, that's another one of those memories I'll cherish forever.
It's a small, Carpenter Gothic style church, located here in Alabama- about 2 hours from our house.
(St. Andrew's Episcopal Church- Prairieville, Alabama)
It was built in 1853.
I found it online, while searching for "beautiful, old churches in Alabama".
We knew we wanted to use a photograph of a church on the mantel, but when we saw the gorgeous rustic red color of this one, we knew it was the perfect one to include in our Fall display.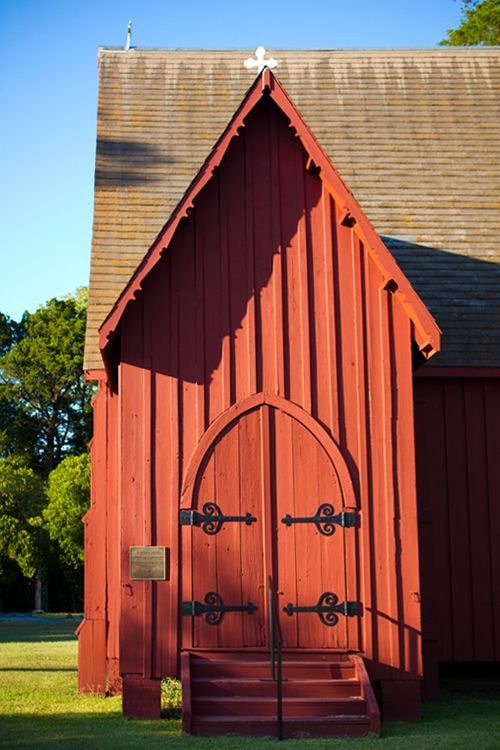 Kev and I arrived at the church around 5:00pm one afternoon last week. And as you can see from the photos above, the sun was just beginning to set, so the building was covered in shadows.
We sort of figured they would go away within an hour or so, so we just walked around and talked until the time (and lighting) was right.
I'll never forget that day we jumped in the car and drove off into the unknown (a.k.a west Alabama) to visit a pretty little church, all dressed in red.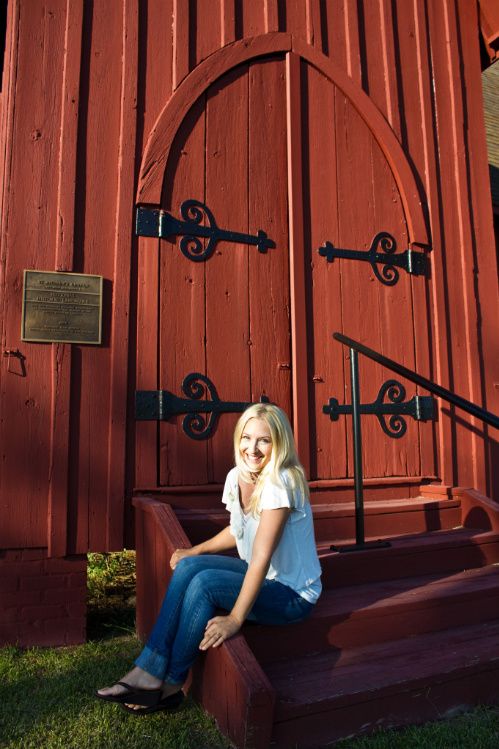 And there ya have it!
The melodramatic (ahem) meaningful story behind our Fall-themed fireplace!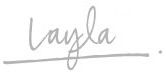 PS-
If by chance you'd like to print a copy of Kevin's church photo, "Gathering Place"- feel free to head on over to this link.
You'll find a high-res copy of it waiting for you there!
And for a look back at our Summer mantel, click HERE, and our Spring mantel- click HERE.
I'm linkin' this one up to Beth's Halloween Mantel Linky Party. If you haven't seen all the amazing Fall-themed mantels she's featured over there yet- you MUST click on the button below!