This week is gonna be a wild one!
We're back on Tybee Island (in Georgia), and we're redecorating a cottage called "The Enlisted Mens Mess Hall".
You may remember it from the re-do we did earlier this year at Screened Inn.

Click to launch the full sized magazine
The Mess Hall is on the other side of that same building, and we'll actually be staying at Screened Inn while we work on the Mess Hall side.
It's been raining almost non-stop since we got here on Sunday afternoon, but MAN does it feel good to be back here again!

After Googling "open houses on Tybee Island", and discovering this post on our blog, a sweet gal by the name of Pam wound up buying the place from Diane (who owned it while we worked on the Screened Inn).
Shortly after closing, Pam called us up and asked if we'd come back and re-do the Mess Hall side so that the whole place would feel cohesive.
Of course we said yes, and we're so pumped about the challenge she's given us!
Pam's already brought over lots of goodies for us to work with, and she's open to shopping for any additional items we might end up needing too.
(a.k.a- a new couch, bedding, throw pillows, towels, etc.)
Should be a good time, 'cause creating "happitats" is my favorite thing to do!


Here are some photos we snapped of the place today…
When you walk in the side door (which is the door most folks use to get inside the place), you're in the living room/kitchen…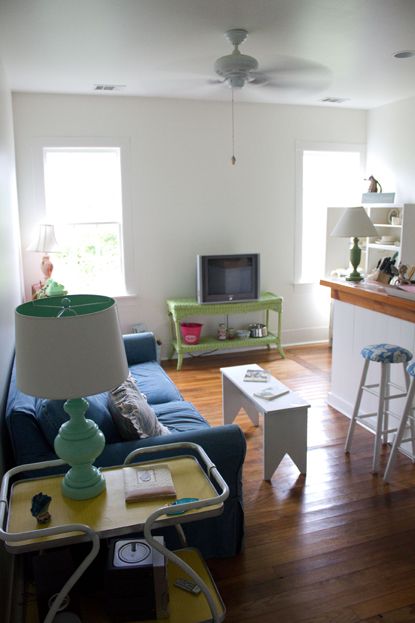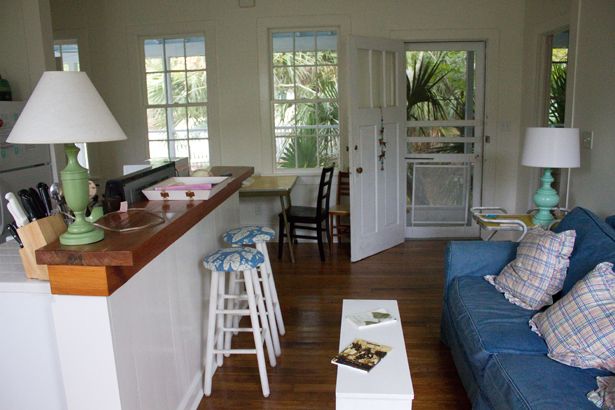 A teeny tiny hall leads you to the front bedroom…
It has two twin beds in it…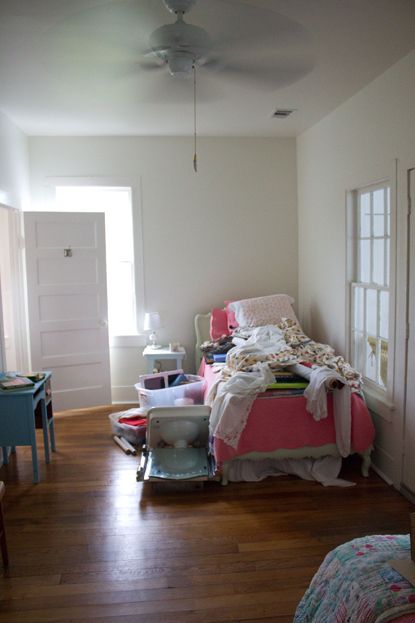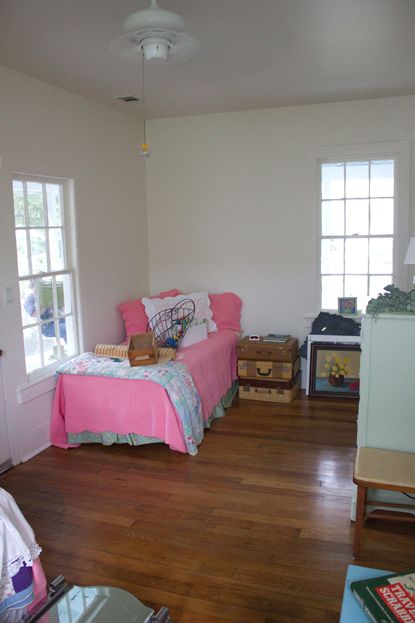 It's also got a little bathroom connected to it…
At the back at the cottage, you'll find the master bedroom and master bath…
We forgot to snap a pic of the bath though, so we'll have to blog about that one later.
(Oops!)
'Til next time,
————————————————————————————-
PS-
You can find more information about the Mess Hall here, and for all the details on Screened Inn, click here!
————————————————————————————-
Join us on Facebook & Twitter for decorating updates throughout the day today!
————————————————————————————-
Need help arranging your furniture?
Need design help?
Check out my e-book!
Get My Free E-book: 15 Common Decorating Mistakes And How You Can Avoid Them
Enter your email to download my free e-book instantly! 🙂