Up until this past Monday, we used this refrigerator to hold our cold and frozen foods…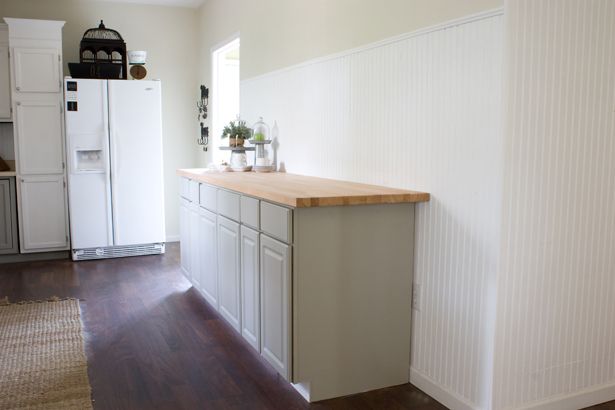 You can't see it in this photo, but it had a (permanently) red-stained water dispenser lever because of Kevin's obsession with Crystal Light fruit punch.
Let's just say he's not obsessed with cleaning up Crystal Light fruit punch spillage.
I confronted him several times about the hard-to-clean, red messes he was leaving behind each time he got his mix on.
He latest response was quite the doozy…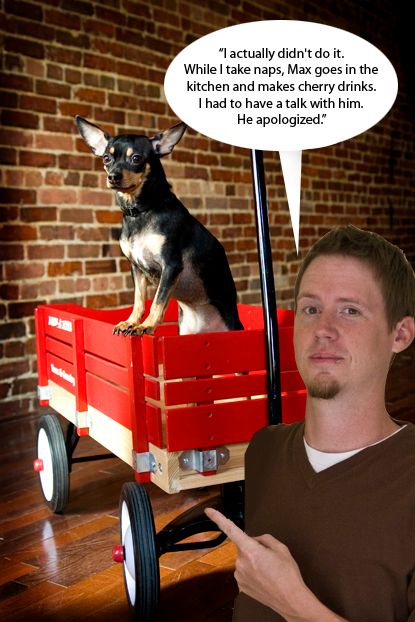 How dare he make me laugh while I'm trying to lay down the law.

But it really doesn't matter how stained the lever is anymore anyway, because last week, our red/white fridge finally bit the dust.
Yep.
All our food spoiled, and the odor inside it was pretty grody by the time we noticed it wasn't working.
We weren't really planning on buying a refrigerator this month, so I thought I better at least check on Craigslist, to see if I could find anything stainless for under 50 bucks.
I'm kidding.
As the site was loading, I was thinking to myself, "Layla. Come on. You know there's never any stainless steel refrigerators on Craigslist- and whenever there is, they're way above your budget."
But I just had to check.
And guess what?
I'M SO GLAD I CHECKED!
At the top of the page, the very first listing read:

I ran (literally) across the house and told Kevin the good news.
I'm not sure the term "counter depth" meant as much to him as it did to me, but when he heard "stainless" and "$400", he was pretty stoked.
Shortly after Freak-Out Fest 2010, we talked with the owner of the fridge, and then we hit the road to go pay for our spectacular new swayder-fritter.
(That's what I called them when I was a little girl.)

Unlike our slab of butcher block, the fridge (or "fritter") was obviously too big to fit in our little red car…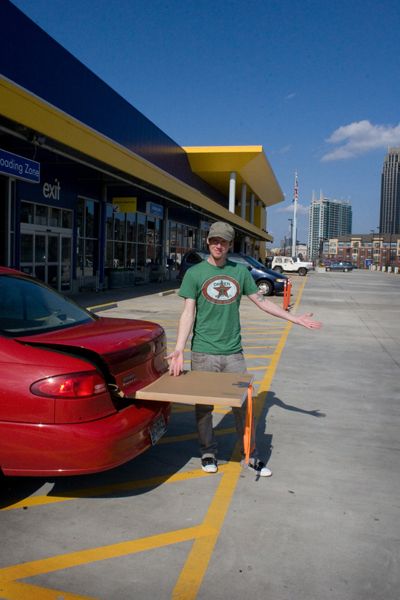 So we went back to pick it up with Kevin's band trailer a few days later.
Well, the fritter was too tall for the trailer too.
Can you say "nightmare"?
We were forced to drive thirty five miles with it tilted backwards at an extremely severe angle, supported only by a couple of tiny straps and one of the bands road cases.
I think I held my breath the entire way home. Except for whenever we went over a bump. Then, I freaked out on Kevin for driving too fast quickly stressed the importance of slowing down.
Needless to say, it was a super tense situation, but thankfully, we (and our new fritter) made it home in one piece.
Here's a photo of her, doin' her thang, in her new home…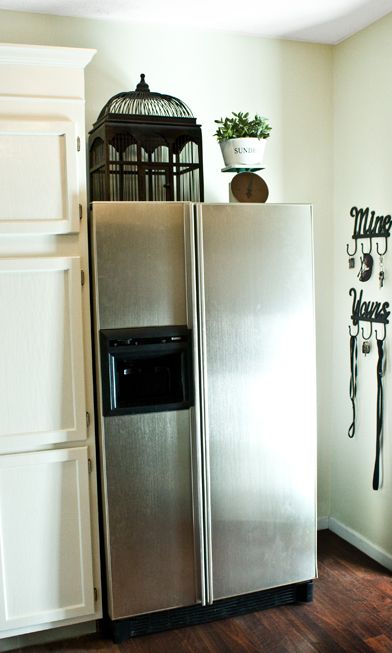 We plan to buy another tall cabinet (like the one on the left), and use it on the right side of the fridge. We'll also build some kind of "bridging shelf unit" to tie the two towers together, so it looks all custom-n-stuff.
(Move your cursor back and forth over the photo below to see what I mean.)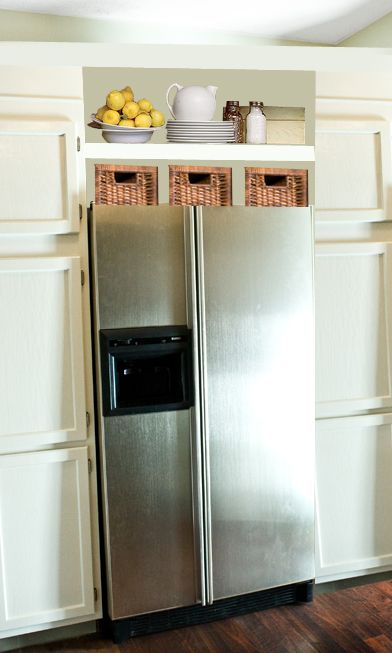 I can't tell you how happy we are to have a working fridge again.
There's just nothing cool about a styrofoam cooler in your kitchen.

Get My Free E-book: 15 Common Decorating Mistakes And How You Can Avoid Them
Enter your email to download my free e-book instantly! 🙂