Okay- it's Blog Threads day! 😀
You've heard the phrase, "Seize the day"? Well, this month's design is a take on that. It says, "Seize the DayDREAM"! 😀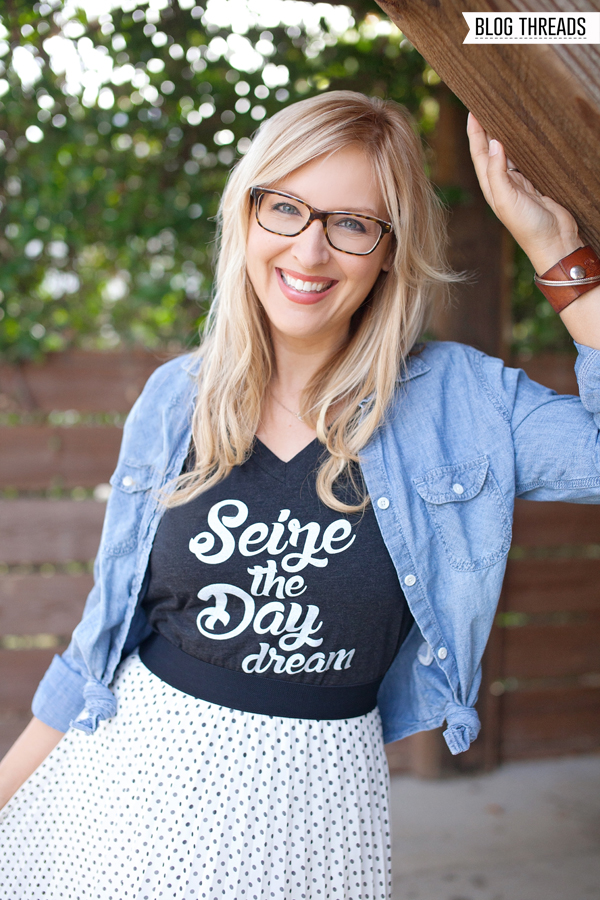 I'm wearing a vintage black t-shirt in that photo, but we also had it printed (in light blue) on an indigo (t-shirt weight) hoodie:
And because we're saving up for our trip to visit our Sweet P at the end of November, we're offering a few of our previous designs over at BlogThreads.com this month too:
All of the shirts are the same super soft Next Level shirts (50% Polyester, 25% Cotton, 25% Rayon) we've used in all of our previous 2-day sales.
The adult shirts are available in unisex or ladies cut. (The hoodie and baseball tees are unisex) The unisex shirts run very true to size and they don't shrink when you dry them. The ladies cut shirts (which I'm wearing in the photos above) run two sizes smaller, but also do not shrink when you dry them. For example, I'm 5′-5″ (125 lbs) and I wear a small in the unisex t-shirt, and a large in the ladies cut t-shirt. I like to wear an XL in the ladies cut CREW NECK shirt because I like my necklines a little on the looser side. Here are the size charts for both kinds of cuts. You lay the shirt FLAT to get these measurements:
Unisex:
Ladies Cut v-neck:
HPS stands for "high point of shoulder". It's the measurement that goes from the highest point of your shoulder straight down to the hem at the bottom of the t-shirt. The Bust 1″ Blw Amhl measurement is the one that runs from side to side, across the bust area- 1″ down from the bottom of the arm hole if the t-shirt is laying flat. The third measurement (SLV Length Frm Shld Edge) is the outside edge of the sleeve. When I was trying to decide which size to order, I measured one of my other t-shirts that fits well to see which size would be the most comparable.

If you're interested in ordering a t-shirt, you can hop over to the Blog Threads website by clicking on the banner below:
This is a 4-day pre-order sale. Once the sale is done (Tuesday morning around 8am CST) I'll deactivate the site so that I can tally up the order and send it off to the print shop. It usually takes about two and a half weeks to get them back from the print shop, so Kevin and I will start packing them up and mailing them out around November 11th. I'm thinking they'll all be delivered between November 18th and November 25th, depending on what part of the world you live in.
Thanks for taking the time to read this far if you're still here, and let me know if you have any other questions about the "threads"! XO

Get My Free E-book: 15 Common Decorating Mistakes And How You Can Avoid Them
Enter your email to download my free e-book instantly! 🙂