First of all, thank you so much for weighing in on our fridge dilemma!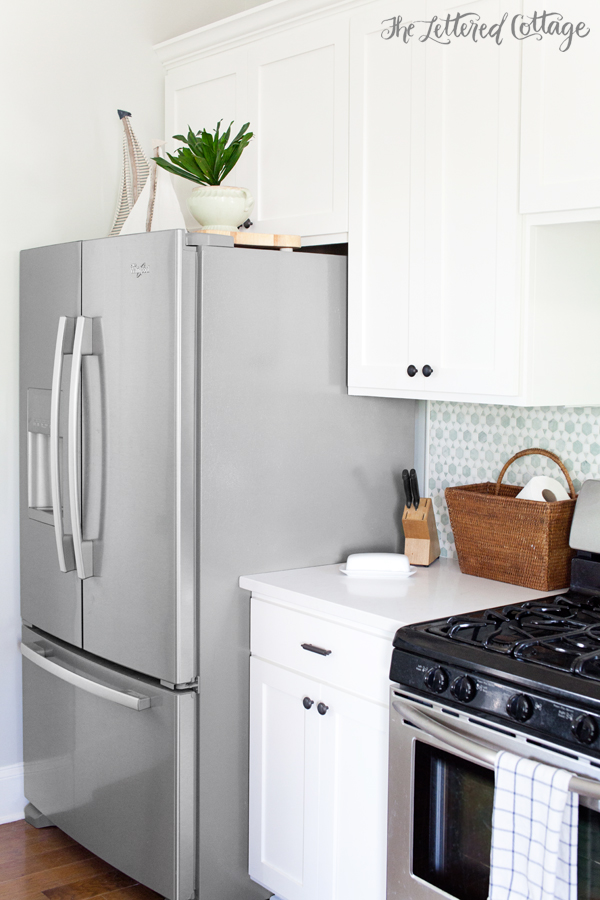 Ours is still broken, but I followed the handy-dandy link some of you left in the comment section in last Friday's post and it took me straight to a PDF of Whirlpool's "Second Through Fifth Year" refrigerator warranty…something I didn't even know existed!
It says, "In the second through fifth years from the date of purchase, when this refrigerator is operated and maintained according to instructions attached to our furnished with the product, Whirlpool Corporation will pay for FSP replacement parts and repair labor costs to correct defects in materials or workmanship in the sealed refrigeration system. These parts are: compressor, evaporator, condenser, dryer, and connecting tubing. Service must be provided by a Whirlpool designated service company".
I called the 1-800 number listed on the warranty and told the woman who answered that we were having trouble with our (year and a half old) fridge. She quickly started to explain that Whirlpool doesn't offer any kind of warranty after the first year, so I jumped in and read her the bit about the Second Through Fifth Year Full Warranty. (ahem)
She asked me what exactly was wrong with our fridge, and after I told her the service techs said it needed a new compressor and that the lines were all filled with oil. She told me that their warranty wouldn't cover any of the sealed refrigeration parts, so I read her the bit about Whirlpool Corporation will pay for replacement parts in the sealed refrigeration system, and that those parts are the compressor, evaporator, condenser, dryer and connecting tubing. (ahem)
She went on to explain that we would have to pay for any labor costs, so I read her the part about Whirlpool Corporation will pay for repair labor costs. (ahem)
And here's the real kicker: the company that she's sending out (for $85) on Thursday (S&S) to look at our fridge is the same company that Lowes has already sent out twice ($85 x 2), and who were the ones that determined that our fridge "couldn't be fixed" in the first place. Isn't that just crazy?
Anywho- I'll keep you posted. And, again, THANK YOU SO MUCH to the folks that posted that link to the warranty. Even if we find out the thing is completely dead, I will feel a *little* better knowing we at least tried to get it fixed from every angle we could!
***
And speaking of cold food, we spent the weekend on Cape San Blas with some of my family from Minnesota and my Aunt Chriss made the BEST dip while we were there!
She calls it Muffuletta Dip and told me she adapted it from a hoagie dip recipe she found somewhere several years ago. I thought some of y'all might like to try it out too, so I'm posting it here for those that want to give it a whirl!
One of my most often requested recipes! Adapted from a hoagie dip recipe I found years ago to be exactly as we like it.
Ingredients
1/2 lb. turkey, deli style, oven-roasted - chopped
1/2 lb. salami, any variety - chopped
2 cups Italian blend cheese - shredded
1/2 cup green onion - chopped
4 pepperocini - chopped
1/2 cup green olives - sliced
1/2 cup kalamata olives - sliced
1 cup mayo
1/4 cup Zesty Italian dressing
1/2 t. crushed red pepper
1/2 - 1 cup Roma tomatoes - seeded and chopped
Instructions
Whisk mayo and dressing together in a large bowl.
Add remaining ingredients (except tomatoes) and mix.
Refrigerate for at least an hour to overnight.
Add tomatoes right before serving.
Serve with crackers.
Notes from Aunt Chriss:
Can also be used on buns as sandwich filling.
The olives make the recipe quite salty; no extra salt is needed.
Adjust the mayo/dressing amounts to make as creamy (or not) as you prefer.
I rarely measure exactly for this dip- experiment to make it just the flavor combination your family will ask for again and again!
https://theletteredcottage.net/muffuletta-dip-recipe/
And speaking of women who really know their way around the kitchen- Kevin's mom Katie is having her brain surgery tomorrow (Wednesday), and we just wanted you to know how much we appreciate all the kind words you sent and all the prayers you've been lifting up for her since I blogged about it last week. She goes to the hospital at 7am and they said the surgery usually takes about 3 hours. I'll be sure to publish a post about how she's doing on Thursday! XO