Happy Friday, y'all!
I had fun working on a photo consultation for a gal named Darcy yesterday, and I thought I'd share it here as well in case anyone out there is seeking similar inspiration. She sent me this photo of their kitchen…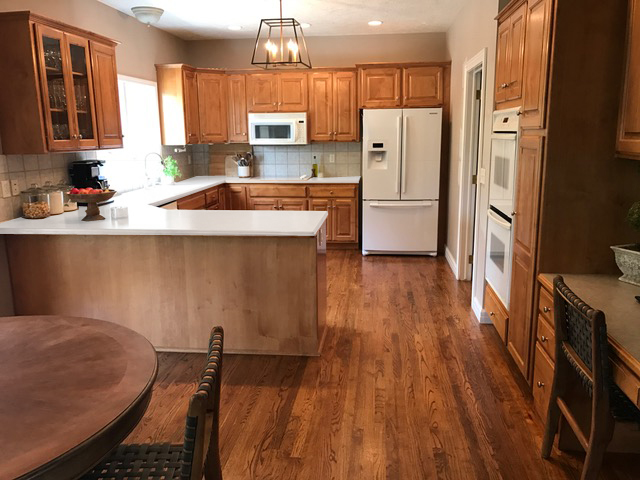 …and said they'd love to go with more of a modern farmhouse vibe, and that she'd love to see it with different colored cabinets, white subway tile up to the ceiling, stainless appliances, a stainless hood, a farmhouse sink, light-colored counters and touches of brass. She also wanted me to incorporate a different light fixture over the sink, and to use this rug as inspiration for the rest of the room:
I also found this photo on Pinterest to use as inspiration:
And here's what I ended up pasting together for her:
Obviously the rug won't sit under the dining table (it'll be over by the kitchen sink), but I wanted her to be able to see how it coordinated with the space.
I also added a woven wood window shade, which reminds me to tell you, you can use the code "TRANSFORM" at SelectBlinds.com this weekend for an extra 5% Lettered Cottage discount on top of their 45% off and Buy 3 Get 1 Free Labor Day sale. These are my favorites: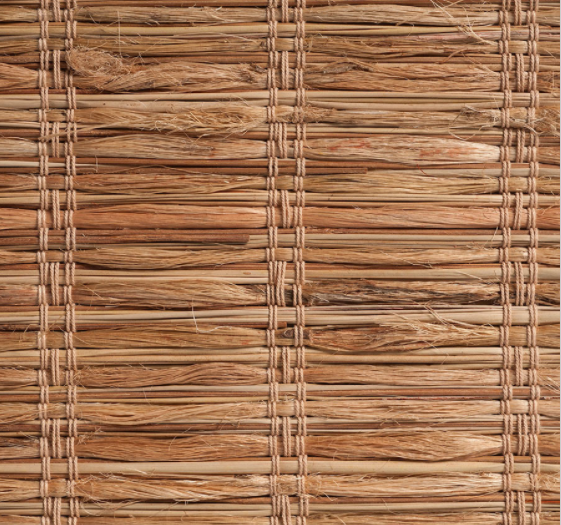 They called Designer Series Woven Wood Shades and the color is Jute Wheat.
I love the brass hardware on top of that smoky gray cabinetry! I even added a little band of brass to the stainless hood, and I like how it jazzes it up. The bar stools in the photo are from Design Within Reach:
And like I told Darcy, they wouldn't necessarily need to be *those* exact bar stools. I just wanted her to think about using something with a white seat and stainless or brass-toned legs.
I'm excited to see what Darcy thinks of the photo, and I'm hoping she'll share their after photos with us too! 😀
Layla
PS- If you'd like to learn how to use Photoshop so that you can modify photos of your home, I teach a class for beginners/visual learners here: LetteredCottageCreative.com
And if you're interested in having *me* use Photoshop to modify one of your photos, I'll be accepting 10 new clients in September. I'll publish a blog post about my consultation service at 9am CST on Monday, September 4th that will include information about how to purchase a consultation. Thanks in advance if you decide you want to partner up! XO