Hey there!
It was nice and sunny out today, (yay!) so I was able to snap some pics of our progress in the master bedroom.
You may remember how it looked BEFORE…
…well, this is where we're at CURRENTLY…
Keep in mind, we've still got LOTS of nail holes to fill, outlets to re-cover, base boards and crown molding to cut & attach (the base boards are just laying against the wall in the photo above), corner trim to attach (to make for a nice, smooth transition where the wood wall meets the "Blue Hubbard"-painted wall), and 144 square feet of planks to paint (the boards in this photo are just primed- not painted)- not to mention, we're gonna clad the wall next to this one in wood too. But man does it feel good to have some of those suckers up off the floor and attached to the wall!
We're using 1″x6″ planks of MDF we got at True Value. They're smooth and straight, and thanks to our new, high-powered nail gun- they're a cinch to put up, too!
We started by breaking up the window wall into three sections…
Obviously, we worked on section 2 first. Kevin used our laser level/stud finder to mark where each stud was within that section…
Next, he drew a vertical line where he found each of the studs…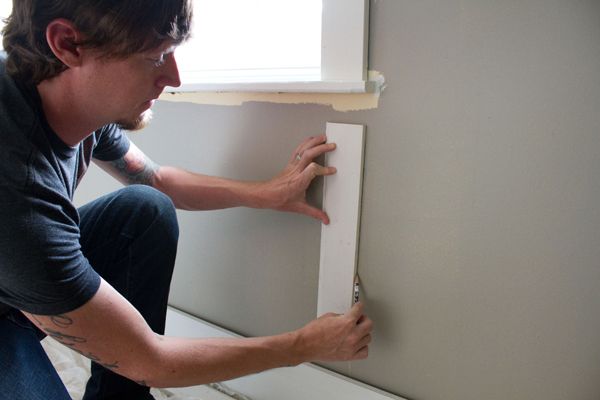 Then he used a measuring tape to determine how long each plank should be…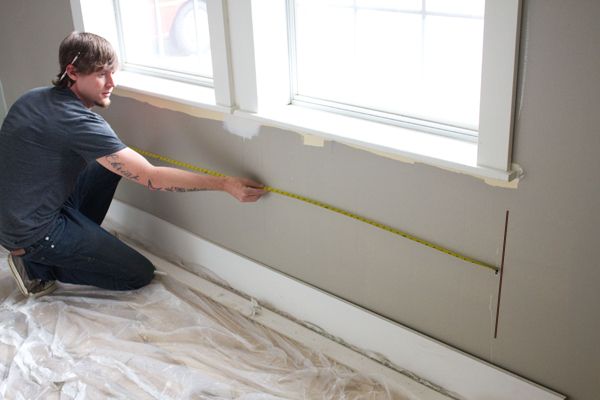 (I made the line a little darker so you could see it better)
Here's a little video we shot right after we had finished working on section 2…
(Click here to watch it on YouTube)
Once we got all the boards up in sections 1 and 3, we added a little schmarchitectural interest (that's schmancy, as in "fancy schmancy", architectural interest) by using a 1×2″ in the gap created by the window sill…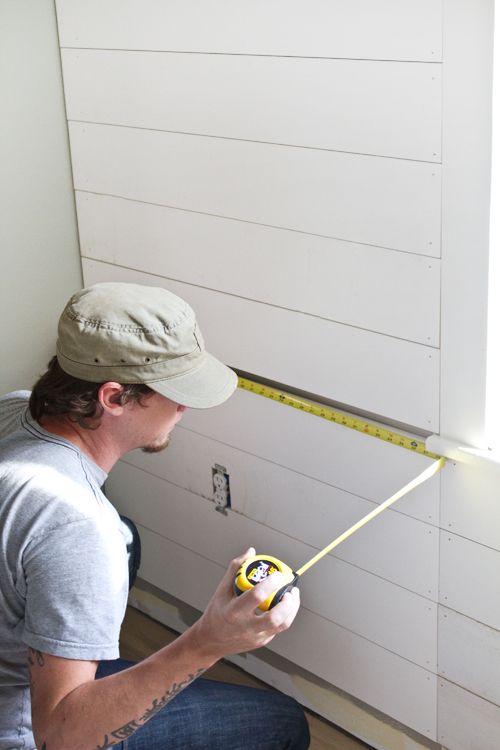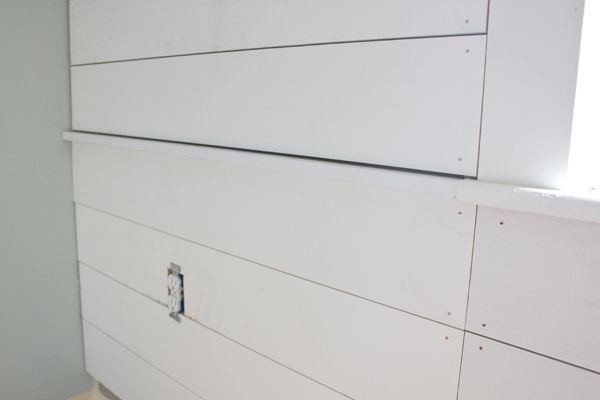 (Section 1)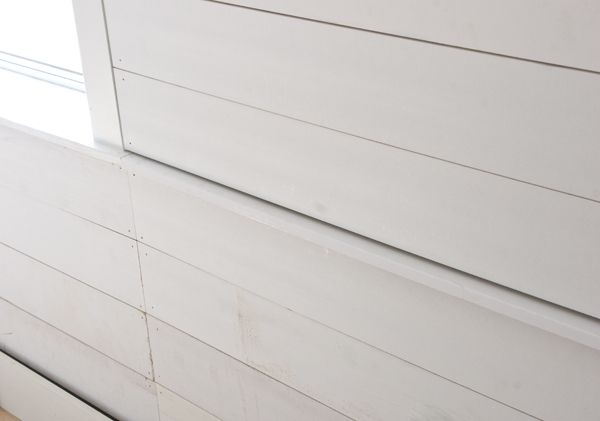 (Section 3)
It looks sorta chair rail-ish. I dig it.
We intentionally planned for the "seams" between sections 1, 2 and 3 to hide behind where the curtains would fall- so it'll look like the boards stretch from one side of the room to the other. Move your cursor back and forth over the photo below to see what I mean…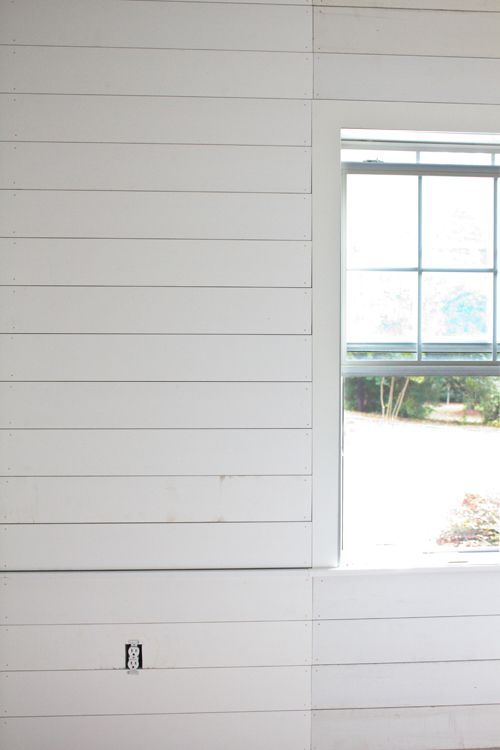 (If you're reading in Google Reader, you'll have to come over to our site to see it!)
As for the rest of the room, well, this is the old view from the doorway, into the room…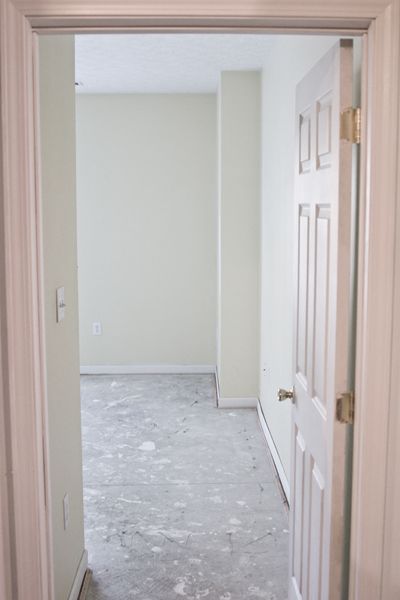 Ya see that weird "bump out" thing at the back of that picture?
That's actually the end of our front porch…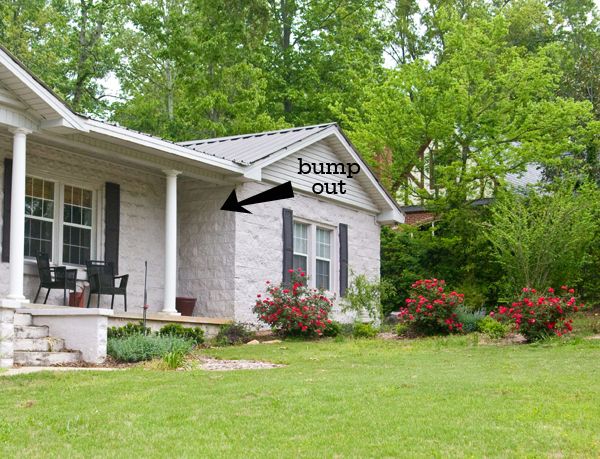 Two feet of the living room and the entire master bedroom were added on to the house in 2003. The red line in the photo below shows where the old house and the new part of the house meet…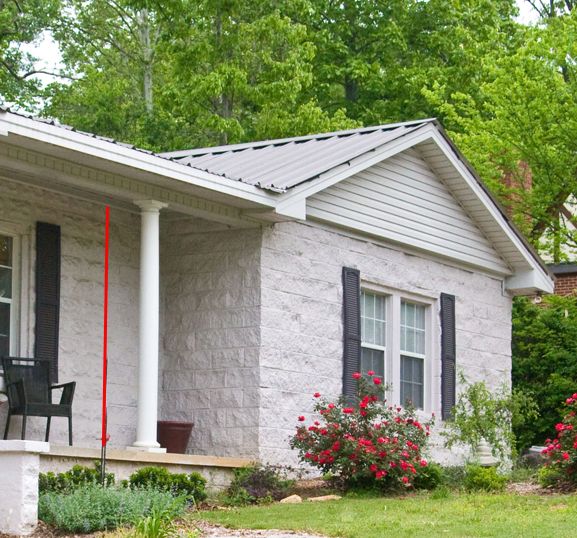 (They had to use a different type of decorative cinderblock on the addition. Apparently you can't get the other kind anymore. Boo. We'll have to do something about that eventually.)
Anywho, we've decided to embrace the bump out, so we're gonna attempt to build some kind of built-in bookcase to the right of it. Sort of like this:
I'm not sure exactly what it'll look like, or if it'll have doors or not have doors, or if it'll have five shelves or six shelves, etc. etc.- but I think it'll be nice to have a little extra storage/display space in the room.
And it won't take up any valuable floor space either- yesssss! Plus, the cable hook up is already right there on that wall. Double yesssss!
I'm really happy with how it's all turning out.
So happy, I'm including another presto chango…you know the drill: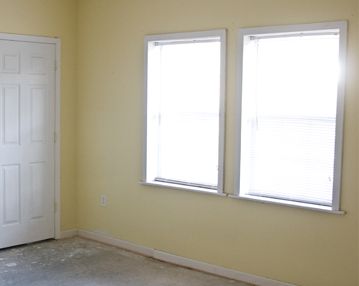 I love presto chango's.
And True Value MDF.


*We were selected by True Value to work on the DIY Blog Squad. We've been compensated for our time commitment to the program as well as for the materials needed to complete our DIY Blog Squad projects. That being said, our opinions are entirely our own and we have not been paid to publish positive comments.

Get My Free E-book: 15 Common Decorating Mistakes And How You Can Avoid Them
Enter your email to download my free e-book instantly! 🙂