"Even when muddy your wings sparkle bright wonders."
-Aberjhani

Still pulling things together, little by little, in the living room. This week: another fun addition to the gallery wall!
My friend Ruthie painted this one, and it is definitely one of my favorite handmade things in the whole house.
I will cherish it forever…not only because it speaks to my soul, what with it's low country look and it's gray/green/blue color palette, but because Ruthie painted it.
Such an angel-friend, that gal. I'm certain she's hiding a set of wings somewhere. 😉
And since we're on the subject of the gallery wall, I noticed something about decorating with dimension when it comes to these kinds of arrangements. It seems to me that the elements that stick out from the wall should overlap three of the elements hanging behind them. For instance, the propeller covers a corner of Ruthie's painting…
…a little bit of the lake photograph…
…and a little bit of the boat photograph: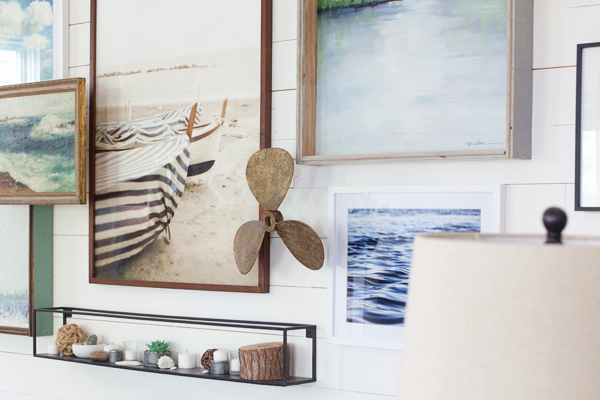 The flea market painting does the same: a little bit of the boat photo, a little bit of the cloud photo, and a little bit of the painting I did. It seems to help tie the whole thing together to position them this way.
Next up: the captain's chairs in the dining room are getting a makeover. Mrs. Jenny embroidered a pretty capital P on the back of each seat, and Mr. Tom is helping me reupholster them in stripes and jean and jute. Pretty sure those folks are hiding wings somewhere too. 🙂