There's a full-size mattress leaning up against the wall outside our second bedroom right now…
…and there's an old headboard and footboard tucked underneath it. The mattress is new, but that bed belonged to Kevin's parents for almost 40 years. It's sturdy, and special, and I can't wait to use it in our soon-to-be kiddo's room. 🙂
The room itself is tiny, just 106 square feet, but it seems to me that big bedrooms don't have a thing to do with how much you love where you live.
And besides, I like think to that small spaces are my specialty! 😀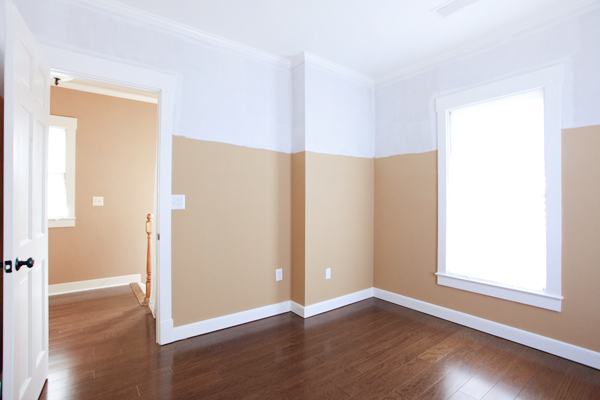 I was originally going to do some tall wainscoting in here (hence, the partially primed walls), but I've had about a year to think about things, and I've decided to go in a slightly different direction.
The room does have it's own full bath and a decent-sized, double-doored closet…
…and I look forward to personalizing those spaces eventually, too.
I'm going to be re-using the bedding we had in our old guest bedroom/home office…
…and I'm excited to pull that stuff back out again!
I'm also looking forward to picking up this big old door my friend Lucy found for us:
It needs a little TLC, but it's four feet wide, and with the addition of some casters and a sliding track, I think it'll make for one pretty cool door on the outside of the room. You know, where the mattress is leaning right now. 😉
And to make the most of this small space storage-wise, I'm meeting with Brian the Carpenter about building something super-functional against the wall in the photo below. Move your cursor on and off of the picture to see the (very rough!) "presto change-o" inspiration I put together:
I'm thinking about embracing that pesky little "bump out", but turning it into a shallow, floor-to-ceiling bookcase. It'll stick out about 9 inches further than it does now, and I thought it would be neat to create a 20″ deep storage unit next to it. It'll sit flush with the bookcase, and here's a better view of the amount of floor space it'll cover:
I was thinking about putting a dresser to the left of the bump out anyway, so that floor space was going to get eaten up by something 20-ish inches deep either way. This way, we maximize the room's potential, and create something that looks like it's always been there, too. Lucy is on the hunt for a couple more skinny, old doors we can use on it, and I'll probably have Brian frame out a few cubbies for storage baskets at the top and bottom of the unit while he's at it as well. Here's an inspiration photo I found online that *sort of* demonstrates the kind of storage unit I'm hoping to create:
I love using as much of the vertical space in a room as possible. Who says storage has to stop at sixty inches high? 😀
One day, we plan to add a few more rooms onto the back side of this house, and at that point, our current master bedroom will become our kiddo's room, and this smaller room will become Kevin's studio/office. I'm keeping that at the forefront of my mind as we pull together this space, so for instance, the bookcase won't look exactly like the one in my inspiration photo. It'll probably look more like a regular bookcase (without the "guard rail"), so that Kevin can fill them up with books and photos when he moves in there on down the line.
I'm thinking about the walls and wall color today and I look forward to sharing more about that when I've got it all figured out! 😀

PS- For more makeover pics between posts, join me over on Twitter, Facebook and/or Instagram!