Meet Keith:
He plays drums on the worship team at our church, and although we just met him last year, he's one of those guys you just feel like you've known forever- ya know what I mean? One of the things I noticed about him early on, is that he smiles a lot. And like Buddy the Elf, I'm a HUGE fan of that!
In addition to serving at Centerpoint…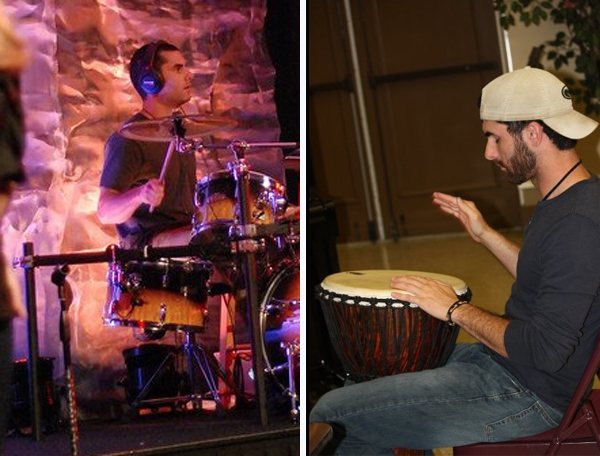 …Keith is also a firefighter here in Montgomery, Alabama…
…and he recently bought his first house over in Prattville…
I was so happy for him when I saw this Facebook update:
I didn't know he was buying a house at the time, but our current house is the first one I've ever had my name on, so I could totally relate to his excitement that day!
That excitement gave me an idea about helping him with a room redo, so Kevin and I cautiously approached him about it at church a couple of weeks ago. We didn't want to barge all up in his business, and for all we knew- he was passionate about interior design and wanted to personalize his first house himself. But (smiley) Keith was pumped about the idea, and he promptly invited us and his girlfriend over for supper.
(Keith and his girlfriend, Lauren at a fundraiser event in Tuscaloosa, Alabama)
We had so much fun hanging out and getting to know them better that night, and before we left, we snapped a photo of his living room so I could play around with some makeover ideas in Photoshop. We've decided to concentrate on the fireplace wall in his living room (especially since he knows what's safe when it comes to that stuff), and now that we know more about what inspires Keith (design-wise), I think we've got a good idea for what we'd like to do over there. You can move your cursor arrow on and off of the photo below to see what we're thinking for that wall:
And as you can see, I couldn't resist throwing in some other things too, ha! #FunWithPhotoshop
Google Readers and email subscribers, you'll have to click over to our blog (TheLetteredCottage.net) to see it in action. If you're on a device that doesn't allow you to view the interactive photo above, here are the still images:
We've already been in touch with a couple of local friends of ours that have mad carpentry and design skills, so as long as we can round up some wood (we've still got some moolah on our True Value gift card), we should be good to go on the bookcases. As for the stone on the fireplace, we *may* be all set there as well. I'm not even kidding- within MINUTES of sending Keith the inspiration drawing, I got an email from a company called Airstone who creates very realistic-looking faux stones. They asked if we'd be interested in working with them on a project. Wow. Talk about Perfect timing! I'm going to email them back today, and hopefully, they'll allow us to use some of their product on Keith's fireplace. I'll keep you posted- and I look forward to blogging about this entire adventure as it unfolds! By the looks of Keith's Facebook page, he's got a lot of friends, so we're hoping to recruit some of them for a paint party at his place soon!
Keith said he loves the color charcoal gray, so first things first- we're going to put our heads together about exactly which charcoal gray to use, and then we'll use our gift card to purchase a couple of gallons of paint. More about that as soon as we've chosen it and have it up on the walls!
Now obviously we're not ABC's Extreme Home Makeover, so we might not be able to pull off everything in the inspiration photo- but we love this kind of stuff, and we're really excited about the chance to get together with folks who are equally enthusiastic about helping Keith create an inspired space that echoes and shapes who he truly is. Because who he is- is inspiring to so many of us folks!
PS- This is not an Airstone or True Value-sponsored post, and all photos of Keith were swiped from his Facebook page. (Keith, if you're reading: Thanks for allowing me to swipe 'em!)

For pics and updates about what's happening with Keith's makeover in between posts, join us over on Twitter, Facebook and/or Instagram!