Happy Tuesday, friend!
Someone recently asked if my design style has changed a lot in the past 5-10 years, so I thought it would be fun to share a post that features a look back at some of the rooms I've had fun designing/decorating over the past decade. I don't think my style has changed very much during that time, but I do appreciate function over form more and more as I get older.
The very first reveal I ever featured on my blog was the guest bedroom at our previous home. Here is a before photo of the space…
…and here are a couple of after photos:
We're still big fans of wood walls (which, in that room, we discovered underneath the drywall and enthusiastically uncovered in 2008) antique hardware, gallery groupings, and natural colors.
We don't have a guest bedroom in our current home, but I'll post a couple photos of the two bedrooms we do have. First up, Steevenson's bedroom:
It's kind of hard to tell in that photo, but we did the white-painted planked wood walls in there too. Unfortunately, we had to install them on top of the drywall because we didn't uncover them this time around. 😉
Next up, is a peek of our work-in-progress master bedroom:
As you can see, white wood walls, black bed frames and woven shades are still my thing…and there's that ticking stripe quilt again! 😀
Another room we transformed in our previous home (a couple of times) was our kitchen. Here is a before photo from 2007…
…and an "after" photo from 2010…
…and the final one from 2012:
I still love corbels, warm woods, pops of black and white upper cabinets paired with darker-colored base cabinets. Our current kitchen is a lot smaller, but we don't spend a lot of time in there so it's okay. My least favorite thing about it is where it's positioned, because it's about six feet from our front door and there's almost always dirty dishes in or around the sink, but there's really nothing we can do about it and it's not the end of the world.
By the way, I'm going to paint the island a darker color soon because I liked the way it looked better when it was darker. I'll share a pic when I've got it all re-coated!
Next up, a before photo of the guest bathroom in our previous home…
Here's what we did with it before we moved out in 2012:
We went for a similar vibe in the half bath here in our current home later that same year:
One day, I'd like to replace that vanity with something more clean-lined and less feminine, but there's no rush.
Here's a before photo of the same space:
Nothing wrong with it the way it was…it just didn't feel like "us", so we had fun personalizing it shortly after we moved in.
Last but not least, a look back at our old living room in 2011…
…and a few more shots of our current living room:
As you can see I still love my natural tones paired with blues, whites and greens. I still love layering, and symmetry, and decorating with things that remind us of Mother Nature and Father Time.
So looking back, I don't think my design style has changed too much over the past 10 years, but living in a lakeside community in a farmhouse style home has really served as a super fun "palette" for me to play with over the past five years.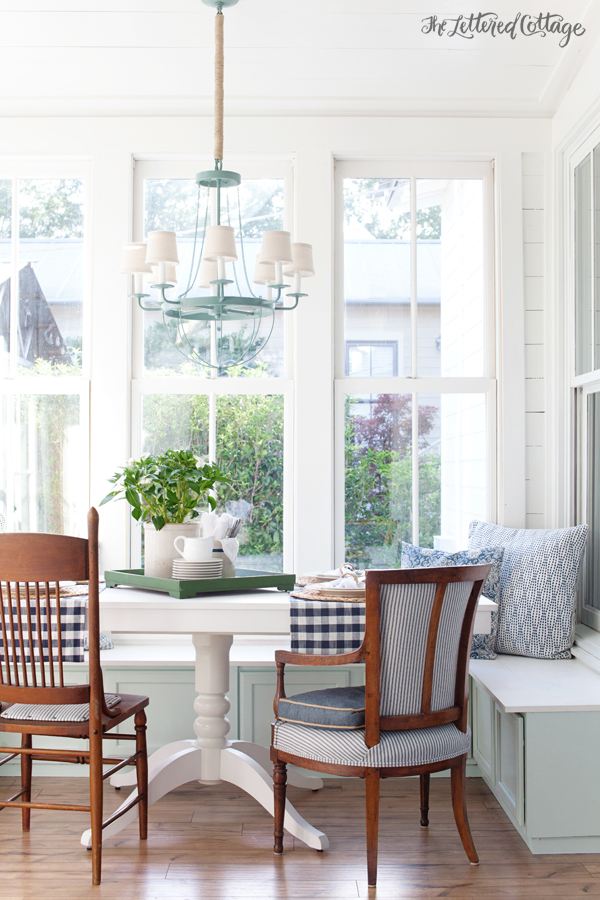 Off to pick a paint color for the island…
Layla