Ahhh, built-in cabinetry.
We all love it.
We all want it.
And ya know what?
I'm here to tell you- we
can
all build it too!
Case in point- the built-ins we made in our guest bathroom…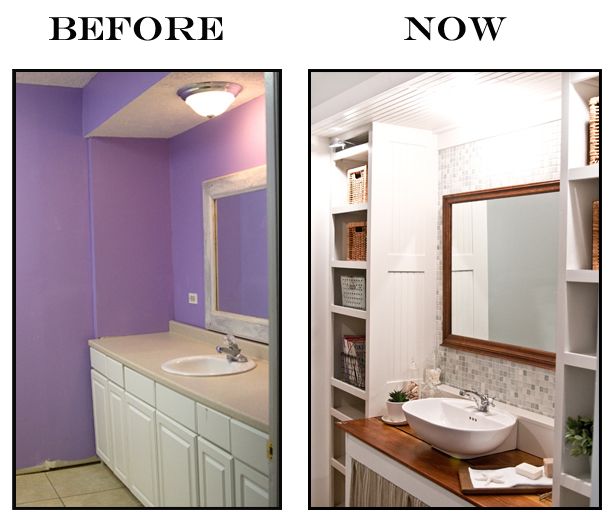 Neither Kevin, nor I, had never attempted to build built-ins before, but I knew we could do it if we put our thinking caps on tight enough and found a great inspiration photo to work from.
This was the photo we ended up using…
Seeing it was just the motivation we needed to get the party started, so we made a quick trip the home improvement store to get some wood and some trim, and we just sort of figured things out as we went. (Which meant lots more trips to the home improvement store!) It was a lot like putting together a big, three-dimensional, wooden puzzle for big kids, and not having all the pieces in front of you at one time.
Here's a couple of videos we shot while working on them…
(Don't worry, we finally figured out how to properly use a caulk gun!) 🙂
Sure, they might be far from perfect, and we may have had to use about 17 tubes of caulk to conceal all of our imperfections, but the important thing is that we somehow managed to make them look alright, and that we built them without any professional woodworking training, or a set of instructions to follow.
It just took a little determination and a lot of elbow grease!
🙂
So if you're comfortable using a saw, and prepared to have to take things apart if they're not working (we did this a number of times), I'm tellin' ya- you can build yourself some built-ins too!
This week, my Ideabook over at Houzz is all about building built-ins. You'll see some spectacular photos of a variety of different built-ins, as well as tips on how to achieve the look in your home. So if you're up for customizing some bookcases or building a window seat this weekend, click on the badge below to be inspired!
Browse by Space and Style- For Example:
————————————————————————————-
Check out my e-book "Creating an Inspired Home"!