Hey there- and welcome to another installment of Pick My Presto!
I randomly selected another email from my Pick My Presto inbox this weekend, and had some fun photoshoppin' a picture of a bathroom sent in by a reader named Nicki.
Her email read:
Please help! We are about to list our early '80s ranch home for sale.  We've been able to update many of the other rooms, but we've run out of time (and money) to be able to replace the harvest gold bathtub, sink, and toilet.  I'm at a loss as to how to make this room seem even remotely appealing/bearable to a buyer.
As I mentioned, we need to be able to make a change in this room without replacing the harvest gold tub, sink, and toilet.  And since we need to keep the sink, of course means that the sink cabinet will probably have to stay, too.  Removing the mirror and light fixture will most definitely tear up the wall if we remove it, so we would probably have to put something on that wall, like bead board, if it is removed- which is something we would be okay with doing.
To give you a sense of our style, the rest of our home is done in neutral tones, whites, beiges, tans, natural fibers, with black, brown, oil rubbed bronze, and antique brass accents.
Oh, if you could help me with this I would be ever so grateful!!
Thank you,
Nicki

Like I said, I randomly select my presto change-o's, and normally I like to surprise the reader that sent it in by posting it here for them to find- but since Nicki's email came in a while back, I thought I'd better write her and ask if they had already sold their house. Sure enough, they accepted an offer on it shortly after she wrote me! (Congrats, Nicki!!)
BUT, since I bet there are a lot more folks out there with similar harvest gold situations, and because I'm always so inspired by this type of challenge, I decided to put pen to paper mouse to pad again anyway, and used Photoshop CS5 to create an inspiration photo for those who might be on the lookout for similar inspiration. Move your cursor on and off of the picture below to see what I came up with in presto change-o action!
(PS- Google Readers will have to click over to our site to see it switch back and forth)
(Note: My drawing is for inspirational purposes only, and the ideas shown in it are just that. Spontaneous, totally flexible, just-for-fun, ideas. Boom.)
Here are a couple of (smaller) still images in case you weren't able to view the interactive one above…
Here are my thoughts on the room (or any room with elements you'd like to eventually change, but aren't in a position to right now): It's all about drawing your eye away from the things you'd eventually like to replace. It's about creating a space that says: "Sure. There are a few things that could be switched out in here, but ya know what, I look (and function) pretty darn good right now, too."
I started out by scouring the internet for a fabric that had harvest gold in it. Any fabric you love will do, but I came across this one from Calico Corners, and used it in my inspiration photo drawing:
Next, instead of using a traditional shower curtain, I showed what it would look like to use two panels, that would pull together to create one shower curtain. In the middle, (and on a separate rod) I showed a white shower curtain liner. I think doing something a little different on the largest, least broken-up expanse of space in the room would be a nice visual distraction to walk into. We're actually doing this in our upcoming master bathroom redo, and we're going to move our rods all the way up near the ceiling to create the illusion of more height in the room, too. Stay tuned for the big reveal!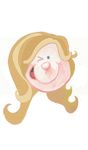 Another way to hush the harvest gold would be to paint the walls a golden tan color. The way I figure, if the wall is closer to the color of the toilet, tub and sink, the less contrast there will be- and the less contrast, the less the harvest gold color will "pop" out visually.
Here are some other ideas I incorporated into my photo drawing that might help quiet the harvest gold fixtures:
1. Pull in an accent color from your shower curtain. There's a nice, grayish blue color in the Calico Corners fabric I used, so I chose to go with that as my accent color.
2. Mix and match your fabric patterns. Use contrasting-yet-coordinating patterns on the horizontal and vertical planes in the room. I chose an indoor/outdoor rug from Pottery Barn in my photo drawing…
Again, the idea is to take your eyes off the toilet and sink, and put them onto a visually pleasing shower curtain/rug/towel combo. In this case, coordinating floral, stripe, and solid fabrics.
3. Bring in some more metal. I replaced Nicki's mirror with part of the one in the photo below (I took off the circle at the top)…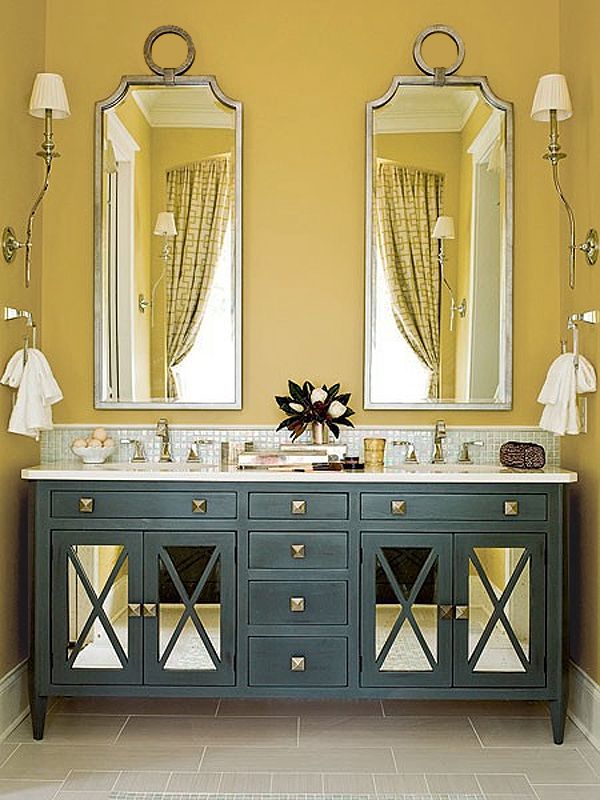 (source)
Whether it's antique brass, satin nickel, or polished chrome, I think injecting some "sparkly" is always a nice addition to a room full of mostly matte/muted finishes.
4. Create some pretty/functional vignettes. Not that the existing cabinet needed to be changed, but I popped a more clean-lined cabinet (Pottery Barn) on the wall above the toilet. I also used a couple of white-painted, wood corbels (Home Depot) and a white-painted wood dowel for towels, underneath it.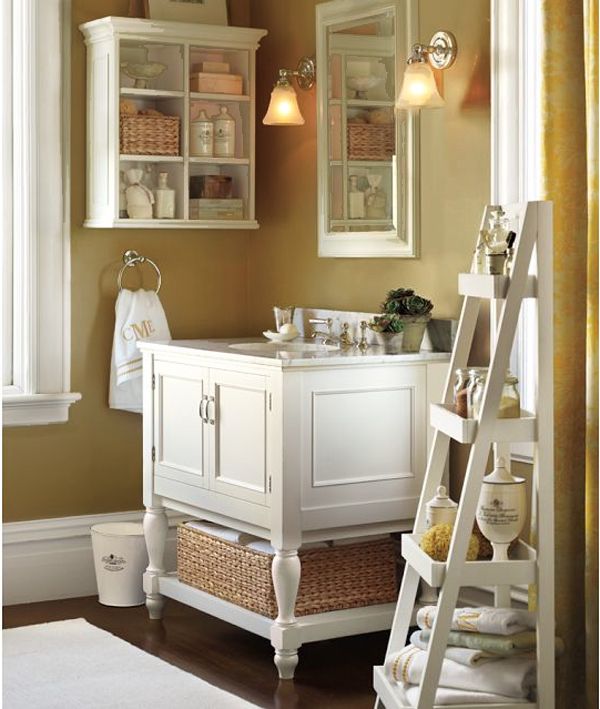 (source)
I think using a cabinet that you're able to accessorize and put baskets into, will further help distract the eye up and off the things you don't want to highlight. By featuring some of your prettier "bathroom stuff" out on the open (vs. behind closed doors like the existing cabinet has), your eye will be drawn to what's happening on the vertical parts of the room, not just just horizontal ones- where the harvest gold elements are located.
5. Update your lighting. Updating bathroom lighting is usually a quick, easy, and inexpensive fix. Brittany wrote a great tutorial about switching "Hollywood" style vanity lights out, but if you're unsure about doing it yourself, it'll only take a professional electrician about 30 minutes to switch out a fixture like the one in Nicki's photo. The fixture over the mirror in my photo drawing is from PotteryBarn.com, but I've seen similar fixtures at lots of different places for much less. The one below is only $48 at Lowes…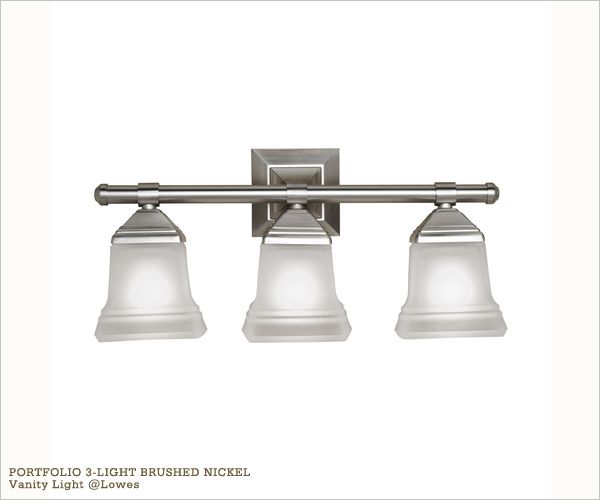 It sort of reminds me of Restoration Hardware's, "Dillon" sconce…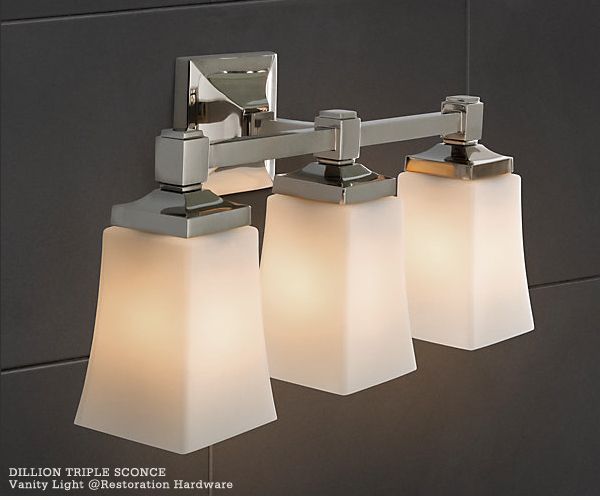 …except that theirs costs $219!
6. Paint your cabinetry. It's fairly easy to prime and paint a sink cabinet, and sometimes that can be just what a vanity area ordered.
(source)
I changed the color of Nicki's sink cabinet to a blue-gray in my photo drawing, and I also think adding some white porcelain knobs (like the ones in the photo above) would be a nice addition, too!
7. Add crown molding. Have you ever noticed how much of a difference just painting the ceiling and adding crown molding can make in a room? It's another great way to keep those eyes movin' up, up and away!
Of course, there are lots of other things you can do to update a bathroom (replace faucets, add tile, replace switches and outlets, replace flooring, add towel bars, etc. etc.) but I thought I'd throw out these (relatively) low-dough ideas in case anyone reading this can use them!

("A" towel ; vanity accessories ; fabric ; paint color ; mirror photo ; wall cabinet ; rug)
Before I wrap it up though, I did just want to mention that I saw a (new) white sink and toilet for sale for under $100 total at our local builders supply store- so if that's in the budget, you could always wait on replacing the tub (it's hidden anyway- ha!) and just swap out the toilet and sink in the meantime, like this…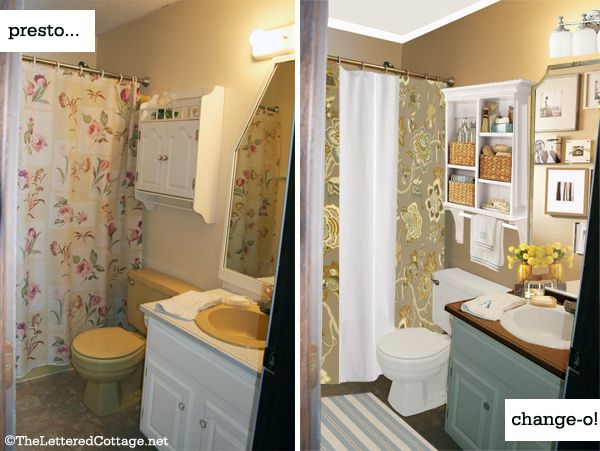 I also added a dark wood countertop while I was presto change-o-ing that last pic. Meredith (who writes a blog called Welcome To Heardmont) used a $39 piece of butcherblock (from Ikea), (stained English Chestnut by Minwax) in her recently renovated bathroom, and it turned out so pretty…
She said they sealed both the sides of it with several thin coats of polyurethane, and it's held up great for almost a year now. Sweet!
Anywho, hope there's an idea'r or two in this post that someone out there can use, and I look forward to working on another presto change-o again, soon!

Would you like to submit a photo for our Pick My Presto series?
Send an email to PickMyPresto [at] aol [dot] com titled, "Living Room". (Replace the words Living Room with whatever type of room you're actually submitting.) In the body of the email, include your name, your blog name (if you have one) your design likes & dislikes, and one photo of the space in question. (No links please.) It should be clear, and measure at least 400 pixels high x 600 pixels wide. (In other words: at least 4″high x 6″ wide) The bigger the better though! Make sure it's a photo you're comfortable with me showing and writing about on our blog. Oh, and since I love surprises, I probably won't email you to let you know I've "picked your presto" unless I have a specific question for you about your space.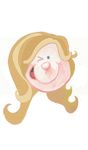 PS- Don't forget to swing by this Tuesday for our Spring mantel link party. Thanks to Kev and Josh's Photography 101 class, I'm proud to report that I photographed our mantel this weekend all by myself for the first time ever– woo hoo! I didn't have to ask for Kev's help one time, and if you've ever seen me trying to work a DSLR camera in manual mode, you know that's a huge accomplishment worth mentioning here today- ha!
If you're looking for help learning how to use your DSLR too, click on the banner below to check out their class…

…and if you want to read what other shootFLYshoot students (that aren't married to one of the owners-LOL) are saying about the class, CLICK HERE!