Every once in a while, Kev and I will get a wild hair and run off to some little place we hope will be big on inspiration.
It usually starts with a cabin fever-ish sorta feeling, and quickly leads to a slew of Google searches for "cottages for rent in Alabama, Georgia, Florida or Tennessee".
(We've never been able to ju$tify going away for more than a couple of days, so the place has to be close to home. Plus, I'm not a real big fan of flying. I'll take seven hours in our little, red car over two hours at 40,000 feet any day!)

Sometime last year, one of our late night Google "search-o-ramas" introduced us to a beach town called Tybee Island, located just off the coast of Georgia, near Savannah.
We visited for the first time this past March, and it had us at hello.
Bikes are the preferred method of transportation, and flip flops come in a close second.
Quirky, fishermans cottages dot each & every street and giant, old trees stand dripping with curly clumps of Spanish moss.
In the morning, you can witness the Sun rise up over the ocean on one side of the island- and at night, you can watch it slide down behind the low country marsh on the other.
It's a real "go with the (ebb and) flow" kinda place.

One of cottages that really makes us feel inspired/welcome/happy/relaxed on Tybee is it's enchanted, old Mess Hall.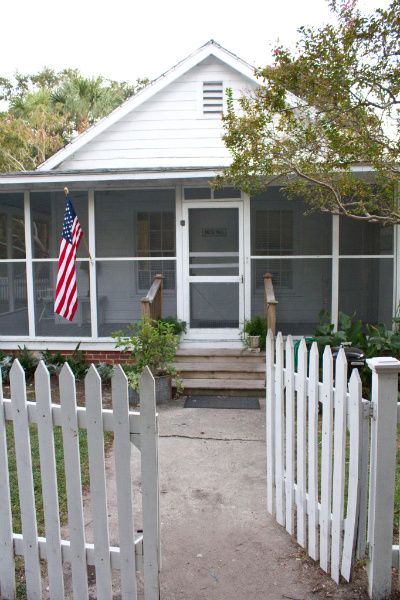 We had the pleasure of re-decorating it with it's new owner (Pam) recently, and what a thrill it was to be able to hang out there every day, for a week and a half!
Three of Pam's four sisters came down and visited with us one day while we were there.
As you can see, they're a gorgeous bunch, but the way they interacted with each other was absolutely magnificent!
They held each others hands, and kissed each others faces.
They spoke with graceful, Southern accents and all seemed so patient and kind.
At one point, Pam lovingly referred to one of her younger sisters as "Baby" and I got the goosebumps!
SO SWEET!
I felt like I had been transported straight into a scene from a movie like Steel Tomatoes…I mean, Fried Green Magnolias….oh- you know what I mean!

I'm sure Pam and her family will share many wonderful vacations/holidays together at the Mess Hall, and we look forward to making a trip back there to soak up some of it's wonderful energy every now and then too.
It's a magical place, and it was an honor to walk and work within its 80-something year old walls!
Here are some photos we took the last day we were there…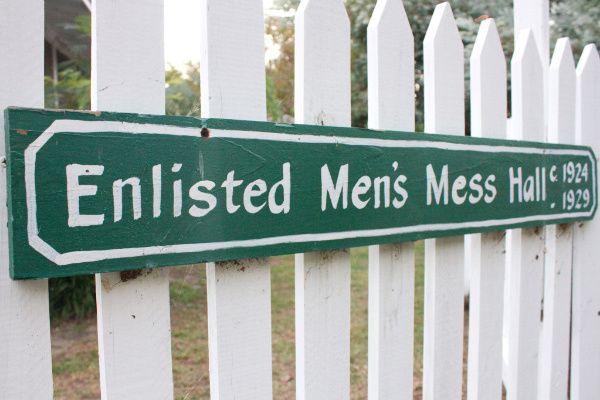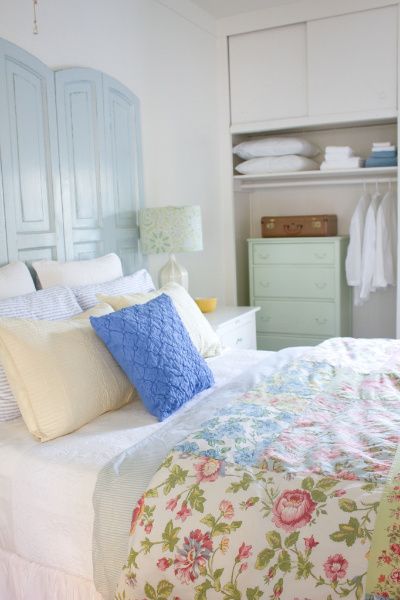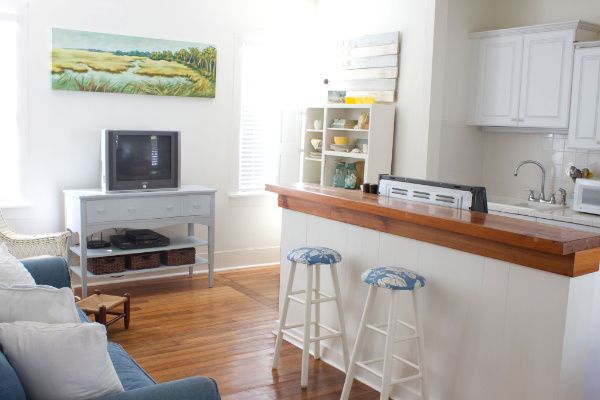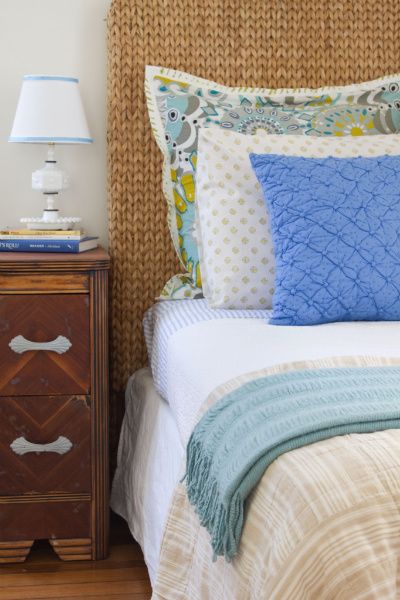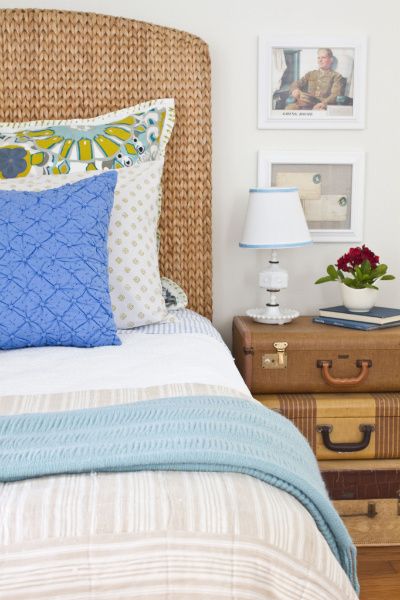 And here's a little video we put together too…
Thanks for inviting us to Guest your Nest, Pam!
We'll never forget it!
PS- For more information on the Mess Hall, visit TybeeMessHall.com
And if you're searching for food & fun on Tybee- here's a list of some of our favs!
AJ's Dockside Restaurant, 1315 Chatham Avenue, ☎ (912) 786-9533. 11AM – 10PM. Great neighborhood setting on the back river. Serves seafood outside on a dock which is the setting for some spectacular sunsets.
The Crab Shack, 40 Estill Hammock Road, ☎ 866-789-2722. Laid back seafood restaurant with extravagant decorations and a super-fun nighttime atmosphere. Be sure to buy some gator food to feed the live alligators!
Sundae Cafe, 304 1st Street (at the corner of Hwy 80 & Jones Avenue), ☎ 912-786-7694. Fine dining featuring both traditional southern dishes and seafood. They seafood lasagna is to die for!
Fannies on the Beach, 1613 Strand Ave, ☎ (912) 786-6109. Large restaurant with full bar overlooking the beach; has an open-air dining area on the second floor (only open during peak season). Ask to sit in the boat if you have young kids who want to steer a ship while enjoying a meal.
Stingrays, 1403 Butler Avenue, ☎ (912) 786-0209
For a super laid back meal (paper plates and all!), check out Stingrays on Butler. Kev and I spent many a night sitting on their outdoor patio, listening to live music under the stars.
Cafe Loco, 1 E Hwy 80, ☎ (912) 786-7810
Hear the seagulls call and the voices of fishermen and shrimpers as they unload the days catch. Watch the sun set over miles of coastal wetlands sinking behind the bridge that crosses Lazaretto Creek and connects Tybee Island with one of the most fabulous scenic areas in all of Georgia. CafeLocoTybeeIsland.com
Tybee Island Light Station, ☎ (912) 786-5801. 9AM – 5:30PM, Closed Tuesdays. Georgia's oldest and tallest lighthouse, includes a complex of historic support buildings and 187 steps to the top! $7 Adults, $5 Children and Seniors.
Tybee Island Marine Science Center, 1510 Strand Avenue (Directly in front of the Tybee pier and pavilion), ☎ (912) 786-5917. 10AM – 5PM. Part science center and part aquarium, featuring touch tanks and many kid friendly exhibits. $4 Adults, $3 Children.
Tybee Island Museum at Fort Screven's Battery Garland (directly across from the Tybee Island Light Station). Located inside a coastal defense fort first used during the Spanish American War, this museum outlines the the history of Tybee Island as an integral part of America's coastal defense system. Don't miss the WWII submarine periscope located just inside the entrance.
————————————————————————————-
Up next-

A "Before and After" look at all the decoratin' we did with Pam at the Mess Hall!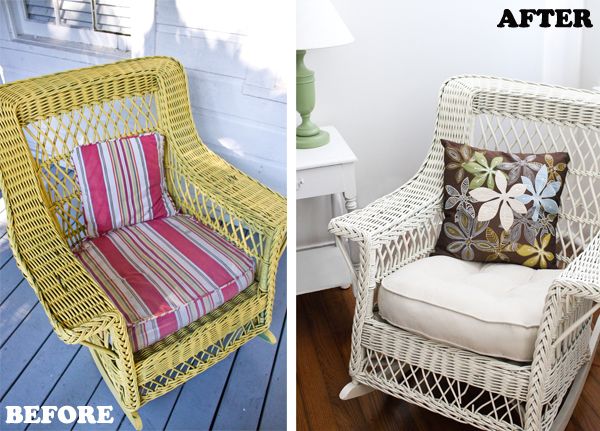 ———————————————————————————————————
Join us on Facebook and Twitter!
————————————————————————————-
Need help arranging your furniture?
Need design help?
Check out my e-book!
Get My Free E-book: 15 Common Decorating Mistakes And How You Can Avoid Them
Enter your email to download my free e-book instantly! 🙂