Did you hear Trading Spaces is coming back to the TLC network? Do you think Hildi will be back? You remember Hildi, right? She's the designer that created this wall-sized mosaic of herself in one episode:
And glued hay to someone's wall in another episode:
And brought in wheelbarrows full of sand in this episode:
I love her fun spirit, but boy would I have a hard time with that much sand (or hay! or Hildi!) in our house- LOL! 😀
For those that didn't watch Trading Spaces, the concept of the series was pretty simple: Neighbors would swap houses and work with big-personality professionals to revamp a room in their neighbors' home. Sometimes things went well, and other times the neighbors didn't like the renovations at all. It was a top show for TLC during a large portion of its run and it'll be back, ten years after the original series ended, in 2018.
They haven't said if any of the designers, carpenters or host from the original show will be returning, or whether homeowners will have a larger budget than before, or whether the contestants will still wear brightly colored button down shirts for three days. I'd love to find out if they'll be casting new designers. Maybe I'll send in a submission? 😀
Genevieve Gorder was always my favorite in the original series. I found these before and after photos of some of the room she worked on back then and boy has her style changed over the past 10 years!
Here's another one of her redos from back in the day: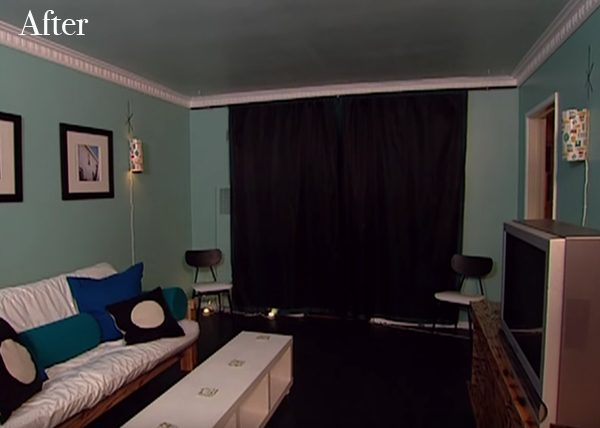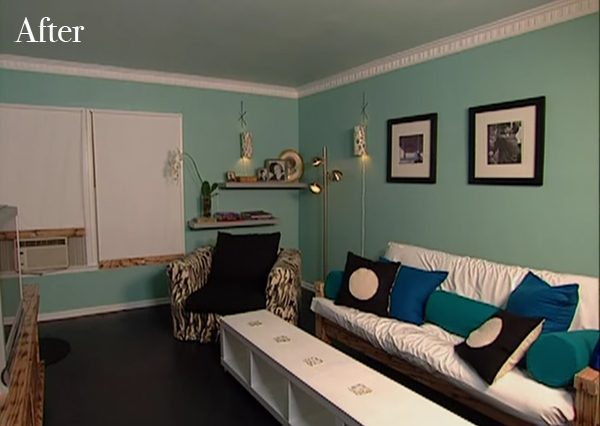 One thing I noticed in both rooms is how high a lot of the wall art and decor is hung. Maybe that was the trend back then?
All I know is that I'm pumped Trading Spaces is making a come-back and I sure do miss 'Dear Genevieve' on HGTV! Remember this bathroom makeover she did on that show?
I loved the tile she used by the tub:
And I'm intrigued with the idea of using a half-round table as a desk after seeing this episode online today:
I'll have to think more about that and keep my eyes peeled the next time I'm at a flea market.
I miss Sarah Richardson and Candice Olson's shows on HGTV too. Gosh, they were good! And who remembers 'Room by Room', 'Decorating Cents', 'While You Were Out', 'Country at Home" with Mary Emmerling and The Christopher Lowell Show? Man, those were the good ol' days!
What about you? Who was your favorite designer on Trading Spaces? And what was one of your favorite design shows from the past that isn't on the air anymore?
Happy Saturday!
Layla