Happy Friday, friend!
Thanks for sharing your 3 words with me yesterday! It's always fun to get to know more about you here, and yesterday's comments reconfirmed that I really wish we could meet up for lunch one day.
_______________________________________
I had some fun putting together a presto change-o pic for a gal named Christi recently and thought I'd share it here today in case someone out there has a similar set-up or is looking for similar design inspiration. It's a cute little bathroom- they just want to personalize it a bit.
The (Ikea) sink console is new, but the floor and wall tile is original to the house and Christi mentioned there were a lot of cracks in it.Christi mentioned wanting a "classic, modern and simple" vibe, so I found this inspiration photo on Pinterest and it served as the perfect jumping off point: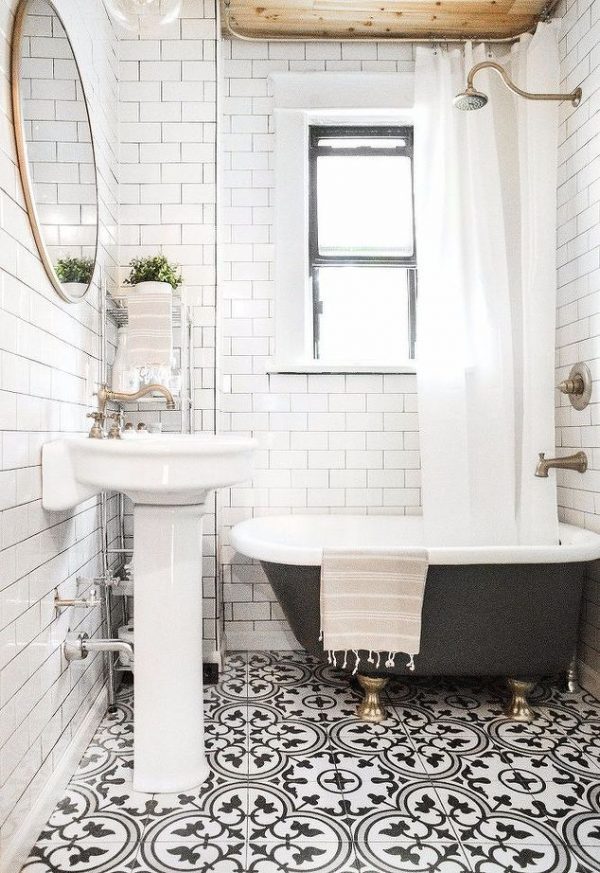 Here's what I pasted together:
And here's another version with the existing floor tile:
If the floor tiles aren't too damaged, I'd sure love to see those stay! If they are too damaged, it would also be fun to bring that identical pattern back in.
Now let's break down the ideas for the rest of the room using Christi's design words as a guide:
Classic – They could replace the old (cracked) subway tile on the walls with new subway tile. I love the idea of keeping the black stripe around the room too, but if they're not fond of it they could just do subway tile all the way up the walls.
Modern – Painting the window frame black and the vanity base charcoal gray would add a bit of a modern edge to the room.
Simple – An understated (monogrammed?) shower curtain and solid-colored rug that speaks to the towels above the commode (they don't have to be green, choose any color!) would be a great way to add some softness without competing with the floor tile.
Last but not least, the brass elements (sink hardware and mirror) add warmth and contrast nicely with the cool, black and white color scheme. I like the way they tie in with their woven window shade too. To bring in more warmth and texture, I'd also love to see the addition of a wood ceiling, like the one in the Pinterest photo. They could use a product like Stikwood's Rustic Sierra Gold ? I would just make sure there's a good ventilation fan in the ceiling to keep it from getting too moist.
Of course this is just one of the many, many different directions Christi could go with this bathroom. The sky is the limit, really. I just hope these pics get her creative gears turnin'…and that she sends us after photos of what they end up doing in there! 🙂
Have a sweet weekend!
Layla