Did y'all catch Erin and Ben's 'Home Town' episode? What a FUN couple, town and show! I really hope HGTV picks up the series because I'd love to see more of their renovations!
…and speaking of renovation projects, do you remember my friend Jess from Bright Green Door?
We partnered with her and her family on a Blog Threads t-shirt fundraiser in December of 2014, and they're adopting a little girl from the same orphanage Sweet P lives at.
Well, Jess and her husband, Matt, are on their way to Haiti to meet their daughter for the very first time this week, and Kevin and I could not be more excited for them! If you feel compelled to lift up a prayer for them as they travel, I know they sure would appreciate it.
Matt and Jess recently moved back to Marquette, in Michigan's Upper Peninsula, and she asked if I'd be interested in dreaming up some fireplace designs with her for their new house. She recently painted the cabinetry and paneling in their living room, but she's still scratching her head about what she wants to do with the rest of the fireplace.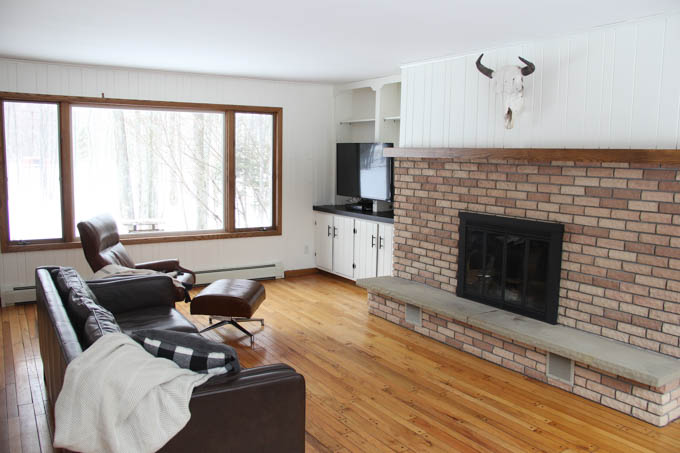 She loves mid-century and modern-meets-southwestern design, so I put together a few different ideas in Photoshop to *hopefully* give her a better idea of what certain colors/finishes would look like, and to help get her inspired to move forward. She sent me a photo of the rug she's planning to use in the room, so I popped that in there first, and then played around with some different fireplace ideas for her to check out:
1. Paint It White
Jess mentioned that she's thinking about painting the brick white, so I thought I'd show her what that would (kind of) look like. She also mentioned loving the way Dana's fireplace looked after she painted it white: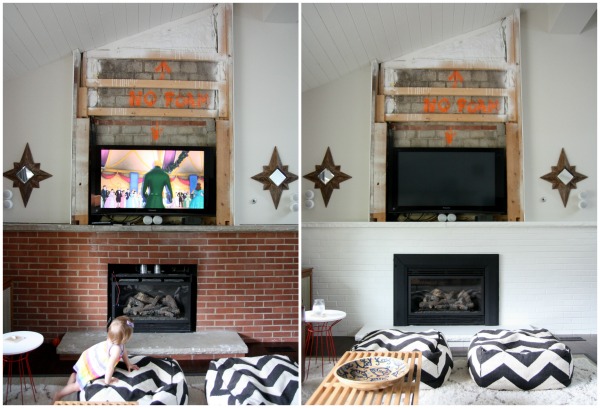 Here's how it turned out when they were finished remodeling: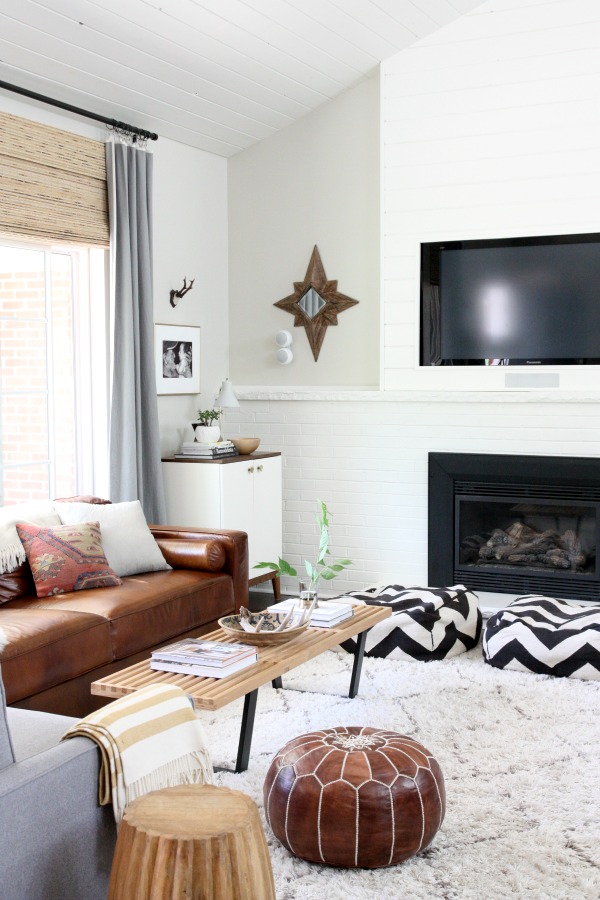 What a gorgeous space, huh? 😀
2. Board-formed Concrete
I have no idea how labor intensive this would be, or if there's a way to DIY it, but MAN I love the look of it! Here are a few inspiration photos: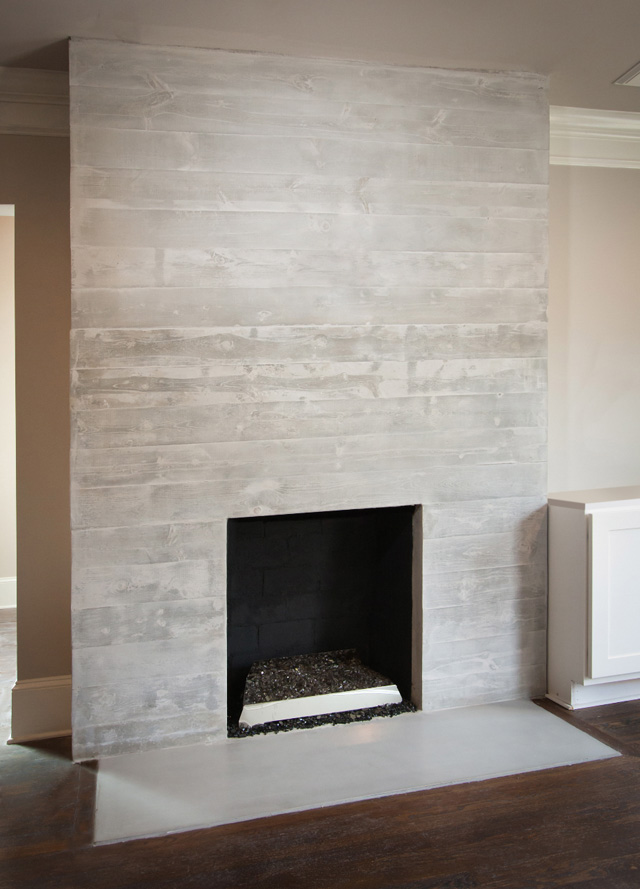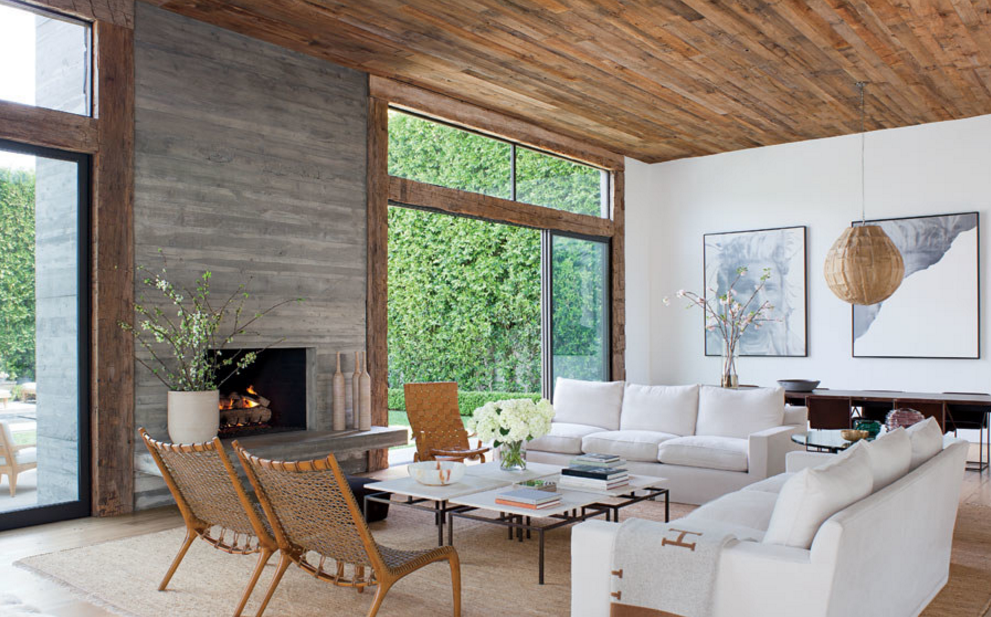 I love the way the concrete looks like old planks of wood! I did find a company called Muros Wall Coverings, that makes lightweight, roughcast concrete panels that look very similar, but I have no idea how much they cost.
3. Board & Batten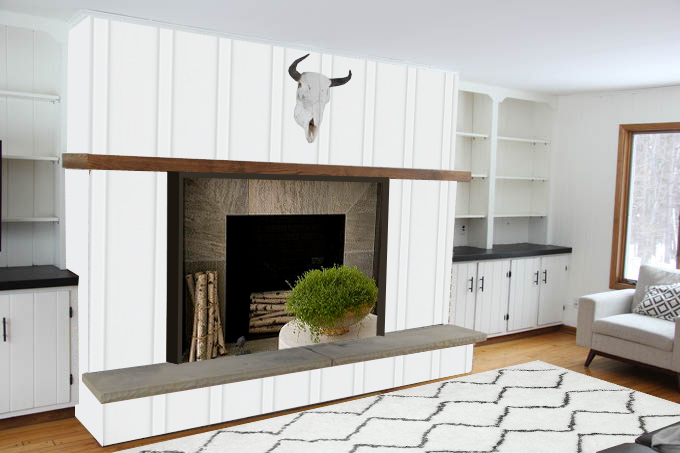 On this one, I pulled in some board and batten, and added a little extra sumpin-sumpin around the firebox. It came from these photos I found on Pinterest:
I love how that black part sticks out from the wall (I wonder if it's metal or stone?), and Matt and Jess could choose any tile to go on the area inside of it.
4. Concrete Panels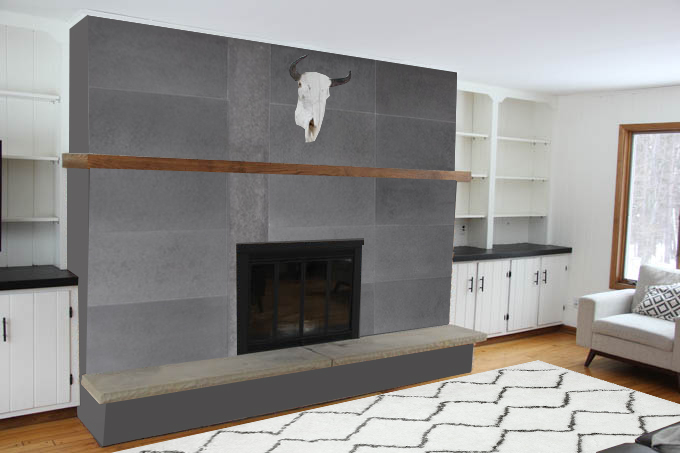 Okay, I'm calling this one concrete panels, but it wouldn't *really* have to be actual concrete panels. I'm thinking they could frame out the existing fireplace with wood studs so that they could attach thin rectangular panels of plywood to it (that have been faux-finished to look like concrete) in a block pattern. Here are some inspiration photos:
It would take a little time, but MAN I think it could be a really cool project! And along those same lines, Tasha at Designer Trapped In A Lawyer's Body created this DIY Concrete Fireplace for $100 that turned out so great, too. Maybe that post will get Jess' creative gears turning if she likes the idea of concrete?
5. Charcoal-Painted Paneling
For this one, I just pulled in elements from this photo:
Matt and Jess could just paint the brick right around the firebox to match the color of the light gray concrete hearth, and then they could attach thin wood paneling and moulding to the rest of the fireplace to create the paneled effect. Another option would be to paint the panels white (or another color), instead of charcoal.
6. Mid-century Mantel:
Okay- for that one, I drew inspiration from this photo:
I didn't know if Jess would like the unique, triangular "corbels" underneath the mantel shelf, but I thought I'd throw it in the mix just in case. Kinda fun, huh? The rest of the fireplace could be covered in the same type of paneling that's already on the upper part…assuming they could find it.
One last idea, that I didn't have time to Photoshop, would be to attach moulding in a pattern, like this:
I think it would look cool to cover the entire surface with something like that!
Alright y'all, stay tuned to Jess' blog, Bright Green Door, to follow along with her home and family adventures. She's a super fun gal and I just know you'll love her as much as I do!

PS- Jess: Have you seen this house? Mid-Century Modern Home Tour
I thought you'd like that one, too! XO