Happy Wednesday, friends!
Our Fall blog hop continues today over at Michael's blog, Inspired by Charm. He's shared a yummy butter pecan cupcake recipe and you'll definitely want to swing over to his place to read all about it!
Does that make your mouth water, or what?! 😀
I'm re-sharing one of my mother-in-law's delicious cold-weather recipes here today too, because I know my readership has probably changed a lot since the first time I posted it several years ago.
It's a fast and fund-friendly recipe for delicious taco soup, and here's how you make it:
Start by pouring one can of kidney beans, one can of corn, one can of pinto beans, two cans of petite diced tomatoes, and one can of Rotel diced tomatoes & green chiles into a large pot or dutch oven. Once they're all in, begin cooking the vegetables on medium heat.
Next, brown some ground beef (sprinkle in some garlic salt while it's cooking) and when the meat is good to go, use a colander to drain out any excess fat…
Next, mix in one package of taco seasoning mix, and one packet of Ranch seasoning mix to your browned ground beef…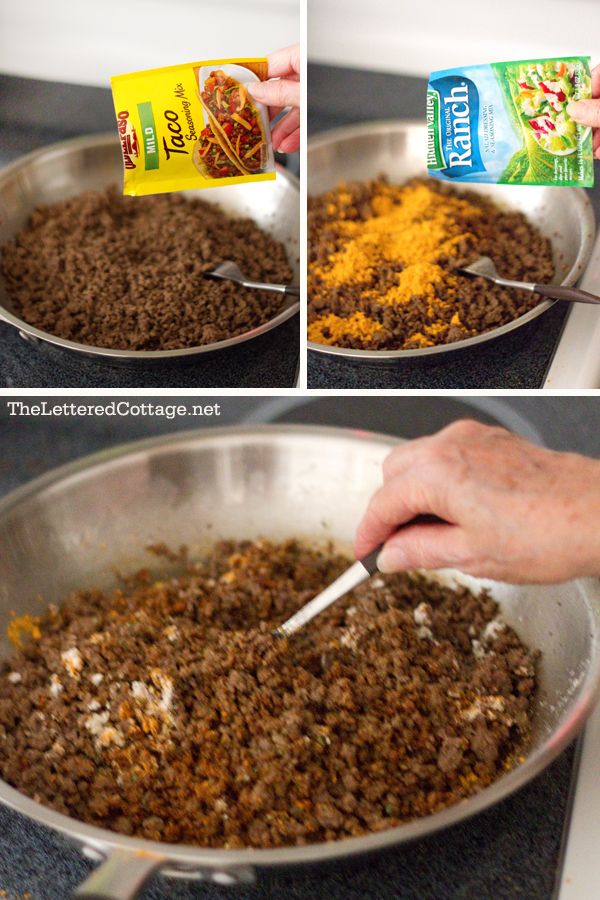 Then, pour your seasoned ground beef into your vegetable pot. Katie also mentioned that you can use some of the (hot) vegetable liquid to loosen the ground beef that's stuck to the skillet if you want to scrape that into the veggie pot, too…
Simmer the soup for 30 minutes (with the lid on, stirring occasionally), and that's it!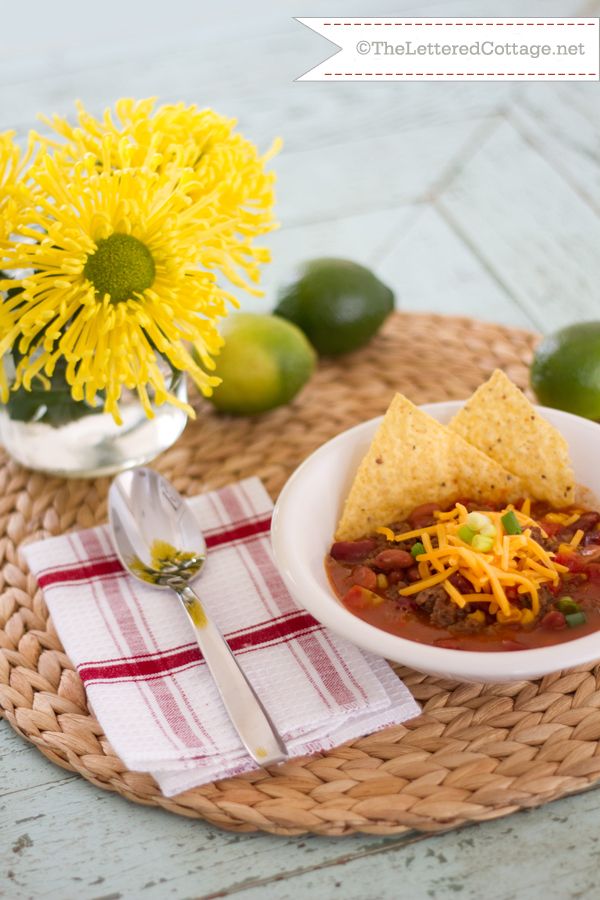 Katie suggested sprinkling the top with shredded cheese and eating it with tortilla or corn chips. I suggest eating it as much of it as you can fit in your belly. 😉
Layla
Katie's Kitchen - Taco Soup
Ingredients
1 lb. ground beef
1 pkg. taco seasoning mix
1 pkg. Ranch salad dressing & seasoning mix
1 can of whole kernel corn
1 can of pinto beans
1 can of light red kidney beans
2 cans of diced tomatoes
1 can of Rotel tomatoes
Instructions
Place corn, pinto beans, kidney beans, diced tomatoes and Rotel tomatoes in a large pot or dutch oven and begin cooking on medium heat.
Place ground beef in a skillet, sprinkle with garlic salt, and cook until no longer pink.
Drain meat using a colander, then return it to your skillet.
Add taco seasoning mix and Ranch seasoning mix to the ground beef, and mix well.
Add ground beef mixture to the vegetable pot and simmer (with the lid on, stirring occasionally) for 30 minutes.
Serve with tortilla chips or corn chips. Optional toppings: shredded cheese, onions, or sour cream.
https://theletteredcottage.net/fall-recipes-butter-pecan-cupcakes-yummy-taco-soup/